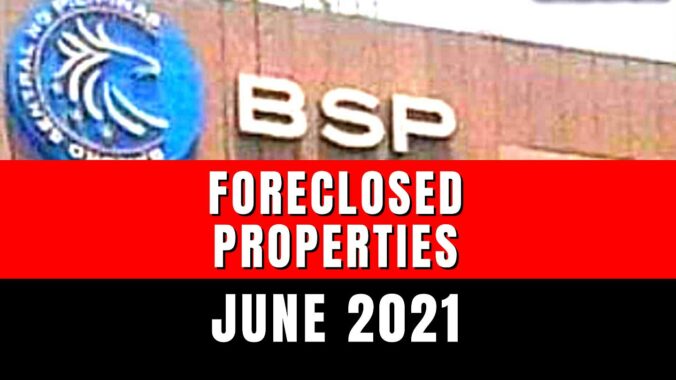 A total of 2,491 BSP foreclosed properties are available for for negotiated sale, according to their list of properties updated as of June 23, 2021. This updated list is from the Banko Sentral ng Pilipinas (BSP). Details below.
View the list of BSP foreclosed properties
For easy searching and filtering, you may view the entire list in our database below:
Click here to view searchable list of BSP Foreclosed Properties (Database)
Foreclosed Properties Search (FPS) – Search all foreclosed properties in the Philippines
To quickly search for ALL available foreclosed properties in your preferred location/ village/ subdivision etc., use our Foreclosed Properties Search or FPS tool below.
Step-by-step instructions:
Search by typing keyword(s) and/or location(s) and click "Search" (Hint: Include keyword "bsp" to only include BSP foreclosed properties in search results, leave blank for all)
Use "Advanced Search" to choose preferred price range, lot/floor areas (if data is available), and also to exclude those classified as occupied/without possession.
Browse all locations with foreclosed properties by Province/City
You can also browse all locations within the Philippines with foreclosed properties available from ALL banks/lending institutions, grouped by Province/City, on this page:
==> Click to browse all foreclosed property locations
Note: The "Classifieds Database" is a work in progress. If you have comments/suggestions, please do let me know by leaving a comment below.
How to buy BSP foreclosed properties through negotiated sale
To learn how to buy BSP foreclosed properties via negotiated sale, you may refer to BSP's Negotiated Sale Rules and Procedure:
>> Click here to download a copy
Frequently asked questions
Here's a copy of BSP's list of frequently asked questions with regard to their foreclosed properties for sale:
>> Click here to download a copy
BSP Forms/procedures for download
To view a list of downloadable forms and procedures from the BSP in relation to the sale/disposal of their acquired assets/foreclosed properties, see link below:
>> Click to view list of forms/procedures
For more details, please contact BSP directly:
Complete description of BSP properties are available at:

The Asset Management Department, Room No. 211, 2nd Floor, Five-Storey Bldg.

Telephone (Direct lines): 5306-3417, 5306-2911, 5306-2912, 5306-3415
Email: acquiredassets@bsp.gov.ph
Terms and Conditions
The sale of the properties shall be on an "As is, Where is" basis and the buyer as may be approved by the Committee on Disposal of Real Properties or the Monetary Board shall undetake the responsibility to acquire and maintain peaceful possession and enjoyment of the property at his expense and without seeking the assistance of the BSP. Prices are subject to change without prior notice.
Source: BSP website
Reminders for interested bidders
Properties shall be sold on an "AS IS, WHERE IS" basis.
Availability of units and prices are subject to change without prior notice.
Misprints should not be construed as misrepresentation of the property.
Interested parties are reminded to conduct proper due diligence before joining the bidding/auction or submitting offers.
Disclosure: Nothing to disclose, since we no longer broker foreclosed properties, you should contact BSP directly through their contact details above. We are just sharing this list as a public service announcement for the benefit of the general public who are looking for foreclosed properties.