This will be my first time to feature a listing of Philippine Veterans Bank foreclosed properties. Actually, Philippine Veterans bank is included in my Ultimate list of Philippine bank websites with online listings of foreclosed properties but I noticed the list they have on their website is not updated.
Anyway, please take note of important things to remember with regards to these foreclosed properties from Philippine Veterans Bank (PVB).
NOTE: INTERESTED BUYERS' OFFER IS STILL SUBJECT TO USUAL EVALUATION AND FINAL APPROVAL. THE APPROVAL IS VALID ONLY UPON THE RECEIPT OF A LETTER OF FORMAL APPLROVAL FROM PVB DULY SIGNED BY AN AUTHORIZED OFFICER.

THE BANK SELLS THE PROPERTY ON "AS-IS WHERE IS" BASIS. BUYERS ARE REQUIRED TO DO THEIR DUE DILIGENCE BEFORE SUBMITTING THEIR OFFERS.

THEY REQUIRE 25% DOWNPAYMENT WITH OPTIONS OF 3-5 YEARS ONLY AT 11% INTEREST PER ANNUM SUBJECT TO BANK APPROVAL.

MOST OF THEIR PROPERTIES LISTED ARE CONSOLIDATED AND YOU CAN CHOOSE OTHER BANKS FOR LONGER TERMS AND LOWER INTEREST BUT THE DOWNPAYMENT IS STILL 25% EVEN IF THE APPRAISAL OF OTHER BANK IS HIGHER THAN THE PRICE OF PVB.

THEY REQUIRED OPTION MONEY OF 10% IN CASH/MANAGER'S CHECK TO BE AUTOMATICALLY DEPOSITED UPON APPROVAL WHICH SHALL FORM PART OF THE TOTAL PURCHASE PRICE.

CAPITAL GAINS TAX, DOCUMENTARY STAMP TAX, EXPANDED WITHHOLDING TAX(IF APPLICABLE), REGISTRATION FEE AND OTHER RELATED EXPENSES FOR THE TRANSFER OF TITLE TO BUYER'S NAME WILL BE FOR THE ACCOUNT OF THE BUYER.
Complete listing of Philippine Veterans Bank foreclosed properties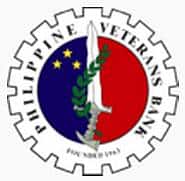 This list is 81 pages long and contains more than 1,000 foreclosed properties coming from Metro Manila (NCR) and other regions all over the Philippines. I just wish this was in excel format so it can easily be sorted. Anyway, you can still search easily because it is in MS Word format. For those who have no MS Word, I have also generated a PDF copy which can also be downloaded below.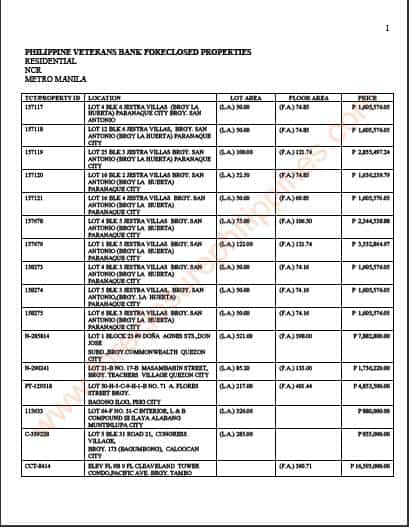 Also available: Philippine Veterans Bank FORECLOSED PROPERTIES 15OCT11 – PDF
~~~
To our success and financial freedom!
Jay Castillo
Real Estate Investor
PRC Real Estate Broker Registration No. 3194
Blog: https://www.foreclosurephilippines.com
Follow me in Twitter: http://twitter.com/jay_castillo
Find us in Facebook: Foreclosure Investing Philippines Facebook Page
Text by Jay Castillo and Cherry Castillo. Copyright © 2011 All rights reserved.
Full disclosure: Nothing to disclose
Image credit: Philippine Veterans Bank logo from Wikipedia