The Philippine Deposit Insurance Corporation (PDIC) shall conduct another public sealed bidding of PDIC foreclosed properties and closed banks on October 25, 2016, Tuesday. Sealed bidding details can be found below.
According to the Invitation To Bid, sealed bids shall be accepted at the 9th Floor, Training Room, SSS Building, 6782 Ayala Avenue corner V.A. Rufino Street, Makati City.
Sealed bids shall be accepted from 9:00am to 2:00pm only.
As usual, all foreclosed properties included in the listings below are for sale on an "as-is, where-is" basis, and interested parties should have already done their due diligence prior to submitting their bids.
More details can be found in the invitation to bid.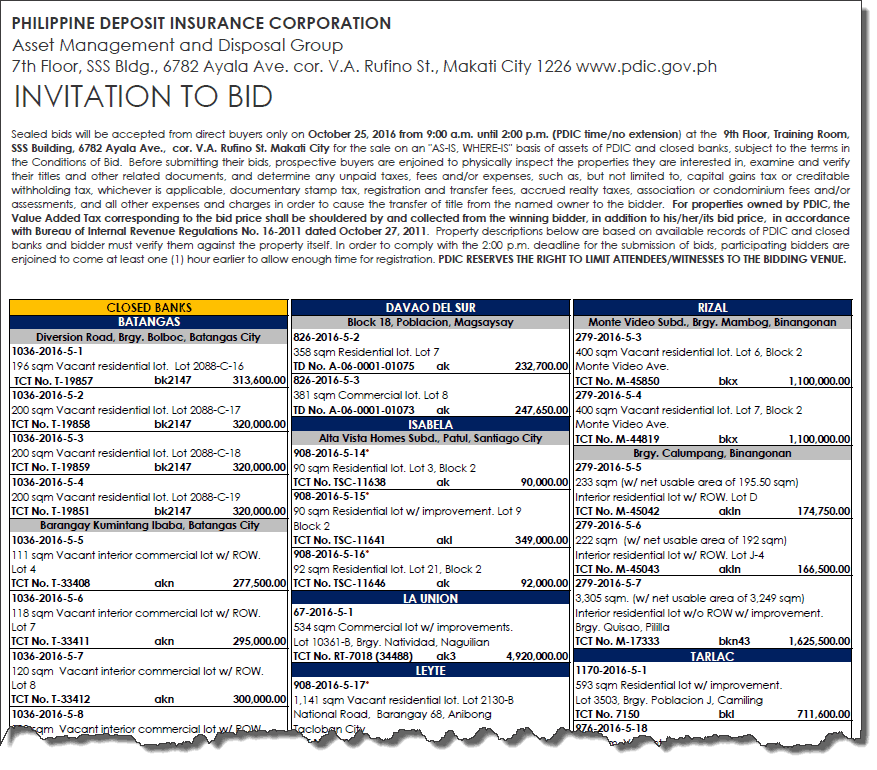 Click to download PDIC's Invitation to Bid for the sealed bidding on October 25, 2016
Source: PDIC website
Full disclosure: Nothing to disclose. The PDIC bidding is for direct buyers only. We are posting this as a form of public service because a lot of you out there have been asking for these listings.
If you have any questions/inquiries, please contact PDIC directly through the contact details in the invitation to bid above. Thank you for understanding!