This is Part 2 of a series on Managing Finances. If you have not read the first part, head on over to Part 1. You can also go to Part 3 later!
In part 1 of this series about managing finances to get ready for real estate investing, I mentioned that the learnings that I got from the "How To Become Truly Rich" seminar of Bo Sanchez  and the "Money Jars" that were mentioned in T. Harv Eker's Millionaire Mind Intensive program broke the camel's back as that was the turning point in my quest to manage my finances.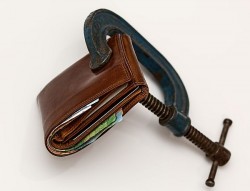 They were the one-two punch that gave me the proper mindset and had me sit down and seriously consider taking control of my finances much like how a chief financial officer (CFO) manages a company's finances.
What results did I get?
As promised, I am posting the results that I got when I first started managing my finances. I am actually quoting an old post of mine in one of my old blogs where I wrote about this last October 2008.
Posted by Jay Castillo | 10/19/2008 04:39:00 AM

I've said to myself before that I would be a lot better with my finances if I would only treat my personal income the way a CFO would manage the finances of the company he/she works for. Imagine if you tracked your income and expenses and know at any given time your net cashflow for the month. Personally it was really hard at the start but with the right tools and mindset, I was able to do it.

Anyway, to get you started, why not try reading Flexo's explanation on how he's become the Chief Financial Officer of his own life.

More than a year ago, this inspired me to start using MS Money to track and manage my own finances. It only took me a month to go from living paycheck-to-paycheck to having a positive monthly cashflow. After a year, i can confidently say that I have managed to save at least 25% of my total income, which are now in various investments. The breakdown of where my income went to is summarized below.

Managing my finances – results for August 2007 to July 2008

I'll make another more detailed post about this in the future.

Tell me if you found this as helpful as I did!
I never was able to make a follow-up post about this on my old blog, which is okay because I get to make it here and I can more effectively relate it to foreclosed real estate investing. I'm sure most of you will also notice that the post above is incomplete as I didn't even bother to define what FFA, LTSS, etc. are. Actually, these represent the "Money Jars" which I mentioned in part 1 of this series. For everybody's reference, the account names are as follows :
1. FFA – This is my Financial Freedom Account
I have a separate bank account where I put the money I have set aside for buying assets that will help me attain financial freedom.
Passive income-generating real estate is one example of such asset. Other examples would include stocks, bonds, and mutual funds, provided they give dividends that are a form of passive income.
For the period stated above, I was able to save enough funds into my FFA account that enabled me to invest in real estate and mutual funds.
As you can see, I was able to exceed my target of saving at least 15% of my income and was actually able to save 25.72%.
Imagine, I was living paycheck to paycheck then all of a sudden I was saving more than 25% of my income for investing!
By the way, this only meant that I was able to consistently save at least 25% but I did not actually use up my entire FFA account for investing as a significant portion of this amount remained in my bank account during that time as I was still looking for good real estate deals.
2. LTSS – This is my Long-Term Savings For Spending Account
This represents my savings account where I save for big-ticket items that we need to spend on like home appliances, a new house or home improvements, car repair, etc.
I was also able to exceed my target of 10%!
This is good or bad, depending on how you would look at it. It was good in the sense that I was able to save more than 10% of my income for this as my actual savings for my LTSS amounted to 17.87%.
On the other hand, this may be bad because the 17.87% meant I actually SPENT 17.87% of my total income for things that are not really putting money in my pocket and can be classified as doodads.
The big-ticket items where we spent a lot money on were major car repair expenses for my wife's 10 year old Honda Civic, my insurance, and home repairs.
Still, I believe this was good over-all because even though we had to spend on these, my FFA was not affected.
3. Play account
This represents my savings for fun and recreational activities.
According to T. Harv Eker, we should completely spend this account every thirty days with the goal of having fun. This actually helped a lot to get buy-in from my wife as she loved the idea.
This was the missing ingredient from other savings plans because in my opinion, without the play account, one tends to get feelings of being deprived, frustrated, and "strangled".
From a target of 10%, we only spent less than 1% for this.
We really need to spend more time having fun and we are already correcting this.
4. Education
This represents the money jar where I am supposed to save 10% of my total income for spending on my own personal education for self improvement,or for "sharpening the saw", so to speak.
From an original target of saving 10% of my income for education, I only spent  1.43% on seminars for the 2007 broker's licensure exam, and seminars on real estate investing and financial literacy.
Again, this is one area of improvement and is a work in progress as I really should invest more on my education.
5. Tithe
This represents our account for giving back and for charities.
I know it may sound weird but I truly believe that by giving, we end up with more blessings coming into our lives.
This does not mean that we give because we are expecting something in return. Giving with an open heart is the true essence of this practice.
I made a conservative target of 5% and ended up with a measly 1.35%. This is a work in progress.
6. Expenses
This is for living expenses like monthly amortizations for housing loans, car loans, insurance, utilities, food, gasoline, etc.
From a target of spending only 50% of my total income for expenses, we ended up spending 52%, which is actually a miracle if you ask me.
So how the heck was I able to do all of these?!
The key was my ability to track my expenses.
As they say, "You cannot manage what you cannot measure". By diligently tracking my expenses, I was able to effectively manage my expenses, cashflow, and my "Money Jars".
I was able to easily identify expenses that were already costing us too much money and  I can decide immediately to stop spending more on them. Obviously, this would be very hard to do without tools like MS Money that helped me analyze my cashflow.
Find out how I tracked my expenses and the tools I used in part 3 of this series as I continue sharing how I was able to manage my finances and got started in real estate investing.
Proceed to Part 3 of this series or if you have not read the first part, head on over to Part 1.
—–
To our financial freedom!
Jay Castillo
Real Estate Investor
PRC Real Estate Broker License #: 3194
Blog: https://www.foreclosurephilippines.com

Text by Jay Castillo. Copyright © [footer_copyright first="2008″] All rights reserved.