Properties On View is a listing of foreclosed properties being offered for negotiated sale by Star Properties Inc. and features hundreds of foreclosed properties from the Greater Manila Area (GMA) and the Luzon Area. I got this when I visited the recently concluded 3rd Philippine Real Estate Festival and I am posting the listing here for the benefit of those who were not able to attend the event.
This foreclosed property listing includes residential, commercial, agricultural, mixed-use, and even memorial lots.
GMA properties include those from Antipolo, Caloocan, Las Pinas, Malabon, Makati, Mandaluyong, Marikina, Paranaque, Pasay, Pasig, Quezon City, Rizal, San Juan, and Valenzuela.
Luzon properties include those from Albay, Baguio, Bataan, Batangas, Bulacan, Cavite, Isabela, Laguna, La Union, Nueva Ecija, Nueva Vizcaya, Pampanga, Pangasinan, Quezon Province, Quirino, Tarlac, and Zambales.
The listing includes the following disclaimer:
All properties are offered in an "As-is, Where-is" basis. Titles of the properties are either under Seller's name or under various stages of consolidation in the Seller's name. Interested parties are therefore advised to check the title, the physical and legal condition of the property. Property details, prices, and terms are subject to change without prior notice. The Seller reserves the right to pull-out any property anytime. Changes in prices are subject to the sole discretion of the seller.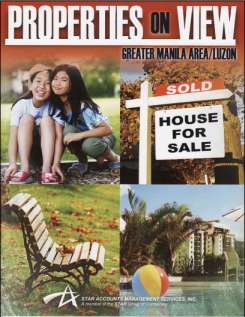 I have gone over the listing quickly and found what seem to be very promising residential properties in Quezon City and Makati based on their relatively low prices. However, I have yet to check the physical and legal conditions of the properties so I really can't say that they really are good deals. Remember, don't ever consider buying a foreclosed property without doing all the necessary due diligence as described in the disclaimer above.
Click here to download Properties On View from Star Properties Inc. (Source: Star Properties booth, Philippine Real Estate Festival)
Happy hunting!
To our financial freedom!
Jay Castillo
Real Estate Investor
REBL#: 20056
Blog: https://www.foreclosurephilippines.com
Social Network: http://foreclosurephilippines.ning.com
Mobile: +639178843882
E-mail: ph.investor@gmail.com
P.S. – I wish I was able to post this sooner but I have been having problems with my website hosting lately and this prevented me from uploading big files such as this listing. I'm just glad things appear to be back to normal.
Text by Jay Castillo. Copyright © 2009 All rights reserved.