The Housing Fair 2013 shall be held this October 25 – 27, 2013, at the Megatrade Hall 1, 5th Level, SM Megamall, Building B, Julia Vargas Avenue corner EDSA, Mandaluyong City, Philippines. Sorry for the short notice as it seems this year's housing fair had little marketing, similar to past housing fairs… sigh.
Aside from the 8th Philippine Housing Fair's theme: "Gaganda ang Buhay sa Sariling Bahay", not much information can be found about the housing fair. I guess we just have to attend the event to find out more.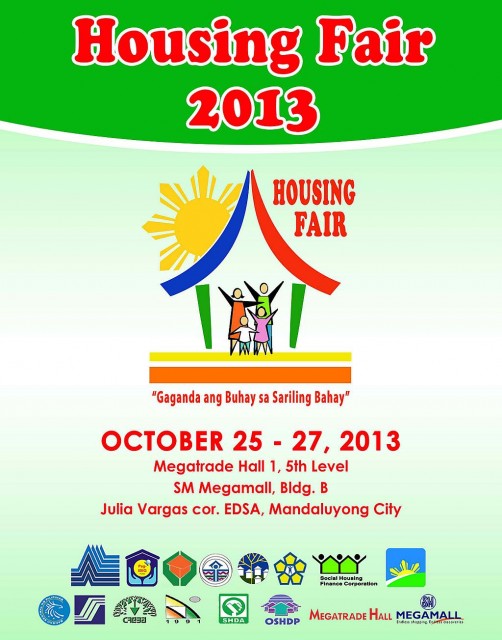 Anyway, based on the posters I found at HLURB's website which are shown above, we can be sure that the following will be at the 2013 Housing Fair:
HUDCC (Housing and Urban Development Coordinating Council)
Pag-IBIG Fund(Home Development Mutual Fund)
HGC (Home Guaranty Corporation)
HLURB (Housing and Land Use Regulatory Board)
NHA (National Housing Authority)
NHMFC (National Home Mortgage Finance Corporation)
SHFC (Socialized Housing Finance Corporation)
GSIS (Government Service Insurance System)
BSP (Banko Sentral ng Pilipinas)
SSS (Social Security System)
CREBA (Chamber of Real Estate and Builders' Associations
NREA (National Real Estate Association)
SHDA (Subdivision and Housing Developers Association)
OSHDP (Organization of Socialized Housing Developers of the Philippines)
Of course, one can expect other institutions, including banks, to be present at the event. I'm quite sure we will find listings of foreclosed properties from most of the key shelter agencies included above and participating banks, which is why we will be attending the housing fair.
By the way, during past housing fairs, visitors can also attend free talks and seminars that are conducted all throughout the 3-day event. Expect the same this year, although I wish they had a schedule of activities available so visitors can choose to attend those days with topics/activities they are most interested in. If anyone has a copy of the event schedule, please let us know through the comments section below.
As usual, we'll follow-up this post with what we find when we attend the Housing Fair 2013, including listings of foreclosed properties from the various Government Lending Institutions (GFI's) and banks that will be there. Don't forget to subscribe to get notified when we publish this.