"Finding Dream Tenants and Dealing With Horror Ones" was the topic of our friend, Mr. Carl Dy, at the 2015 Money Summit held at SMX Aura Taguig last July 18, 2015. Carl is a real estate investor and the President of Spectrum Investments, a property portfolio management company. He was previously the Director for Sales of Ayala Land Inc. The topic he discussed is very, very important in securing passive income with the least headaches, so I strongly recommend that you read on.
Why real estate and why rental income?
All investments have their pros and cons. Real estate has pros and cons as well (for discussion and not debate purposes, you can check them out here (leverage), here (less risks), and here (control). Carl ably distilled real estate's pros through stories.
Capital appreciation
According to Carl, in 1962, a lot in Bel-Air Makati cost P55/sqm and now it is around P100,000/sq. Thus, it is a good hedge against inflation. He also gave examples of the pre-selling prices of Ayala properties in BGC, Nuvali, and Greenbelt (note: Carl used to be with Ayala), the values of which have now more than doubled and the cash flow from rentals on which are now substantial.
Carl also shared the story of his lola, who, in 1976, invested P350,000 in a house and lot in Quezon City and kept P350,000 in the bank. The house is now worth P15 million while the cash is now gone. In this case, the "illiquidity" of real estate was a big plus. Liquid investments can be easily pulled out if you don't have enough willpower to stay the course.
Cash flow
In 1984, Carl's Aunt Lucy, who was a 35-year old housewife with 5 kids (aged 3,5,7,8, and 10 years old) suddenly became widowed. Her kids were then studying at prestigious schools like Xavier. They survived because they had a 4-door apartment in New Manila which was earning P6,000 per unit at that time. Later, they added more doors, and now, at P20,000 per month per unit, they have  a passive income of around P160,000 per month.
This, I believe, is a very, very important aspect of estate planning. Insurance agents usually make computations which require an outrageous amount for coverage because the insured amount is computed to last over many years, to be eaten up slowly but surely. Dividends from stocks are not assured and are not given every month, while living expenses need money on a day-to-day or monthly basis. The only answer (in my opinion) to monthly recurring expenses is a source of cash flow which may come from real estate or a business.
As Carl Dy pointed out, income from real estate is easy to compute and easy to manage – this was perfect for his housewife aunt. A business may be complicated and it may take some time for the spouse or children to ably manage it, and it is possible that once the main businessman is gone the business will follow soon after.
In other words, properties which provide cash flow may be passed on to many generations. Notice how the richest families in the Philippines are able to retain their wealth over centuries. You don't have to be a rocket scientist to figure out that the richest families all have real estate investments.
The greatest secret of the rich, according to Carl Dy, is PASSIVE INCOME. They go for the golden goose instead of the golden egg, the apple tree instead of the apple fruit. They get rich while they sleep.
Positive psychological effect
Carl recommends buying your primary home first. This is because of the positive psychological effect of having your own home. It gives you a sense of security and gives you confidence to strive for more.
Your primary home will also have the benefit of capital appreciation and once you have fully paid for it, your monthly expenses will be lessened, and you can then invest the money which you have already disciplined yourself to set aside for amortization for another investment.
As you invest in more properties, you can grow your wealth continuously, slowly but surely, and as you grow more confident in your abilities you will be able to venture into different types of real estate investment, and in greater quantity with better quality. You feel a sense of fulfillment because you are contributing not only to the good of your own family, but also to the good of another family and the good of the nation – this is the highest level in Maslow's hierarchy of needs.
When you become a lessor and know that you have a fresh supply of money every month, you can enjoy life and do what you really want to do with your time. Quite simply, it is one path (among many, yes) to financial and time freedom, definitely a goal worthy of our consistent effort.
What is a Dream Tenant?
According to Carl Dy, a dream tenant is someone who pays rent on time, stays for an extended period of time, and takes good care of the property. I would also like to add, a dream tenant is someone who doesn't bother the landlord except for major issues.
How To Get A Dream Tenant
Have you noticed that in Filipino movies and telenovelas, landlords are almost always portrayed in a bad light, usually making a scene outside the rental property, shouting at the tenants to pay up and embarrassing tenants in the process. This stereotyping is not helping, as people become quite afraid to become landlords because of horror stories of the stereotypical tenant who doesn't pay rent and wrecks the property. At the same time, lessees have the image in their minds that their landlord is not a good person.
So, considering the stereotypes above, how can one get a dream tenant? The straightforward answer is: Be a good landlord.
How To Be A Good Landlord
Start with a good property. If the property meets the needs of the tenant, for example, it's near their workplace or the school of their children, it is secure and well-ventilated, etc., they will consider your property.
Make your price reasonable. Tenants will be able to compare your lease rate with others, and they will know if you took advantage of them.
The lease contract must be fair. I noticed that usually, the lease contract is skewed in favor of the lessor but do be open to suggestions from the lessee.
Stick to the contract. Do not cancel the contract without reason.
Be reachable. Answer your tenant's calls. Solve their problems immediately. Tenants like well-maintained properties that don't give them stress.
Maintain the place well. Aside from pleasing your current tenant, you can extend the cash flow life of your property if it is well-maintained.
Respect privacy. Do not come unannounced.
Listen to concerns. If the tenant's requests are valid and reasonable, being amenable to their requests may make them stay in your property longer, thereby lowering your vacancy rate. Remember, if your current tenant leaves, it will take you around two months to get another tenant since you have to lean, refresh, repaint, and advertise your property. This translates to two months' foregone income so it's better to keep your current tenants happy.
Be understanding. If your tenant requests for an extension in the rent payment and it is a rare occurrence, be understanding.
Return the security deposit promptly. Normal wear and tear is ok.
How To Deal With Tenants From Hell
Avoid tenants from hell by having a good screening process.
Call your lawyer.
Ask help from the Admin Officer (if condo) or the Barangay officials
Offer a deal to ease them out. If they leave, you can offer to return their security deposit. It has to be sabay/kaliwaan.
Move on. It's no big deal.
How To Screen Tenants
Check your first impression. Does the prospective tenant look like a decent, clean person?
Let them fill out an application form. (Note: I use a form which I got from REBAP Legal Forms. It looks like a one-page Bio-data.) Look at them when they are writing on the application form. If they are shady, they will feel uncomfortable. Ask for their reason for renting, where they were renting previously, and the reason they left. Ask for their company ID and other valid ID's.
Provide them with an Offer to Lease. Include the details of the property, size, furnishings, parking, etc.
Call the references they listed in the application form.
Don't be afraid to say no. If you don't have a good feeling about the prospective tenant, just say no. I always remember our mentor, Engr. Cruz, who said that whenever he posts an advertisement for a property for rent, he always rejects the first person who calls. When a person is in too much of a hurry to move in, in a way "forcing" the lessor to lease the property, that is a red flag.
Tips Before Move-In Of Tenants
Go through the lease contract one by one with your tenant.
Do a move-in report. Include pictures of the condition of the property and furnishings upon move-in.
Get off on the right foot. Carl provides a welcome basket and a directory of food delivery companies and providers of other necessary services, and these are appreciated by clients.
Document all requests and put all information about the property and the lease in a folder.
Lease Contract provisions
So many people ask me about what to do in different scenarios and I always say, "Read the contract." In the case of a lease, your contract will protect you, whether you are the lessor or lessee, so you better make it as clear and fair as possible. I like to describe a good contract as airtight and Carl describes a good contract as bullet-proof.
Carl Dy discussed the provisions in the lease contract that he uses for his rental properties. In the Money Summit, I took advantage of his promo of P2,000 for a soft copy of his actual lease contract (with free 6 Steps book). I have my own version of a lease contract, which is already a mixture of various provisions which I have seen in many lease contracts. You can make your own as well.
6 Steps To Renting Out Your Condo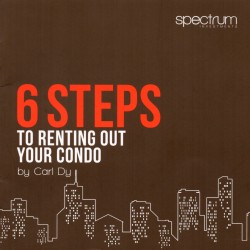 Carl also discussed the contract provisions in his lease contract in his book "6 Steps to Renting Out Your Condo," which I highly recommend. You can buy a copy from Carl whenever he gives talks. It is very reasonably priced at only P150.
I think he will have another talk for Learning Curve this year, we will announce it once we have information about it. Please note that there is a wealth of information in his book that was not discussed in his talk so I highly recommend that you purchase it. It's a very light read but it's something that I believe is good to read over and over again so the wisdom will really seep into your consciousness.
Carl also has an upcoming book, "Creating Wealth in Real Estate" which I'm sure will be blessing many people once available (definitely, we will let you know). We hope to work with him very soon and help him share his knowledge to more people all over the world.
I hope you learned a lot today. If you want to watch videos of Carl Dy, please watch the videos below. Note that the last two videos are partly in Chinese.
Videos
Is there anything else you would like to know about leasing? Please let us know in the comments.
P.S. Do you want to learn how you can get started with finding good real estate deals for free? If yes, then you should check out my husband's free 3-part video series. Jay already released Video 1 (How to get started with real estate investing), and Video 2 (How to estimate repairs, taxes, and return on investment with foreclosed properties). Video 3 will be released very soon. Sign up now to get instant access to the videos below:
Click to sign-up for a free 3-part video series on "How to get started with finding good real estate deals"