A public auction of PNB foreclosed properties in Cagayan, Isabela, Nueva Vizcaya, and Quirino Province, shall take place on July 30, 2015, Thursday, 2:00pm, at The Hotel Andrea, Don Jose Canciller Avenue, Cauayan City,
Isabela. More than 70 properties are included in the listing, which you can download below.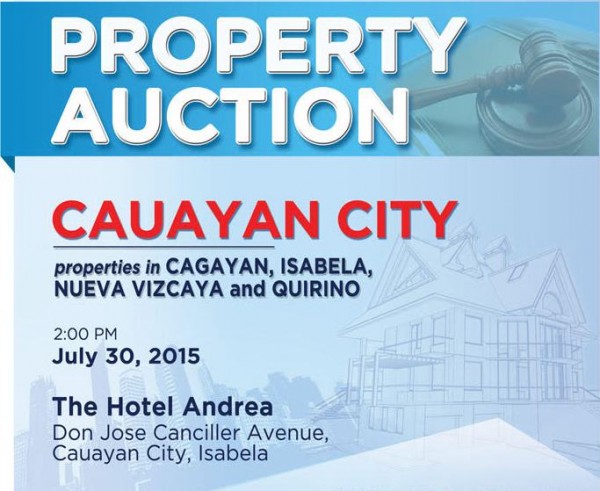 Bidding details
The Bank reserves the right at anytime to pull out or update status of the properties in the event discrepancies are found.
Inadvertent misprints shall not alter the property's factual condition nor shall they be deemed as a misrepresentation of the property
PRICE & STATUS OF THE PROPERTIES ARE SUBJECT TO CHANGE WITHOUT PRIOR NOTICE
PROPERTIES FOR SALE ARE ON AN "AS IS WHERE IS BASIS"
Prior to the auction, bidders/buyers are advised to exercise due diligence on the physical and legal conditions of the property.
DEPOSIT: PHP 25,000.00 CASH OR MANAGER'S CHECK ONLY
-NO DEPOSIT, NO PARTICIPATION-
FOR INSTALLMENT BUYERS, PLEASE BRING PROOF OF INCOME (ITR, Cert. Of Employment, Bank Statement, Etc.)
FOR REPRESENTATIVES, PLEASE BRING LETTER OF AUTHORIZATION
Rates vary according to market value of property
Brokers / Referrers of bidders need to be present during the auction to be eligible for commission

TERMS OF PAYMENT
1. Cash
2. Installment

A. For REGULAR SALE

– fixed 6% interest rate up to 5 years
– fixed 8% interest rate up to 5 to 10 years

B. For PABAHAY BONANZA Program
(properties 5M & below; with 20% deposit requirement)

– fixed 6% interest rate up to 10 years
– fixed 8% interest rate up to 10 to 20 years
Download the list of PNB foreclosed properties
You may download the list of PNB foreclosed properties that are for sale through auction on July 30, 2015 below.
Click to download list of PNB foreclosed properties for for public auction in Cauayan City, Isabela on July 30, 2015
Happy Hunting!
Reminder: Please contact PNB directly for more details with regard to this public bidding and any of the properties included. Their contact details are inside the listing, which
you can download above. Thank you for understanding.
Full disclosure: Nothing to disclose. We won't be able to attend this public sealed bidding so please contact PNB directly for more details (their contact details are included in
the listing). Thank you.
P.S. Do you want to get started with investing in foreclosed properties but you don't know how or where to start? Check out our new and free video series for beginning investors, click here to watch the first video.