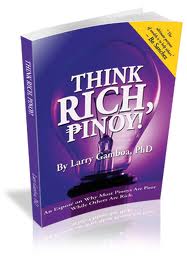 If you want to catch my short talk on the basics of how to "Do the numbers" and learn more from Larry Gamboa, best selling author of the book "Think Rich Pinoy!", you may want to attend the Think Rich Pinoy Seminar on March 17, 2012, Saturday, 8am to 6pm, at the Citisec Training Center, East Tower, Tektite Building, Ortigas Center, Pasig City, Philippines.
"Do the numbers"
I have been invited again to speak during the seminar and I plan to talk about the basics of how to "Do the numbers". Yes, I will talk about doing the numbers again because I believe that one's ability to objectively analyze a property to determine if it would be a worthy investment is an essential part of being a real estate investor (and I no longer have to prepare another set of PowerPoint slides… just kidding!).
Anyway, I really hope attendees will learn something from what I will share, and use it to analyze real deals in real life (not just those in the cashflow 101 boardgame), so they can start finding deals "for real".
Updated as of March 14, 2012: Here is an outline of what I plan to cover during my talk:
Why do the numbers?
What to do BEFORE you start analyzing properties.
How to determine the projected Return-On-Investment (Cash-on-cash) for cashflow generating properties
Case study for an actual deal
Resources for real estate investors
Questions and Answers
I'll squeeze all of these in my one hour talk but I want to have more time for the Q and A…
I want to keep it short and sweet…
I also want to make my talk short so that there would be a longer time for questions and answers, especially with regard to buying foreclosed properties. I can foresee a lot of questions and I look forward to answering them.
So if you are attending the Think Rich Pinoy Seminar on March 17, 2012, and you have a "burning question" about real estate investing, why don't you share your question now through the comments section below so I can ensure I will have a complete answer on the day of the seminar? Fair enough?
To learn more about the Think Rich Pinoy Seminar on March 17, 2012, just click on the link below.
Learn More About the Think Rich Pinoy Seminar on March 17, 2012
I hope to see you at the seminar!
Happy learning!
~~~
To our success and financial freedom!
Jay Castillo
Real Estate Investor
PRC Real Estate Broker License No. 3194 
Blog: https://www.foreclosurephilippines.com
Follow me in Twitter: http://twitter.com/jay_castillo
Find us in Facebook: Foreclosure Investing Philippines Facebook Page
Text by Jay Castillo and Cherry Castillo. Copyright © 2008 – 2012 All rights reserved.
Full disclosure: I am an affiliate of the Think Rich Pinoy Seminar. It means that if you register for the seminar, I will earn a commission.