UnionBank invites all interested bidders to attend the 167th Special Public Auction of UnionBank foreclosed properties on April 16, 2011, Saturday, 9:00am. Public auctions will be held simultaneously at different venues and includes foreclosed properties from the Visayas and Mindanao areas.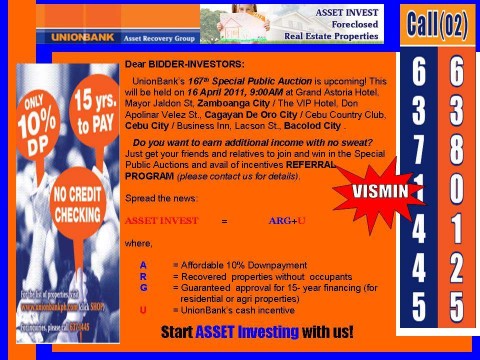 Auction venues
BACOLOD CITY – Venue: Business Inn Lacson Street
CEBU CITY – Venue: Cebu Country Club
CAGAYAN DE ORO CITY – Venue: The VIP Hotel Don Apolinar Velez Street
ZAMBOANGA CITY – Venue: Grand Astoria Hotel Mayor Jaldon Street
Download the list of foreclosed properties
Download the complete list of foreclosed properties below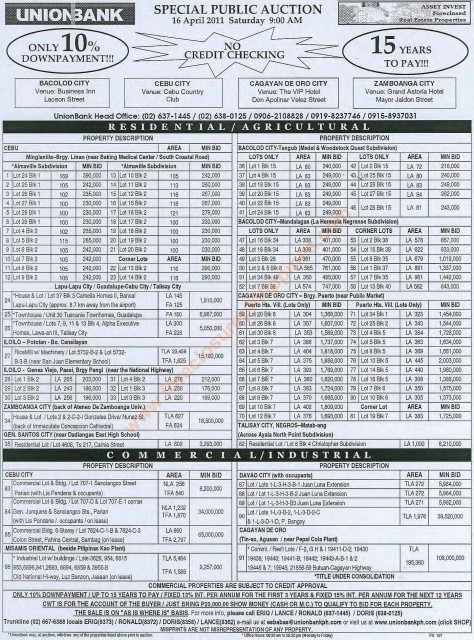 PDF version: 167th Unionbank foreclosed properties Visayas and Mindanao April 16, 2011.pdf
Thanks again to Lance Yadao for giving us copies of their lists of foreclosed properties for sale!
For more details
Please call:
Eriq/Lance/Ronald (637-1445)

Doris (638-0125)
Trunkline No. 667-6388 locals locals Eriq(8373) / Ronald(8372) / Doris (8358) / Lance (8362)
E-mail:
Visit their website
Reminders
JUST BRING P20,000 SHOW MONEY (CASH/MC) TO QUALIFY TO BID FOR EACH PROPERTY. CWT IS FOR THE BUYER'S ACCOUNT. FIXED 13% INT. P.A. (FIRST 3 YEARS) & 15% INT. P.A. (NEXT 12 YEARS).

MISPRINTS ARE NOT MISREPRESENTATION OF ANY PROPERTY. ALL PROPERTIES FOR SALE ARE ON "AS IS WHERE IS" BASIS.

UnionBank may, at anytime, withdraw any of the properties listed above prior to auction.
Happy hunting!
Jay Castillo
Real Estate Investor
Real Estate Broker License #: 20056
Blog: https://www.foreclosurephilippines.com
Follow me in Twitter: http://twitter.com/jay_castillo
Find us in Facebook: Foreclosure Investing Philippines facebook page
Text by Jay Castillo and Cherry Castillo. Copyright © 2011 All rights reserved.
PS. Don't be the last to know, subscribe to e-mail alerts and get notified of new listings of bank foreclosed properties, public auction schedules, and real estate investing tips. Mailbox getting full? Subscribe through my RSS Feed instead!