Everyone is to invited to bid for UNIONBANK's Pre-Owned Vehicles on November 28, 2011.
What caught my eye on this list was the 2011 Porsche Panamera. I was able to find a picture of a similar car and I shared it here for everyone. Nice looking car don't you think?!
If the 2011 Porsche Panamera is too expensive for you, there are 141 other other pre-owned cars on the list that are more reasonably priced.
Anyway, bids should be submitted together with Php5,000.00 (Manager's Check) at the 20th Floor Asset Recovery Group UnionBank Plaza Meralco Avenue corner Onyx Road, Ortigas Center, Pasig City not later than November 28, 2011.
Inspection is at UNIONBANK PRE-OWNED VEHICLES WAREHOUSE, No. 7259 B Malugay Street near corner Talisay Street, San Antonio Village, Makati City (behind Centro Escolar University, near Tiara Oriental Hotel and Skyland Towers). Please refer to vicinity map below.
Download the complete list of pre-owned vehicles and vicinity map
The complete list of pre-owned vehicles for sale along with a copy of the vicinity map to the warehouse can be seen below. Click on the image to enlarge/ right-click to save.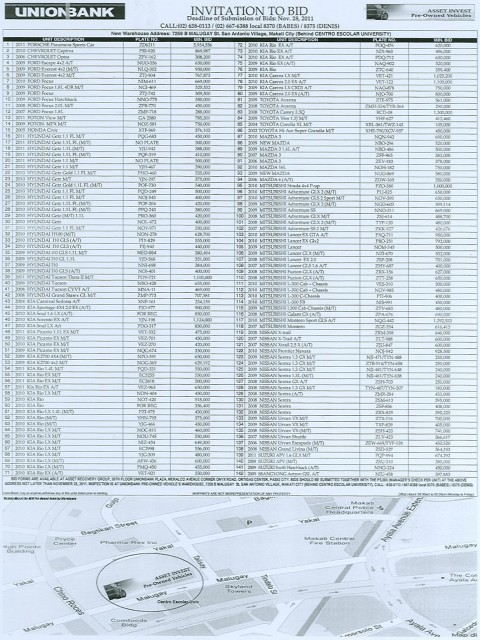 For more details
To get more details, please call BABES or DENIS @ 638-0113 or 667-6388 loc. 8370 or 8375, you can also visit their website: www.unionbankph.com (CLICK SHOP).
Happy hunting!
Thanks again to Mr. Lance Yadao of UnionBank for sending us this updated listing of pre-owned/repossessed cars for sale.
~~~
To our success and financial freedom!
Jay Castillo
Real Estate Investor
PRC Real Estate Broker License No. 3194
Blog: https://www.foreclosurephilippines.com
Follow me in Twitter: http://twitter.com/jay_castillo
Find us in Facebook: Foreclosure Investing Philippines Facebook Page
Text by Jay Castillo and Cherry Castillo. Copyright © 2011 All rights reserved.
Full disclosure: Nothing to disclose.