UnionBank invites interested parties to join their clearance sale of pre-owned vehicles/repossessed cars. Deadline of submission of bids will be on July 18, 2011 at the UnionBank Plaza, Meralco Avenue corner Onyx Road, Ortigas Center, Pasig City, Philippines. Please see flyers below for more details.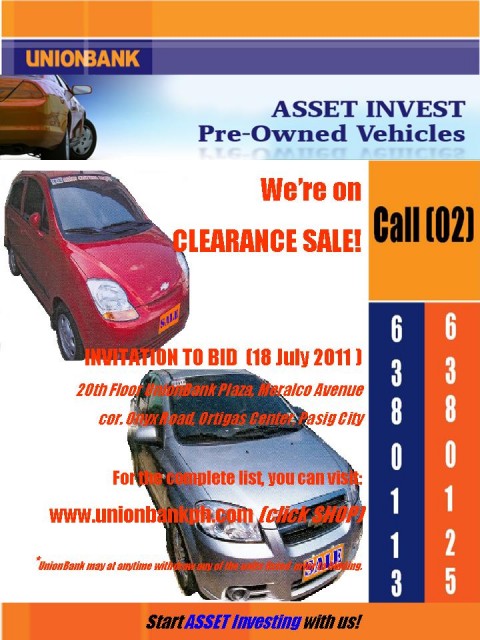 Complete list of UnionBank repossessed cars for sale
Please see below the complete list of pre-owned/repossessed cars for sale through sealed bidding.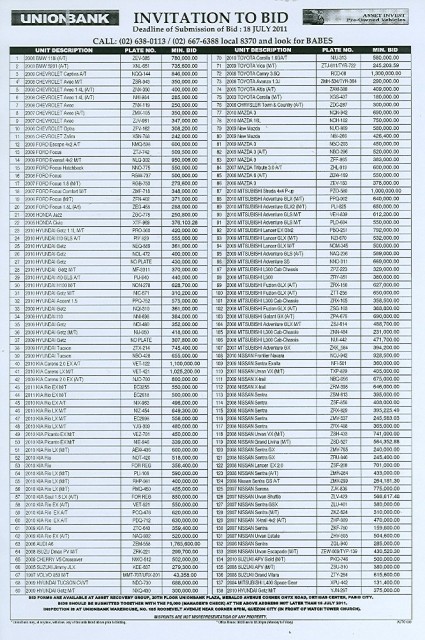 Need more info?
For more information, buyers may contact Miss Babes Morado @ 667-6388 local 8370.

The complete listing of UnionBank repossessed cars for sale can also be viewed at www.unionbankph.com (click SHOP).

Thank you for ASSET Investing with us!
LANCE R. YADAO
Asset Recovery Officer-Asset Recovery Group
UNIONBANK of the Philippines

 
Happy hunting!
~~~
To our success and financial freedom!
Jay Castillo
Real Estate Investor
PRC Real Estate Broker Registration No. 3194
Blog: https://www.foreclosurephilippines.com
Follow me in Twitter: http://twitter.com/jay_castillo
Find us in Facebook: Foreclosure Investing Philippines Facebook Page
Text by Jay Castillo and Cherry Castillo. Copyright © 2011 All rights reserved.
Full disclosure: Nothing to disclose.