The PNB Asset Gazette for July 2011 features a number of prime PNB foreclosed properties that are for sealed bidding this coming July 15, 2011, Friday, at the 9th Floor, PNB Financial Center, President Diosdado Macapagal Boulevard, Pasay City Philippines. Checkout the PNB Asset Gazette below to see pictures of the featured prime properties for sale.
This month's issue also gives a heads-up on an upcoming auction on July 30, 2011 entitled "Festival Auction". I am assuming this will be held during the Philippine Real Estate Festival 2011, and I will also feature this auction here once I get more details from PNB.
PNB Asset Gazette for July 2011
Just click on the images below to enlarge.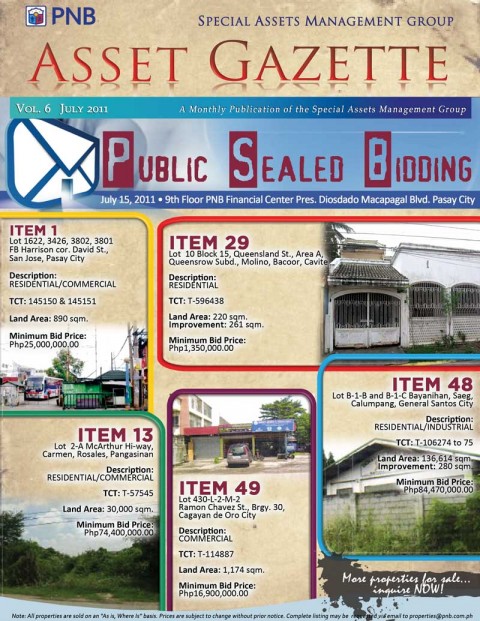 A PDF version is also available here: PNB Asset Gazette – July 2011 (PDF)
The PNB Asset Gazette is a free publication of the Marketing Department, Philippine National Bank Special Assets Management Group.
Public Sealed Bidding of PNB Prime Properties
In relation to the featured properties above, The complete list of PNB Prime properties for sealed bidding on July 15, 2011 can also be downloaded below. This list includes residential, industrial, and commercial foreclosed properties from Metro Manila, Luzon, and Mindanao.
According to the Asset Gazette, a whole page ad for this will also be published in the Business Section of The Inquirer on July 15, 2011. The ad featured below was published in the Business Section of the Philippine Star last July 4, 2011.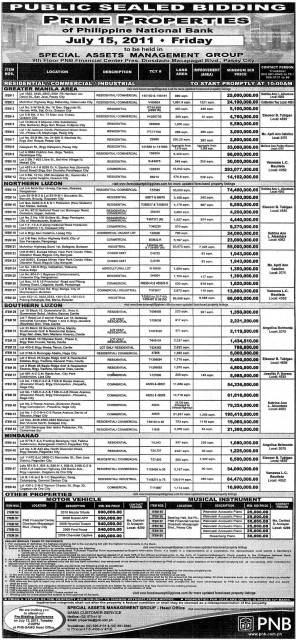 Interested parties are also invited to a Pre-Bidding Conference on July 12, 2011, Tuesday, at 2:00pm, at the PNB-SAMG head office. Please contact PNB directly for more details. I might attend the Pre-Bidding conference as I intend to visit PNB to follow-up my own accreditation as a licensed real estate broker.
Happy hunting!
~~~
To our success and financial freedom!
Jay Castillo
Real Estate Investor
PRC Real Estate Broker Registration No. 3194
Blog: https://www.foreclosurephilippines.com
Follow me in Twitter: http://twitter.com/jay_castillo
Find us in Facebook: Foreclosure Investing Philippines Facebook Page
Text by Jay Castillo and Cherry Castillo. Copyright © 2011 All rights reserved.
Full disclosure: Nothing to disclose.