A total of 369 Union Bank foreclosed properties from Metro Manila, Luzon, Visayas, and Mindanao, are included in a public sealed bidding being conducted by the Asset Recovery Group. Deadline of submission of sealed bids will be on January 28, 2020. Details below.
Reminder: Union Bank requires credit checking
Just wanted to remind everyone that Union Bank requires credit checking for all their buyers, as stated in the fine print, and also on the slide below, which I got during an event hosted by Union Bank last year.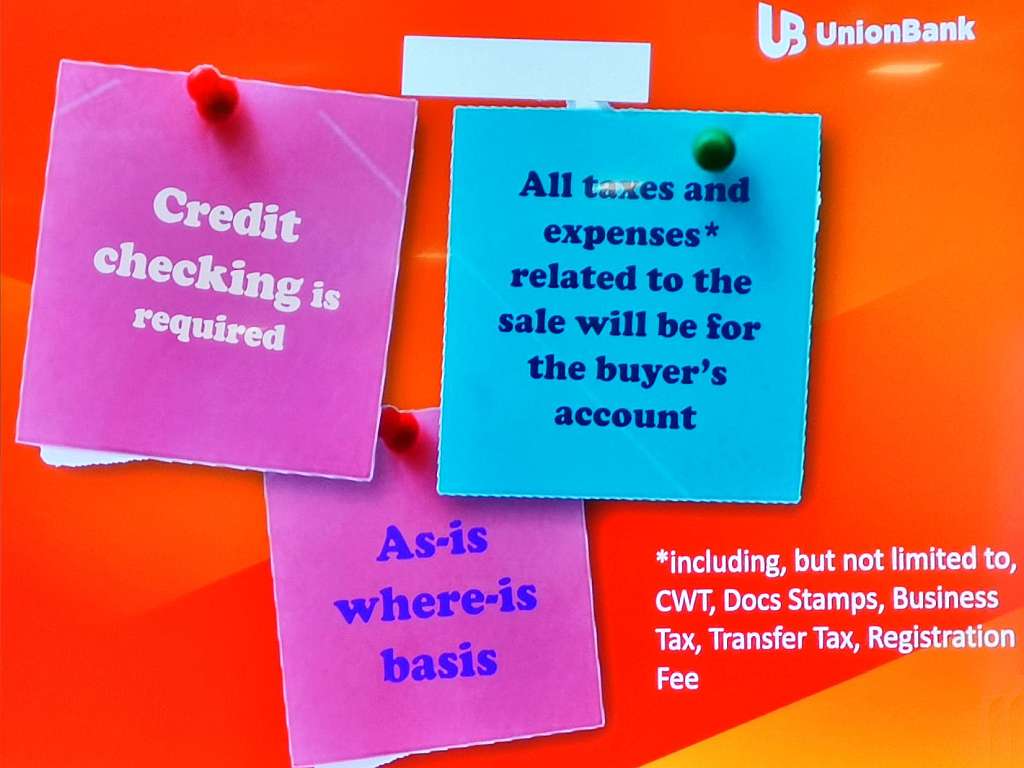 View/download list of Unionbank foreclosed properties
The complete list is of Union Bank foreclosed properties included in the sealed bidding can be found below:
If the list does not display properly above, or if you prefer to download the list, you may do so below:
==> Click to download Unionbank foreclosed properties for sealed bidding until January 28, 2020  (PDF)
Note: You will need Adobe Acrobat Reader to view PDF files, which is free to download at Adobe.com
Source: Erickson P. Calapini, Land and Real Estate Sales Staff – Unionbank Asset Recovery Group
What to include when submitting sealed bids
The sealed bid must contain the ff:
Signed Bid Form (click to download a copy)
Signed Bidding Rules (click to download a copy)
Manager's Check of P20,000 payable to Union Bank of the Philippines
For more info, please refer to the bidding guidelines below.
Bidding Rules and Guidelines
Here's a copy of the bidding rules and guidelines for quick reference:
The "fine print"
Past auctions of Unionbank foreclosed properties (Archive)
~~~
Happy hunting!
P.S. The listing above is not yet inside our classifieds database. Uploading for listings in this format takes longer, and I will just upload it if I have time. ~ Jay Castillo