I attended a "Sellers Meeting" conducted by Unionbank's Assest Recovery Group last June 18, 2019, and I received this post-auction listing for the Luzon/Metro Manila area. It contains 112 UnionBank foreclosed properties that were not sold during a recent public auction. More details below.
For a limited time, these foreclosed properties are for negotiated sale
Since these properties were not sold during the auction (held last Saturday, June 15, 2019), and Unionbank has not yet announced the next auction, these unsold properties are now available via negotiated sale. This means interested parties can submit offers that are below the listed price, subject to bank management's approval.
Please take note however that once Unionbank announces the schedule for their next auction, any properties on this list that are also included in their next auction will no longer be available for negotiated sale
Unionbank requires credit checking
Just wanted to remind everyone that Unionbank requires credit checking for all their buyers, as stated in the fine print, and also on the slide below.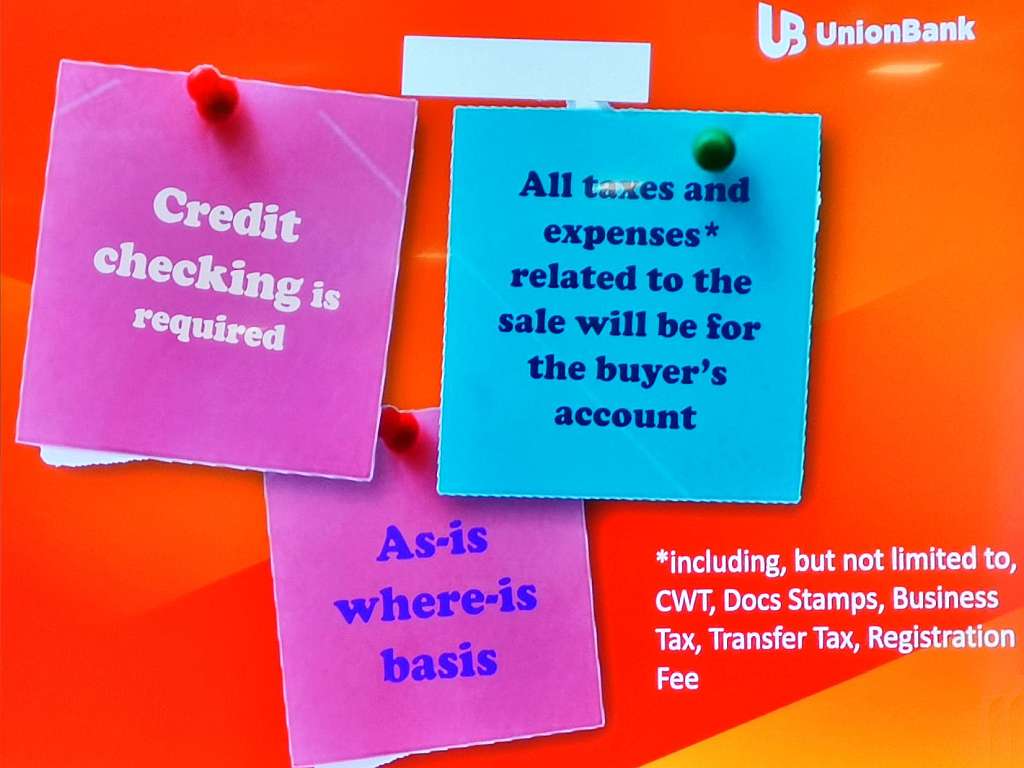 View/download list of Unionbank foreclosed properties
The complete list is of UnionBank foreclosed properties that remain available can be viewed/downloaded below. Basically, properties that got sold during the auction were removed/deleted.
If the list does not display properly above, or if you prefer to download the list, you may do so below:
Click to download Unionbank foreclosed properties in Luzon for sale  (PDF)
Note: You will need Adobe Acrobat Reader to view PDF files, which is free to download at Adobe.com
Source: Flyer was from Unionbank Asset Recovery Group as distributed during a "Sellers Meeting last June 18, 2019
Auction terms
UnionBank still offers very affordable payment terms as follows:
Installment terms are as follows:
| | |
| --- | --- |
| Downpayment: | 10% (minimum) 6 months to pay at zero-interest |
| Interest: | 11% per annum (fixed for 15 years) |
| Term: | 15 years (maximum) |
Sample computation
SELLING PRICE (SP)= Php1,000,000.00
TERM: 15 years
DOWN PAYMENT (DP) = 10% of SP = Php100,000
Down payment (6 months to pay)
=DP/6 months
=Php16,666,67/month
Down payment per month:
1st month: Php16,666.67
2nd month: Php16,666.67
3rd month: Php16,666.67
4th month: Php16,666.67
5th month: Php16,666.67
6th month: Php16,666.67
Monthly Amortization
Monthly amortization = (SP – DP) x Amortization Factor Rate
=(Php1,000,000 – Php100,000) x 0.0113659693*
=Php10,229.37
*note: amortization factor rate used is for 11% interest rate at 15 year term (click here to view amortization factor rate table)
You may also use our mortgage calculator to compute for the monthly amortizations.
How to inquire
For prompt assistance when inquiring about any of the foreclosed properties on the list, please call UnionBank directly through the contact numbers in the flyers/listings which you can download above.
*Note: Please call during office hours: 8:30am to 5:30pm (Monday to Friday)
The "fine print"
UnionBank may, at anytime, withdraw any of the properties listed above prior to auction.
Payment of Creditable Withholding Tax (CWT) is for the Buyer's account.
All winning bidders will be subject to credit checking.
MISPRINTS ARE NOT MISREPRESENTATION OF ANY PROPERTY. ALL PROPERTIES FOR SALE ARE ON "AS IS WHERE IS" BASIS.
Overview of buying UnionBank foreclosed properties
Based on past transactions with Unionbank, here's a quick overview of the buying process:
1. View/download list of properties and identify those you are interested in.
2. Contact Unionbank directly through the contact information included in the list of properties, and get property details, etc.
3. If you are satisfied with the details of the properties you identified earlier, you should do your due diligence (inspect the properties, verify the documents, etc.). We recommend that the buyer will do the inspection personally. Recommended reading: 31 Questions You Need To Ask When Inquiring About A Foreclosed Property
4. If the properties you are interested in pass your due diligence, you can already proceed with the purchase.
A. Via auction:
1. Call Unionbank to get more auction details. You should prepare requirements like the PHP 20,000 show money (cash or manager's check), ID's, etc. If you cannot attend the auction, it should be possible to send a representative on your behalf (check with the bank the exact requirements for this).
2. Attend the auction with the required show money.
3. If you made a bid and you won during the auction, your show money becomes part of the downpayment, and the bank will assist you with finalizing the purchase (choosing payment terms like your preferred downpayment amount/ years to pay for the balance and interest rate/ etc., signing of the contract-to-sell, when you can move-in, etc.)
4. If you made a bid and did not win during the auction, you're show money will be returned to you.
B. If via negotiated sale:
1. Call Unionbank to get more details. You should get copies of their Offer To Buy Form, Personal Information Sheet, etc.
2. Submit Offer with complete requirements.
3. Wait for Unionbank to notify you if your offer was accepted or not. If your offer was accepted, they will inform you of the next steps. If not, ask why your offer was not accepted, and if you can still submit a better offer, and then follow their instructions.
Note: The above is just a quick overview based on our own experiences when we attended past auctions of UnionBank. Their exact auction procedure is subject to change without prior notice. To get more auction details, please contact UnionBank directly. Our standard Site Disclaimer applies.
Past auctions of Unionbank foreclosed properties (Archive)
~~~
Happy hunting!
~~~
Text by Jay Castillo and Cherry Castillo. Copyright © 2008 – 2019 All rights reserved.
Full disclosure: Nothing to disclose, we will not be able to attend this auction.