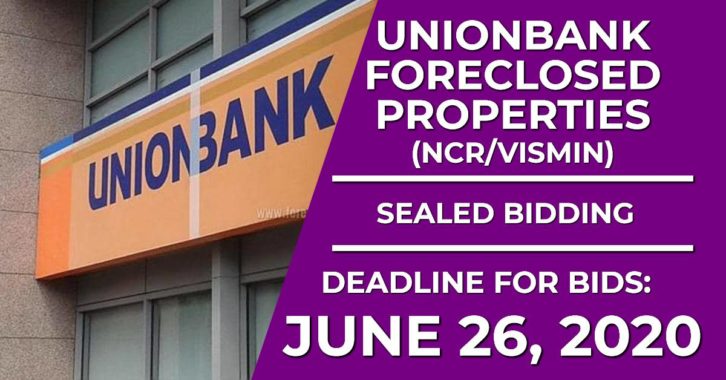 A total of 632 Union Bank foreclosed properties from Metro Manila, Luzon, Visayas, and Mindanao, are included in a public sealed bidding being conducted by the Asset Recovery Group. Deadline of submission of sealed bids will be on June 26, 2020. Details below.
Reminder: Union Bank requires credit checking
Just wanted to remind everyone that Union Bank requires credit checking for all their buyers, as stated in the fine print, and also on the slide below, which I got during an event hosted by Union Bank last year.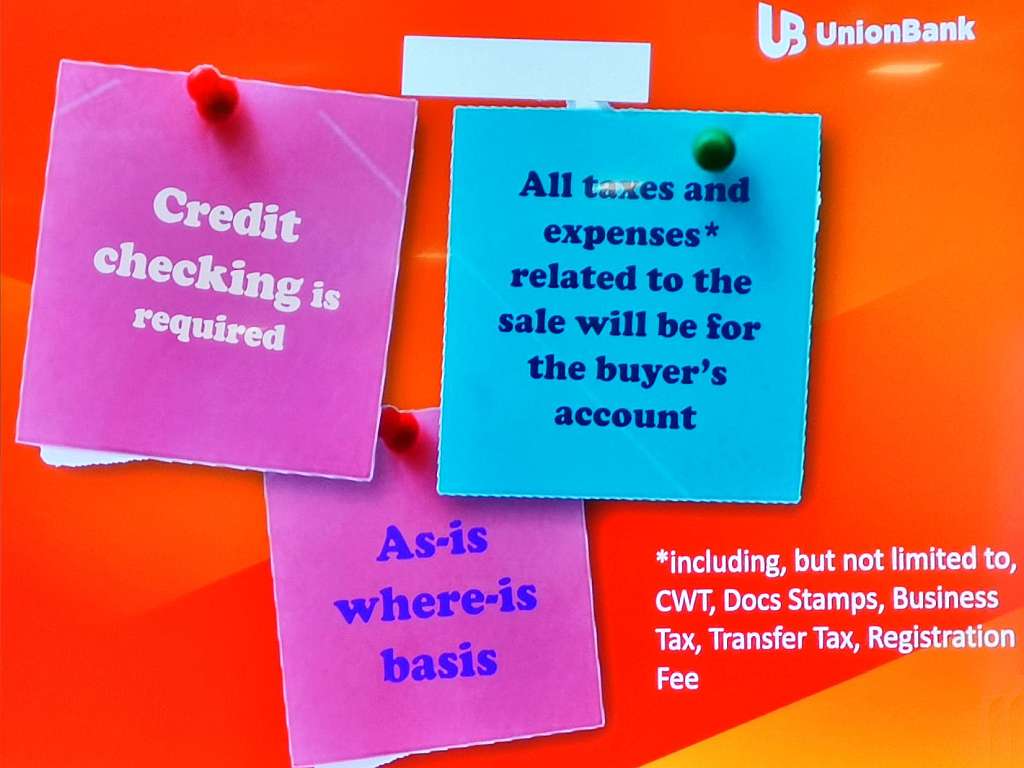 View the entire list of Unionbank foreclosed properties for sealed bidding
For easy searching and filtering, you may view the entire list in our "Classifieds Database" below:
==> Click here to view searchable list of Unionbank Foreclosed Properties (Database)
Source: Unionbank Website
Foreclosed Properties Search (FPS) – Search all foreclosed properties in the Philippines
To quickly search for ALL available foreclosed properties in your preferred location/ village/ subdivision etc., use our Foreclosed Properties Search or FPS tool below.
Step-by-step instructions:
Search by typing keywords (ex. Your preferred subdivision, village, condo, etc) and/or location(s) and click "Search". To only include properties from Unionbank, include the keyword "Unionbank".
Use "Advanced Search" to choose preferred price range, lot/floor areas (if data is available), and also to exclude those classified as occupied.
If you want to view all listings regardless of the source, then don't enter any keywords related to the property source. Example, if you want to find and compare ALL condominiums in Metro Manila, include "condo" then omit the "Unionbank" keyword when searching, and then you will find ALL condos in our database, not just those from Unionbank.
Browse all locations with foreclosed properties by Province/City
You can also browse all locations within the Philippines with foreclosed properties available from ALL banks/lending institutions, grouped by Province/City, on this page:
==> Click to browse all foreclosed property locations
Note: The "Classifieds Database" is a work in progress. If you have comments/suggestions, please do let me know by leaving a comment below.
Important reminders for sealed bidding
Deadline for submission of bids: June 26, 2020 (Friday 5:00 PM)
How to submit bids: Submit online via email: [email protected]
CWT IS FOR THE ACCOUNT OF THE BUYER.

JUST DEPOSIT THE P20,000.00 SHOW MONEY AT ANY UNIONBANK BRANCH NEAREST YOU TO QUALIFY TO BID FOR EACH PROPERTY.

CASH OR MANAGER'S CHECK TO BE DEPOSITED TO:

ACCOUNT NUMBER: 1906322505001144
ACCOUNT NAME: UNIONBANK OF THE PHILIPPINES

PLEASE SUBMIT YOUR ACCOMPLISHED BIDDING FORMS, BIDDING RULES, AND VALIDATED DEPOSIT SLIP VIA EMAIL: [email protected] NOT LATER THAN JUNE 26, 2020.
What to include when submitting sealed bids
The sealed bid must contain the ff:
Signed Bid Form (click to download a copy)
Signed Bidding Rules (click to download a copy)
Validated deposit slip for the Php20,000 show money
For more info, please refer to the bidding guidelines below.
UnionBank Bidding Rules and Guidelines
Here's a copy of the bidding rules and guidelines for quick reference:
If you have questions, you may contact UnionBank directly using the contact info below.
UnionBank Contact info
For more info:

Please call UnionBank DIRECTLY:

MARLON-(027)968-1605 / 09178568198)
ELA-(027)968-0971 / 09178567698
DENIS-(027)557-1378 / 09178301580
MARK-(027)906-5818 / 09175968635
ERICK- 09178088648

E-mail [email protected]
Visit UnionBank's website at www.unionbankph.com/foreclosed-announcement-downloadable

MISPRINTS ARE NOT MISREPRESENTATION OF ANY PROPERTY.

1 ) UnionBank may, at anytime, withdraw any of the properties listed above prior to auction.
2 ) Office Hours: 08:30 am to 05:30 pm (Monday to Friday).
3 ) Payment of Creditable Withholding Tax (CWT) is for the Buyer's account.
4 ) All winning bidders will be subject to credit checking.
The "fine print"
~~~
Happy hunting!