Here are the latest listings of DBP foreclosed properties for sale. Included below is a huge property in Boracay for sealed bidding this August 18, 2022 and 300+ that are currently for negotiated sale from the Development Bank of the Philippines. Details below.
DBP foreclosed properties for sealed bidding
Foreclosed Properties in Boracay
There are foreclosed properties in Boracay (3 commercial lots) available via sealed bidding scheduled on August 18, 2022. (As is where is, and Cash basis only). However, it turns out all three lots must be purchased together.
Composed of three (3) commercial lots, the property has a total lot area of 8,774 sqm and is situated at Station 1, Boracay Island, Brgy. Balabag, Malay, Province of Aklan.
If you (or someone you know) is interested in owning/developing a resort in Boracay, then this might be worth looking into.
By the way, DBP has indicated on the invitation to bid that this sealed bidding is for "Direct Buyers" only, which means interested bidders must transact with DBP directly (real estate brokers/agents are not allowed).
Property has legal issues/pending case?
I just want to make everyone aware that the invitation to bid indicates that one of the many requirements for interested bidders is a "Notarized acknowledgment that the bidder is aware of the legal issues/pending case and shall assume the risks attendant thereto. Civil Case No. 5886 (Pearl of Boracay Landholdings Corporation vs. DBP), decided in favor of DBP with Finality. Tender of redemption made by Pearl of Boracay Landholdings Corporation for two (2) properties under TD Nos. 17-12-003-04961 and 05-003-0741 was Denied by RTC, Branch 6, Kalibo, Aklan, per Order dated July 13, 2022."
Although it states that the case was "decided in favor of DBP with Finality", I highly suggest that you check with DBP what exactly this means.
For more details, please refer to the contact info and invitation to bid below.
Sealed bidding details (Schedule and Contact Info)
Sealed Bidding Date/Time: August 18, 2022 (Thursday, 10am)
Venue: Training Room B, 4th Floor, DBP Head Office Bldg., Sen. Gil Puyat Ave., cor Makati Ave., Makati City, Metro Manila
Contact info:
For inquiries, please call telephone numbers: (02) 8840-2783 or (02) 8818-9511 to 20 locals 2961 to 2969 or e-mail at aad@dbp.ph
Invitation To Bid (PDF)
More details about the sealed bidding for the DBP foreclosed properties in Boracay are inside the Invitation To Bid from DBP, see a copy below:
Source: Invitation to bid via DBP's official website
If you are looking for more affordable foreclosed properties, then you might find a suitable property in DBP's list of foreclosed properties for negotiated sale below.
300+ DBP foreclosed properties for negotiated sale
The most updated list of I found from DBP that are for negotiated sale is their list for June 2022. While it may seem old, I noticed that they only publish updated listings around 2x a year, so this list can be considered "up-to-date".
Of course, you will have to check with the designated account officer for property availability.
List of foreclosed properties (Database)
For easy searching/filtering, I uploaded all DBP foreclosed properties to my foreclosed real estate database, see button/link below:
==> Click for all DBP foreclosed properties for negotiated sale inside our database
Contact Details
Each property from DBP that are for negotiated sale has a designated account officer who can provide you with more details. The designated account offer is indicated in each listing in our database.
You may also refer to the PDF listing below where the designated account officer is in the right-most column.
How about licensed real estate brokers?
Good news, for DBP properties that are for negotiated sale, licensed real estate brokers are welcome! Please contact DBP directly for broker accreditation details/requirements.
How to buy via Negotiated Sale
For details on how to buy/avail DBP foreclosed properties vgia negotiated sale, refer to the rules/procedure below:
"NEGOTIATED SALE RULES AND PROCEDURES
DISPOSITION OF ASSETS ON A FIRST-COME, FIRST-SERVED BASIS
1. The acquired asset/s shall be sold on an "as is, where is" basis. The offeror acknowledges that he has been given every opportunity to investigate, inspect and verify the assets offered to ascertain the actual conditions thereof as well as the status of the titles/TDs. Offeror also accepts DBP's disclaimer of any warranty, implied or otherwise, that the assets conform precisely to the description indicated in the Invitation on Negotiated Offers, subject to the Bank's policies governing the disposition of assets on a First-Come, First-Served Basis.
2. Bids/offers submitted by officers and employees of DBP and their relatives within the 3rd degree of consanguinity and affinity shall be subject to the requirements/limitations provided under applicable policies of the Bank on sale of acquired assets to the DBP officers and employees.
3. If the property for sale is the subject of a pending court case/s, the Offeror should submit to DBP a notarized acknowledgment that he is fully aware of the pending court case/s and shall assume the risks/consequences attendant thereto.
4. Further, upon full payment of the offer price or execution of the Deed of Absolute Sale, the buyer shall execute, together with DBP, a Joint Motion for Substitution of DBP as party-defendant in the court case/s involving the acquired assets sold by the Bank.
5. Negotiated offers on acquired assets may be made in cash. It must be accompanied by a cash purchase deposit in the form of cash, cashier's check or manager's check equal to 10% of the offer upon receipt of the proposal and the balance of the sale consideration to be remitted within thirty (30) calendar days from date of the Bank's Notice of Approval, and photocopy of offeror's proof of identity, indicating full name, address, signature (i.e. valid driver's license, SSS/GSIS ID, passport, etc.). The check must be made payable to the "Development Bank of the Philippines" and duly issued by a BSP authorized bank. DBP will not accept post-dated checks.
It is expressly understood, however, that the acceptance of the initial 10% deposit does not bind DBP to the offer until after receipt of the Bank's Notice of Approval.
For term sale, the required down payment is 20% of the purchase price.
6. As a general rule, no offer below the floor price shall be entertained. For former owners, the offer shall either be the updated total claim or appraised value, whichever is higher.
7. Offeror shall accomplish the Letter-Offer Form in two (2) copies. The original of said form shall be submitted to DBP, while the original duplicate will be given to the offeror, properly stamped, acknowledging receipt of the offer.
8. If the offeror is a representative of an individual, unregistered partnership or entity, the representative must submit a written authority to represent said individual, unregistered partnership or entity, or a Secretary's Certificate of the authorization for a registered partnership, association, corporation or entity.
9. The offer shall be evaluated by AAD, which shall make the necessary recommendation to the appropriate approving authority.
10. Withdrawal by the offeror of his offer for any cause shall mean forfeiture of his ten percent (10%) deposit in favor of the Bank as liquidated damages.
11. Transfer cost, registration fees, documentary stamp taxes and other expenses incidental to the sale and transfer of the assets shall be for the account of the buyer. Vendee shall reimburse DBP with the pro-rata amounts advanced by the Bank for realty taxes calculated and covering the period after closing date. Payment for Creditable Withholding Tax (CWT) equivalent to the selling price shall be shouldered by the Bank, any excess thereof shall be shouldered by the Vendee.
12. The buyer shall be responsible at his own expense for the ejectment of informal settlers and/or occupants, if any, on the property subject of sale.
13. Any and all claims, liens, assessments, liabilities and/or damages whatsoever arising from any suit or litigation involving the property shall solely be assumed and borne by the vendee to the total exclusion and benefit of the Bank, accruing from date of signing of the sale document.
14. For sale of chattels, the buyer shall at his own expense remove the assets from their present site within ten (10) calendar days from date of execution of sale document; otherwise, a storage fee of P200.00 per item per day shall be charged and DBP shall not be liable for its loss and damage.
15. No additions or deletions to the conditions stipulated herein shall be made by the buyer; otherwise, DBP reserves the right to reject the offer for non-adherence to its rules on negotiated offers.
16. All documents submitted, or to be submitted by the offeror are presumed to be legally in order, that the person signing and executing said documents is authorized to do so and that the signatures appearing thereon are authentic and not forged. Any material defect or misrepresentation on the documents which will invalidate or render unenforceable the bids submitted shall cause the rejection of the offer and the forfeiture of any amount tendered to the Bank.
Per Board Resolution No. ____ dated, the company/parent company, major stockholders/controlling stockholders, principals, subsidiaries, guarantors, joint and several signatories also waive its right/s (I also waive my rights – for individual) to the confidentiality of information and authorizes DBP to:
a. Obtain credit information regarding myself/the company's credit dealings from:
1) credit bureaus/reporting agencies such as, but not limited to, the Credit Information Corporation, BAP Credit Bureau, Inc., and Credit Management Association of the Philippines;
2) banks and/or financing companies/institutions; and
3) other creditors/lenders, its parent company and other related parties mentioned earlier as a reciprocal service;
b. Regularly submit and disclose credit information pertaining to my/the company's credit dealings with DBP to the CIC as well as any updates or corrections thereof; and
c. Share credit information pertaining to all of my/the company's credit dealings with DBP with other creditors/lenders and credit bureaus/credit reporting agencies.
17. Sale shall be subject to approval by the authorized approving authorities of the Bank."
Source: DBP Negotiated Offer Form via DBP official website
Download list (PDF)
You may also download a copy of the list for negotiated sale in PDF format below: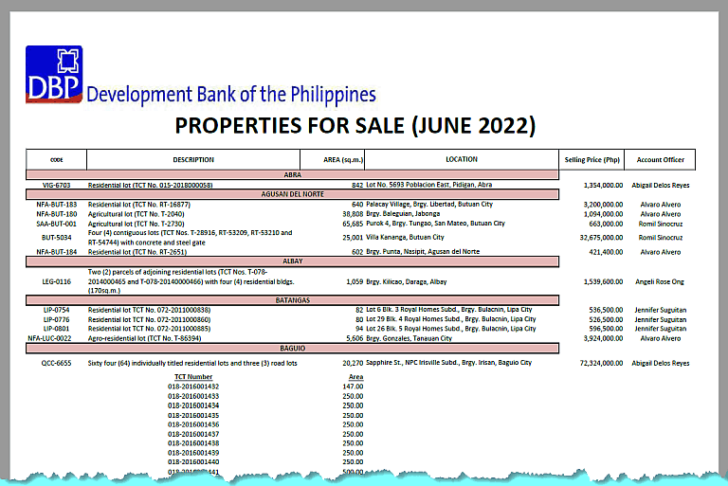 Source: DBP foreclosed properties for negotiated sale via DBP official website
Disclaimer and Reminders
All foreclosed properties are for sale on an "AS IS, WHERE IS" basis. Interested parties are reminded to conduct proper due diligence prior to the purchase of any foreclosed property.
Availability, prices, and property status are subject to change without prior notice.
Misprints should not be construed as misrepresentation of the property.
~~~
Full Disclosure: Nothing to disclose, this listing is being shared as a public service announcement for the benefit of the general public who are looking for foreclosed properties for sale.