Here's the first public auction of foreclosed properties in 2011 by RCBC Saving Bank to be featured in Foreclosure Investing Philippines. RCBC Savings Bank's first Dream Buys Auction will be on February 19, 2011, 9:00am, at the L.S. Virata Hall, 2nd Floor, Development Academy of the Philippines, San Miguel Avenue, Pasig City.
I noticed some big differences in this auction as can be seen on the ad. First of all, the minimum downpayment is now as low as 10%. Previous auctions required a minimum of 20% downpayment. This means lesser cashout for the winning bidders.
Although the ad said "FIXED INTEREST RATE" it turns out this is not for 10 years. My wife called up RCBC Savings Bank and it turns out that the interest rate is still only fixed for the first 5 years. Having a fixed interest rate is good because one need not worry about interest rate fluctuations that can have a big impact in one's monthly amortization payments. You still need to check what interest rate they offer (Please call RCBC Saving Bank directly).
To participate, the show money interested bidders need to bring remains the same, which is Php25,000 per property, in the form of cash or manager's check.
Just make sure you have done your due diligence before even considering to bid for a property (Check the title, tax declaration, arrears, "the numbers", etc.). Take note that there are properties with special concerns (occupied / with legal impediments).
Most of the foreclosed properties are from the Metro Manila area, and also includes some from Luzon.
Complete list of RCBC Savings Bank foreclosed properties
To download a copy of the complete list of RCBC Savings Bank foreclosed properties for sale through public auction on February 19, 2011, just clcik on the thumbnail below. You may also download a copy in PDF format, which is searchable, through the following link: RCBC-SAVINGS-BANK-FORECLOSED-PROPERTIES-AUCTION-FEBRUARY-19-2011-MB-JAN-30-2011-PAGE-G4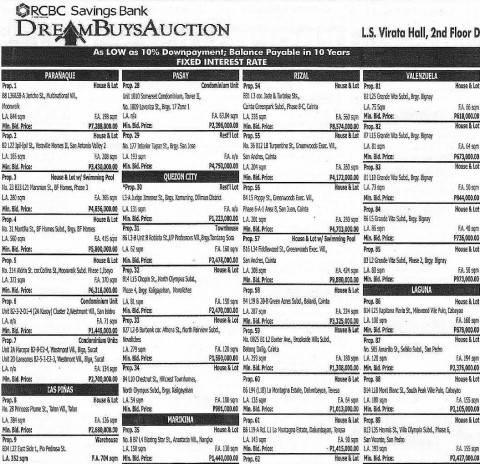 For more details
For more details, please call RCBC Savings Bank directly through the following:
MC 687-0839
Charmie 638-5032
Red 0908-8854803
Alex 0918-9511811
Jerome 0918-9903744
Other Properties: Vic Orense 0908-9182781 /687-5430 local 4742 / 470-9432
The fine print
All properties are sold on an "AS-IS-WHERE-IS" basis. Properties and prices are subject to change without prior notice. The Bonk reserves the right to withdraw any property before auction. Inadvertent misprints shall not alter the property's factual condition nor shall they be deemed as misrepresentation of the property.
By the way, on the same aucton date and venue, aside from the foreclosed properties from RCBC Savings Bank, RCBC foreclosed properties and JPL foreclosed properties are also for sale through public auction. I'll post this list next. Don't forget to subscribe to e-mail alerts and get notified once this list becomes available.
Happy hunting!
To our success and financial freedom!
Jay Castillo
Real Estate Investor
Real Estate Broker License #: 20056
Blog: https://www.foreclosurephilippines.com
Follow me in Twitter: http://twitter.com/jay_castillo
Find us in Facebook: Foreclosure Investing Philippines facebook page
Text by Jay Castillo and Cherry Castillo. Copyright © 2011 All rights reserved.
PS. Don't be the last to know, subscribe to e-mail alerts and get notified of new listings of bank foreclosed properties, public auction schedules, and real estate investing tips. Mailbox getting full? Subscribe through my RSS Feed instead!