The Land Bank of the Philippines (LANDBANK) was one of the Government Financial Institutions (GFI's) who participated in the recently held Housing Fair 2013. The listing of LANDBANK foreclosed properties is the third to be featured as part of our series on listings we got from the housing fair.
The listing contains properties that are for negotiated sale and are classified as "CLASS C". We are not sure what that really means as some properties are marked as "With Occupant" while majority are "Vacant". Anyway, please contact LANDBANK directly through the contact info on the listing below to get more details.
LANDBANK foreclosed properties from the Housing Fair 2013
Just click on the image below to download the list from LANDBANK…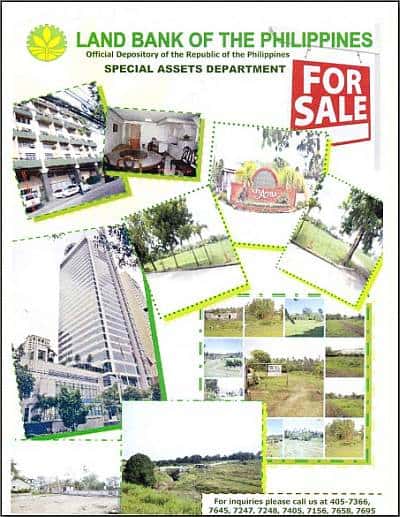 or just click on the following link: LANDBANK foreclosed properties from Housing Fair 2013 (PDF)
Source: LANDBANK booth at the housing fair 2013
The "fine print" – please read!
1. Prices are subject to change without prior notice

2. All sales shall be on "as-is-where-is" and on "first-com-first-served" basis.

3. No broker's commission for lease or sale transaction in favor of Government entities.

Speaking of broker's commissions, we are not yet accredited with LANDBANK so please contact them directly using the contact info on the list, but you may contact us also if you are a serious buyer who needs assistance from us as your brokers.