This installment for our series on foreclosed property listings we got from the Housing Fair 2013 includes properties from the Development Bank of the Philippines (DBP). This includes properties from Metro Manila, Luzon, Visayas, and Mindanao areas. Check out the details and download the complete listing below.
Property classifications
This time around, DBP has already classified their listings into Top Buy, Good Buy, and Standard Buy classifications which is good because this can save time for people who don't want to buy properties that have illegal occupants/pending court cases. With the classifications, one can be easily identify and avoid properties that have problems.
These classifications are very similar to the Green Tag, Yellow Tag, and Red Tag property classifications of Buena Mano, although I believe the latter is better. Maybe it's just me, but I would rather call properties with any lis pendens or pending court cases as Red Tag properties than Standard Buy properties. I wouldn't want problems to be a standard, how about you?
Anyway, you may check out the meanings of the different property classifications from DBP below.
Top Buy

Real estate properties with titles and tax declarations duly consolidated/registered under the name of the Bank. The Bank is in possession of the foreclosed property/ies with authorized caretakers/security guards (particularly those with improvements) and can be inspected anytime.

Good Buy

Real estate properties which may either be occupied and utilized by former owners, with illegal occupants, without a road right-of-way, with tenants of the former owners or with property documents that needs updating, among others.

Standard Buy

Real estate properties subject of pending court case/s (under litigation) filed by the former owners against the Bank. Certificate/s of Title covering these property/ies bear annotations such as Adverse Claim, Lis Pendens, Preliminary
Attachments, etc,).
Important! – Even if a property is classified as a Top Buy (or Green Tag) property, you still have to do your due diligence! A copy of Version 1.0 of our Due Diligence Checklist is available through our Facebook page. Here's a link to the download page: Due Diligence Checklist)
Payment terms
While these properties are for negotiated sale, it is stated that "As a general rule, no offer below the floor price shall be entertained". For more details, please refer to the Negotiated Sale Rules and Procedures on Page 22 of the listing below.
Download the listing of DBP Acquired Assets
Just click on the image below to download the listing of DBP Acquired Assets (foreclosed properties)…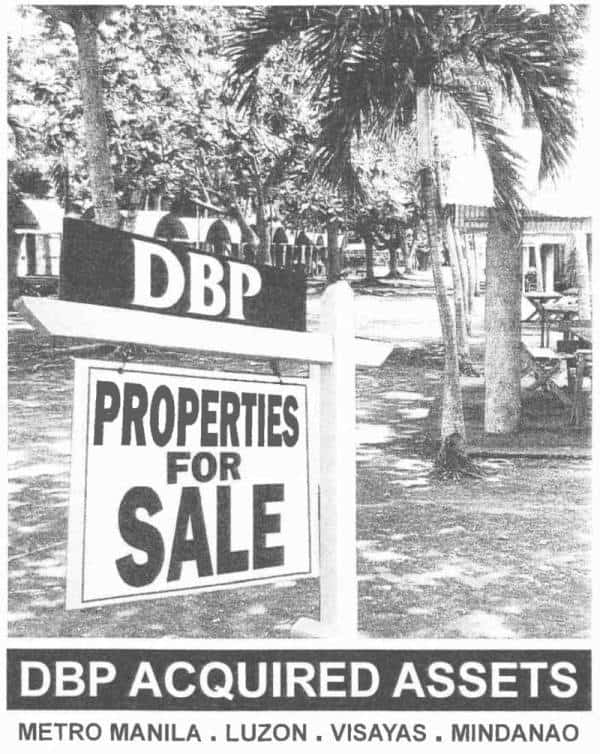 Or just click on the following download link:
Source: DBP booth at the Housing Fair 2013
How to inquire and get more info
The list above contains the contact numbers of DBP so please refer to the list to get the contact persons and telephone numbers.
You may contact them directly.
The "fine print" – please read!
DBP's sale of its Bank-acquired properties is on "as-is-where-is" basis, which refers not only to the property's physical condition and its contents/inclusions at time of the offer to sell, but also the condition of the pertinent title/tax declaration, the extent and state of whatever rights, interest, and participation DBP may have over the properties at time the same is/are offered for Sale. In addition, sale on an "as-is-where-is" means that the buyer shall assume any and all claims, liens, assessments, liabilities and/or damages arising from any suit/litigation involving the property accruing from the signing date of the Deed of Absolute Sale, to the total exclusion of DBP.

Sale prices of the offered properties are subject to change without prior notice. All offers are subject to the final approval of DBP's appropriate approving authorities, Misprints and other errors are unintended and do not constitute acts of misrepresentation, intentional non-disclosure, fraud or withholding of accurate property details and pricing.