I recently found this invitation to bid for repossessed cars from Unionbank and I am sharing it here. I guess this was what my father-in-law was referring to when he said a BMW was being sold by Unionbank where he is a consultant. If you will notice, a BMW 120D with automatic transmission is part of the list of repossessed cars for sale. No, my wife and I have no plans of buying a BMW! I guess the topic came up in our converstaion when we remembered about the bridal car we used in our wedding 5 years ago which was an old BMW 325i.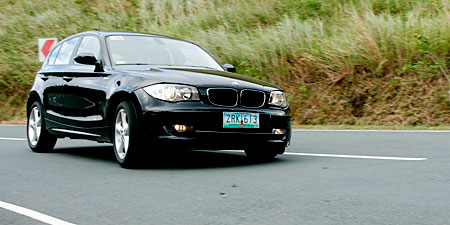 For those interested, inspections can be done at the Unionbank Warehouse at 185 Roosevelt Avenue, San Francisco Del Monte, Quezon City (in front of Watch Tower). Bid forms are available at Unionbank ARG, 20th floor, Unionbank Plaza, Meralco Avenue corner Onyx Street, Ortigas Center, Pasig City.
Bids for the repossessed cars should be submitted together with Php5,000 (in the form of a Manager's Check) at the above address not later than September 8, 2009. For more details, you may call Babes through Tel# 638-0113 or 667-6388 loc. 8370.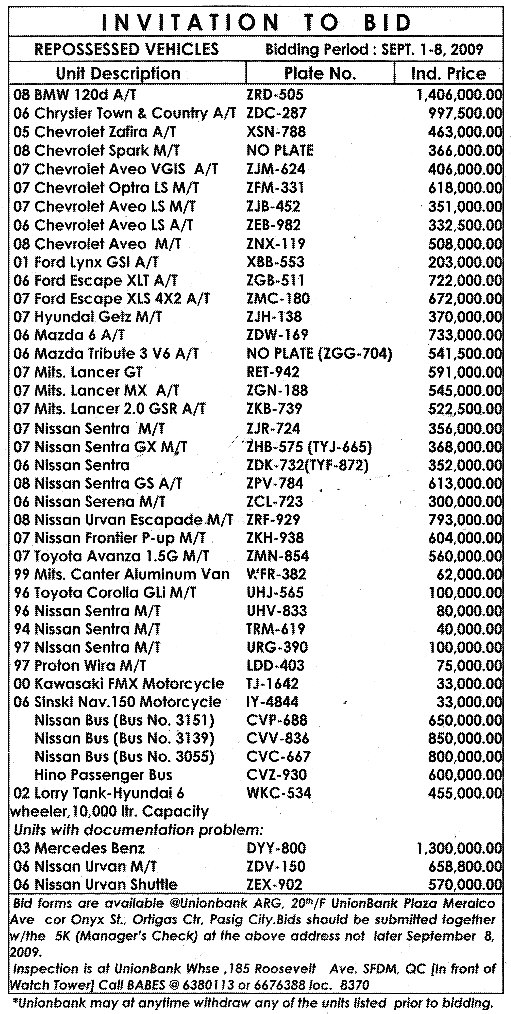 I should have posted this earlier to give ample time for inspections for those interested but I only found this today. Anyway, with Malacañang's declaration of September 7 as a national day of mourning for the late Iglesia ni Cristo (INC) leader Bro. Eraño 'Ka Erdie' Manalo, interested bidders can have the whole of Monday before the deadline of submission of bids to inspect any of the repossessed cars, that is assuming that inspections will be allowed even if September 7  is a non-working holiday. Better call them up before going to their warehouse, just to be sure.
Do take note that in most cases, test driving the repossessed cars are not allowed. You may however start the car, change gears, etc. to get a feel of how the car runs, without actually driving it. Make sure you bring along a trusted mechanic with you when you do your inspections.
I also checked Unionbank's website through the following link : https://www.unionbankph.com/index.php?option=com_content&view=article&id=1039&Itemid=248 (Just click on the link for second hand vehicles) and found an outdated listing of repossessed cars instead.
Click here to download the invitation to bid for Unionbank repossessed cars.
(Source: MANILA-BULLETIN-CLASSIFIED ADS-SEP-3-2009-PAGE-8)
Not interested in foreclosed cars? If you are looking for foreclosed real estate, don't worry, I also have new listings of foreclosed properties from Unionbank and BPI and I will post them next!
—–
To our financial freedom!
Jay Castillo
Real Estate Investor
Real Estate Broker License #: 20056
Blog: https://www.foreclosurephilippines.com
Social Network: http://foreclosurephilippines.ning.com
Mobile: +639178843882
E-mail: ph.investor@gmail.com
Text by Jay Castillo. Copyright © 2009 All rights reserved.
P.S. – If you are a new visitor, please start here to learn more about foreclosure investing in the Philippines.
P.P.S – If you liked this post, don't forget to subscribe to e-mail alerts and get notified of new listings of bank foreclosed properties, public auction schedules, and real estate investing tips. If your inbox is getting full, you may subscribe instead to my RSS Feed.