UnionBank shall be having its 143rd public auction of bank repossessed properties on September 12, 2009, Saturday, 9:00 AM. Venue shall be the Delas Alas Room at the 2nd floor of the Philippine Columbian Sports Club, Plaza Dilao, Paco, Manila, Philippines.
The repossessed properties for auction include residential and commercial foreclosed properties. The  locations of these properties as follows:
Residential foreclosed properties

Quezon City
Calamba, Laguna
San Juan
Mandaluyong
Las Pinas
Paranaque
Makati
Manila
Caloocan
Pasay
Batangas City
Calatagan, Batangas
Nasugbu, Batangas
Laurel Batangas
Bulacan
Antipolo
Tagaytay
Dasmarinas, Cavite
Commercial / Agricultural forclosed properties
Quezon City
Paranaque
Lian, Batangas
Lipa, Batangas
Antipolo
Pasig – Ortigas Center
One Magnificent Mile Condo (OMM-Citra)
Makati
Meycauayan, Bulacan
The complete listing of repossessed properties for auction
Click here to download the complete listing of UnionBank repossessed properties for auction on Septemeber 12, 2009.
(Source: Manila Bulletin, September 6, 2009, Page G-1)
What to bring to the auction
Just bring Php 20,000 show money (cash or manager's check) to qualify to bid for each property. Of course, prior to bidding on any of the repossessed properties from UnionBank, you should have already done your due diligence.
Credit Terms
Minimum Downpayment: 10%
Interest: 13% per annum (p.a.) fixed for the first 3 years and 15% p.a. fixed for the next 12 years
Term: 15 yrs. (maximum) through in-house guaranteed financing for residential properties
For more details, please contact any of the following:
Kim: Tel # 637-1445, Mobile # 0922-3766505
Doris: Tel # 638-0125
Junie: Tel # 638-0114
Dong: Tel # 638-0092
Trunkline: # 667-6388 locals 8372, 8358, 8352, and 8348
E-mail: esbabas@unionbankph.com
You may also visit UnionBank's website:
The fine print
Creditable Withholding Tax (CWT) is for the buyer's account
All properties for sale are on an "AS IS WHERE IS" basis
MISPRINTS ARE NOT MISREPRENTATION OF ANY PROPERTY
UnionBank may, at any time, withdraw any of the properties listed above prior to the auction.
How much would be the monthly amortization?
To give you an idea on the monthly amortization, I'll use property #4 on the list to come up with a sample computation.
This particular property for auction has the following information available

Minimum Bid Price (MBP) = Php1,670,000

Downpayment (DP) = 10% x MBP = Php167,000
The balance therefore is = MBP – DP = Php1, 503,000
I'll use the maximum payment term of 15 years
Interest rate for years 1 to 3 =  13% per annum
Interest rate for years 4 to 15 = 15% per annum
Using this site's real estate mortgage calculator (available under "REAL ESTATE INVESTING TOOLS AND USEFUL LINKS" at the right sidebar) the monthly amortization for the first 3 years would be Php19,016.58.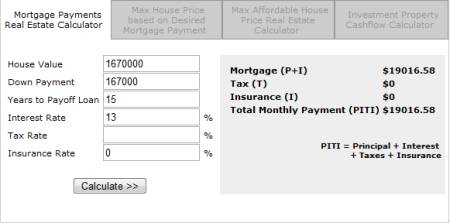 Getting the monthly amortization for the next 12 years is a bit complicated as I had to compute for the principal at the end of the third year which turned out to be Php1,383.401.76. I then applied the annual interest rate of 15% for the remaining 12 years. The monthly amortization for years 4 to 15 would be Php20, 763.00. This is assuming that they will use the diminished balance like I did. Anyway,  just leave a comment below if you are interested in learning how I arrived at these values.
How about the market value?
If you want a sample computation for property valuation for the sample property above, I would appreciate it if anyone out there can share the average price per square meter of lots in the Tandang Sora area, particularly in Banlat road. I would then be able to make an estimate for the market value of of the property using the cost approach as described in my article on How I Estimate Market Values Of Foreclosed Properties. I have been very curious about the foreclosed properties located in Tandang Sora, particularly in Banlat road, but have never actually inspected any properties there.
Happy Hunting!
—–
To our financial freedom!
Jay Castillo
Real Estate Investor
Real Estate Broker License #: 20056
Blog: https://www.foreclosurephilippines.com
Social Network: http://foreclosurephilippines.ning.com
Mobile: +639178843882
E-mail: ph.investor@gmail.com
Text by Jay Castillo. Copyright © 2009 All rights reserved.
P.S. – If you are a new visitor, please start here to learn more about foreclosure investing in the Philippines.
P.P.S – If you liked this post, don't forget to subscribe to e-mail alerts and get notified of new listings of bank foreclosed properties, public auction schedules, and real estate investing tips. If your inbox is getting full, you may subscribe instead to my RSS Feed.