2012 was supposed to be the year the world would end, and in a way, it did. That's how we felt because of our loss. But with the new year that we welcomed last January 1, I declare that 2013 will be the best year yet. With that said, let's look back at the year that was and have another look at our best posts, lessons learned, and also give thanks.
Top 10 real estate investing posts for 2012
Here's our list of our top 10 favorite real estate investing blogposts for 2012. Looking back, I still don't know how we were able to write these articles in addition to listings of foreclosed properties, inspite of all that has happened. Anyway, just in case you may have missed any, you can check them out below. Here they go in no particular order…
7 tips to help you get you started with real estate investing – We were off to a good start in 2012 with this post that had 7 tips that aims to help newbie real estate investors out there. This is a personal favorite of mine because the tips I shared here are timeless, they still apply today, even after a year has passed, and I believe these will still be applicable in the years to come. Don't forget to read the comments section as a lot of people shared more real estate investing tips and suggestions.
4 real reasons why foreclosed properties can be priced at below market values – Many people think that foreclosed properties are cheap and are being sold at below market values, but do people really know why? Checkout this post to find out!
The importance of due diligence in real estate investing – If you have ever thought of buying a property without thinking about doing your due diligence, you are making a big mistake. Read this to find out why you should do your due diligence, and what can be considered as a reasonable amount of it. Remember, all properties are for sale on an "as is, where is" basis.
What does "AS IS WHERE IS" mean? – This is something a lot of people do not understand when they think of buying foreclosed properties. What's worse is when people go ahead and buy a foreclosed property and complain that the "as is, where is" policy of banks and other sellers were not explained to them. If only people will read the fine print… this is part of due diligence!
How to check the validity of a Real Estate Broker's License – We do our due diligence with properties, we should also do the same with people we will work with on our real estate deals. Here's how you can check if a real estate broker has a valid license under the PRC. (While it's good to work only with licensed real estate brokers, I believe it is not enough. More on this below…)
VAT on the sale of real estate – This is the latest addition to my wife's discussions of the major taxes involved in the sale of real property, namely: Capital Gains Tax (CGT), Expanded Withholding Tax (EWT) or Creditable Withholding tax (CWT) , Documentary Stamp Tax (DST), and Transfer Tax. Prepare for a nosebleed. 🙂
Death, Real Estate, and Estate Tax – Another form of transfer of property aside from sale and donation is through inheritance, which is subject to estate tax. Non-payment of estate taxes can be a headache. It is not uncommon to see properties still in the name of deceased owners. May sound morbid, but this is a must read.
Philippine Property Outlook 2013 – This is a comprehensive thesis summary of all the current news on the Philippine economy, with emphasis on those affecting the real estate sector. This has a bonus heated educational discussion on a possible real estate bubble popping in the near future. Let us act collectively and individually to help prevent this situation, as the whole country will be adversely affected. Yes, this blog features foreclosed properties but I would like to make it clear that it was and never will be our wish that other people would have their properties foreclosed so that some people can buy below market value.
Areas near MRT Line 7 stations – Soon to boom? – This was my wife's first article in 2012 where she discussed the areas where infrastructure like the are being built, which in this case is the MRT Line 7. Infrastructure usually has a good effect on neighboring areas so this is something to look forward to.
All eyes on Cavite – This is another article discussing the LRT extension and other projects that are meant to improve Cavite as a place to invest in. More good news for people investing in this area.
Lessons learned
Family first…
I remember I was in the hospital room while my wife was in the ICU and our baby was already in the morgue, and I had to post a listing of foreclosed properties for someone I used to know (yes, I honestly thought I knew this person but after all that has happened, I realized I never really knew this person… and this is just the tip of the iceberg). Never again, good riddance!
Family shall always come first!
Focus on the good, but get rid of the bad…
Yes, what we focus on grows, but the first thing you need to do is discern what is good and what is bad, and then you need to get rid of the bad. Imagine if your house was infected by molds and fungus, do you think things will get better by just focusing on the good neighbors, location, security, etc? I don't think so.
So you need to get rid of the bad first. And when you get rid of the bad, you can then focus and make more room for the good. Would you believe that the moment I got rid of the bad in 2012, more good things came our way? Yes, it's true, and this makes 2013 even more exciting!
I gave my trust, but I was too naive…
This picture I posted in facebook was a direct hit, it highlighted some of the painful lessons I learned in 2012. I gave, but was used and abused. I trusted, but was too naive… there are ruthless people out there…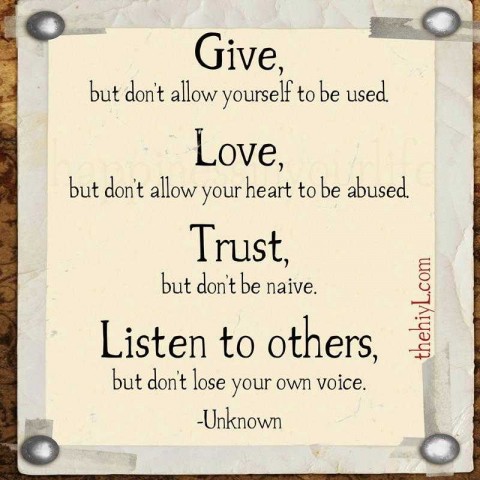 I trusted someone who I thought was  trustworthy, but I was wrong, and I felt like the frog in the fable The frog and the scorpion. The funny thing is, my wife said she felt there was something strange with this Bible quoting person when she first met him in the mid-2012, and she was right… again!
I guess I should have listened to others, not just my wife, but also to those from the banking industry who warned me about this person.
Real estate brokerage versus investing
In 2012, we were more active as real estate brokers answering inquiries for properties owned by banks and other people. If you have been reading my status updates on our Facebook page, you probably have seen what I wrote there about this. If not here it is:
I claim that 2013 will be a great year to invest in real estate and I think we have finally found our new niche. We will be wearing our real estate investors hat more often this year, and less as real estate brokers.
This means we will be more focused on buying foreclosed properties just like way back in 2009 before Ondoy. Don't worry, we will still be featuring a lot of foreclosed properties here as usual, only better… you'll see…
Events, seminars, and media exposure
It was again a busy year and I am thankful we were part of the following public events:
I acted as facilitator and guest speaker to a number of Think Rich Pinoy seminars last 2012, and I met future business partners.
I gave a short talk at the Home and Modern Living Expo 2012
I gave a short talk at the expo at the Money Summit 2012
I guested and talked about foreclosed properties at GNN
I was part of a panel discussion at WebCamp 2012
I was one of the trainers at Ecommerce 102
*I also gave private talks about internet marketing, and investing in real estate, thank you to all who invited me!!!
We are now published contributing authors
Thanks to the Ultimate Guide to Property Investing by MoneySense, we are now published contributing authors. It took quite a lot of effort for us to write those three articles (I wrote articles about participating in auctions of foreclosed properties, and a primer on due diligence, while my wife wrote a monster article about real estate taxes) and it also took awhile to get published. But the wait was well worth it. Thanks again to Heinz Bulos for making this possible.
By the way, we are on the last few hours of our Giveaway for 3 free copies of the Ultimate Guide to Property Investing. If you have not yet joined, act now and join before it's too late. Deadline for submission of entries is at exactly 12:00 midnight of January 4, 2012.
Blog challenges
We experienced rapid growth in terms of traffic early 2012, we were off to a good start, until our web hosting provider encountered problems one after the other, resulting in a lot of downtime, which is totally unacceptable, especially since we are paying good money to be hosted on a virtual private server (VPS).
The last straw was when malware found its way through the server early April (I noticed it within 30 minutes and I took appropriate action). It was crazy because I noticed new and suspicious files being created and when I downloaded files for backup, my anti-virus alerted me of the offending files. This meant my host had no antivirus on their server… pretty dumb! I lacked the skill to fix the problem for non-windows servers so I referred my problem to Sucuri.net and they cleaned everything in 2 days, without any downtime.
After everything was cleaned-up by the guys from Sucuri, that's when I decided to return to Hostgator. Though it was hard to move 7 websites to a new webhost, it was okay for me, and my only regret with the move was I should have done it sooner.
We did encounter another problem in Hostgator later on when I noticed very high CPU usage and Hostgator support staff were always very helpful as we were able to identify what caused those spikes in CPU usage, and applied appropriate fixes. This was so different from my other webhost (Dreamhost), which would only say "You need to upgrade your hosting package…" without really finding out the root cause. So far things have been quite stable on a level 4 VPS, and the site finally passed my stress testing test last January 1, 2013 (yes, I was working during the Holidays).
The bottomline is, I want to make sure the site is available for all of us (we built this blog for our own use and share it to the public), 100% of the time, and in 2013, this will pave the way for more enhancements and features that fellow real estate investors are looking for, and I will also restore some functionality which I had to disable during the second half of 2012. You will know once these features have been fully tested and deployed, like the new Genesis Wordpress theme we are using now (I had to replace Thesis, version 2 was just so frustrating to use), which was only deployed last January 1, 2013 after successful stress testing. Expect more "goodies" this 2013. 😉
Thank you's are in order…
I would still like to thank everyone who have been with us from way back which I thanked in previous years (2009, 2010, and 2011). In addition, I would like to thank the following, again in no particular order:  Roel Vergel, Hardy and Rose of OMI (OMI handled our title transfer needs in 2012), Romana G., Eireen D. and family and staff and all my co-trainors in Ecommerce 102 (Edison, Jocel, Boom, Alvin, Ronald, Hyatt, Jocel, Khoa, etc), Tom Gotuaco, Engineer Enrico Cruz, Heinz Bulos and all his staff at Learning Curve, Mike H., Gleceper, Maves, Ronald, Weng, Lyn, Noel, Apple, Jessie, Thea, Eden, Kristine, Randy M., Jojy A., Anton D., Larry G., Sha Nacino, Will Abriza, Paulo S. of Pro-friends, Regie T., Sir Noli A., Brother Bo Sanchez, Jomar H., Joemar A., Bryan U., Jun T., Von C., Pastor Dan, Cecille D., all banks and other entities who made available their listings of foreclosed properties which we featured here, with special mention to Buena Mano property Sales and Leases (Ma'am. Ellie, Sir Budz, Ms. Joana, Sir Pete, Ms. Dhona, Ms. Rose, Ms. Aldin, Ms. Bubbles, Sir JP, Ms. Marwin, Ms. Miel, Sir Teng, Ma'am Rochelle, Ms. Chiradee, kuya guard and all the other guards, and everyone in PSL), UnionBank of the Philippines (Sir Mon, Sir Edzel, Sir Lance, Sir Marlon, Sir Ronald, Ms. Jenny, kuya guard, and everyone from Unionbank's asset recovery group) Ms. Jean Reyes of BDO, RCBC Savings Bank (Sir Red, Sir Alex, Sir Jerome, Ms. MC, Ms. Girlie, Sir Dennis, Mr. Jacob, and everyone from RCBC Savings Banks acquired assets group… too many to write here), Sir Mike and Ms. Audie and everyone at Pinnacle, Ms. Beth and Roselle at PI Two, sir Roland and everyone at Philmay, Sir Ronald of Equicom, all my friends from REBAP National, REBAP LMP, REBAP Marikina, PAREB, and other real estate associations in the Philippines, my blogger/internet marketing friends and mentors I have met online and offline (Fitz, James, Tyrone, Allan, Ms. Janette, and so much more), all my clients, business partners, and real friends, followers in facebook, twitter followers, connections in google plus, blog visitors, e-mail subscribers, everyone from Saint Luke's who took care of my wife (most especially Dra. Guinto) and to everyone who did everything that can be done to save our daughter (most especially to Dra. Bautista and everyone at the NICU), our family (too many to mention here… hehe), and last but not the least, our God Almighty… whew!
There's actually more people I want to thank but at more than 2300 words, this is getting way too long, so I'll just say thank you to each and everyone of you out there who have made our 2012 more bearable, and we look forward to bigger success for all of us in 2013!
Happy New 2013 everyone!!!
From Jay, Cherry, CJ, (with our Angel Mira)