I would like you to meet FRED or Foreclosed Real Estate Database. Actually, FRED has been around for a long time, and I have just moved it to a better location. It now resides within the main site, with the blog, which now has a new design. This will ultimately help us all find foreclosed properties and content faster.
Blog redesign
I have finally deployed long overdue updates to the blog, including a new design/layout, which was required for the updated foreclosed real estate database.
Another objective of the blog redesign is to help make it easier to find/access topics that you have been asking for. This is in response to your answers for the recent survey that I did. Thanks again to all who participated in the survey, I really appreciate all your help! (I will publish results of the survey in another blog-post).
This is still a work in progress, I still have a lot of changes to do, especially for those viewing from a mobile phone/tablet. You can already see a preview when you visit our homepage, which looks like this (from a desktop):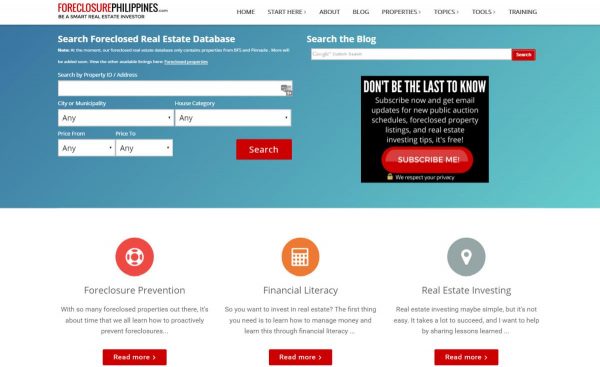 The updated design also applies to the members area, which is the home for our very own "How to buy foreclosed properties" training. By the way, I will be re-opening enrollment soon, so if you want to ensure you are notified early, you should subscribe to the early notification list.
Foreclosed Real Estate Database
Combining the blog and the database in one location paves the way for a lot of improvements that will be deployed soon. I'll share more details when these are ready for public consumption.
For those not familiar, having a database means we can search by keyword, city/municipality, price, type of property, etc. Try doing that with a bunch of listings in PDF/excel format and you will know how difficult that would be (a single database solves that problem!).
At the moment, the database is still in beta mode and improvements are ongoing.
You can already try it out below. Don't forget to refine your search by specifying the the city/municipality and other filters you want to apply (for example, maximum price, type of property, etc.) and you can also sort the search results (for example, lowest price to highest price, etc).
Anyway, if you have any comments, suggestions regarding the blog and the database, please let me know by leaving a comment below. Thanks!