My friend and mentor Randy Manaloto invited me to speak at the upcoming Home and Modern Living Expo 2012 and I hope to see you there! The 3-day expo will be on August 31-September 2, 2012 at the SMX Convention Center, SM Mall of Asia Complex, Pasay City.
My short talk will be about best practices for internet marketing for real estate brokers and I will also be part of a 30-minute panel discussion that follows where we will discuss the topic in greater detail. This will be on Day 1 of the event (August 31, 2012) at around 4:00pm.
Here's a treat for readers and subscribers of ForeclosurePhilippines.com… just print and bring the invitation below to get free entrance! (just right-click on the image and save as…)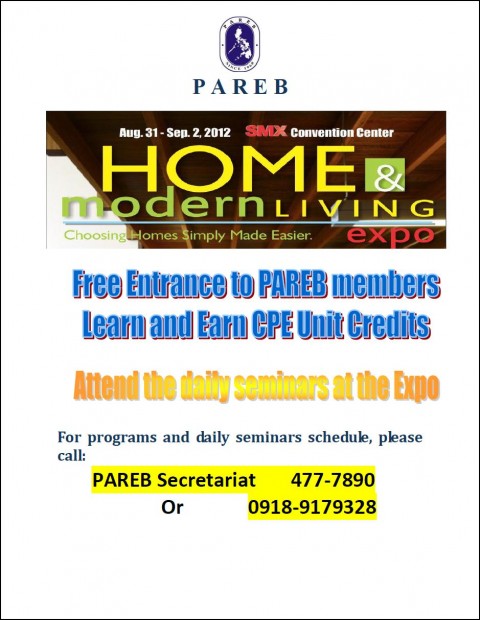 You may also download the invitation in PDF format (requires adobe acrobat reader):
Event schedule
So what's in store for visitors of the Home and Living Expo 2012? Please checkout the schedule below:
Expo Hours : 
Visitor hours from 10:00 am – 7:00 pm daily from August 31 – September 2, 2012
Gate closes at 6:30 pm

SCHEDULE OF ACTIVITIES

DAY 1 :  AUG 31, 2012  FRIDAY 

STAGE

10am                Opening Ceremonies
                         Panel Discussion : Status of Department of Housing Bill  
                         It's Implications and Areas of Convergence with the Private Sector
                         (Developers & Real Estate Professionals)

SEMINAR ROOM

1:30pm              Internet & Mobile Real Estate Marketing STRATEGIES
                         Social Media Marketing for Real Estate 
                         (Facebook, Twitter, LinkedIn, Pinterest)                                                     
3:00pm              Real Estate Mobile Office
4:00pm              Panel Discussion: 8 Internet Marketing Secrets Revealed            
                          Speakers: Maita Siquijor, Jay Castillo, Paolo Abadesco & Randy Manaloto

 

DAY 2 : SEPT 1, 2012  SATURDAY

STAGE

11pm                  Eco friendly Interior Design
12nn                   Design Trends 
                           by Mr. Jie Pambid, Editor in Chief of MyHome 
1pm                    Space Planning in High-rise Developments
                           by Ms Jiduth Torres, Editor in Chief of Condo Living
2pm                    On-the-Spot Sketching Session 
                           by the Saturday Group of Filipino Artists

SEMINAR ROOM

10am                  Implementation Guide and Penal Provisions for Unauthorized Practice of Real Estate 
1:15pm               Real Estate – Strategies for International Marketing      
2:30pm               E- TITLES – Is the system more secure and efficient? 
3:45pm               Real Estate Investment through Retirement Tourism/Tourism Investment Opportunities   

 

DAY 3 : SEPT 2, 2012 SUNDAY 

STAGE 

11am                 Session with Feng Shui Master – Aldrich Dalumpines
1pm                    Lighting Innovation

SEMINAR ROOM

10am                 Tourism Investment                                                       
1:15pm              Purpose of AIPO and Status of Implications
2:30pm              Tactical Brokerage For Closing a Sale

 

Note : All schedules, topics and speakers subject to change without prior notice.
Source: http://www.filsites.com/hmle2012/assets/html/schedule.html
Happy learning!
~~~
To our success and financial freedom!
Jay Castillo
Real Estate Investor
PRC Real Estate Broker License No. 3194 
Connect with us – Facebook | Twitter | Blog RSS | Google +
Text by Jay Castillo and Cherry Castillo. Copyright © 2008 – 2012 All rights reserved.
Full disclosure: Nothing to disclose.
P.S. –  Want to be updated of upcoming real estate seminars for free? Don't forget to subscribe to email alerts, just enter your e-mail address below…