Licensed real estate brokers are understandably aghast at how unlicensed brokers still continue to proliferate, despite the passage of Republic Act (R.A.) No. 9646 or the RESA Law, which states that only licensed real estate service practitioners (RESP's) may render real estate services.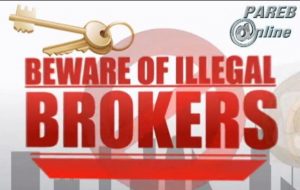 For real estate developers, there are also those who sell projects without a license to sell from the Housing and Land Use Regulatory Board (HLURB). But why should we all be concerned with illegal real estate brokers and developers?
Horror stories
Until now, people still don't understand why there is a need to deal only with licensed real estate brokers.
Perhaps they have not heard of horror stories where a sizeable investment went kaput because the broker was unethical and unlicensed.
Perhaps they did not know that there are times when developers have no license as well.
People part with their hard-earned money expecting to have property in return, but end up with nothing. It is for these reasons that the RESA Law was passed – primarily to protect the buying public.
Why is it better to deal with licensed brokers?
Everyone has a choice – to deal with an ethical and licensed real estate broker, or with an unlicensed/illegal broker, or do the selling or buying by himself.
If you are a buyer, considering that brokers are usually paid by sellers and you need not pay your broker for his services that would definitely save you time, money, and effort – would you not take advantage of a broker's services?
If you are a seller, considering that a broker can make your life easier and you only pay when there is a successful transaction, would you not take advantage of a broker's services?
Buying and selling real property is not like buying from or selling candy at the neighborhood sari-sari store. Definitely, given the amounts and legal processes and documents involved, I believe it is best to have a licensed professional on your side.
Licensed = Ethical and Competent?
I know that being licensed does not necessarily mean being competent or ethical, but it is definitely better to deal with someone who has a professional license on the line if he/she does not perform in a professional manner.
In other words, the person dealing with a licensed professional has a recourse to the Professional Regulation Commission (PRC) if the professional did not act in a professional manner. There are penalties for those who do not abide by the law.
All things being equal, if you could choose between a professional, law-abiding person, and an unlicensed, illegal person – who would you choose?
Videos
To explain the value of dealing only with licensed real estate brokers, here are two very good videos produced by Atty. Rey Cartojano, the Philippine Association of Real Estate Boards (PAREB) Online, and the graphics and animation faculty and students of ACLC College of Gensan and Skeptron Business Solutions.
This video, entitled "Beware of Illegal Brokers," is an advocacy of PAREB and the Professional Regulatory Board – Real Estate Service (PRB-RES):
This video, entitled "Beware of Illegal Brokers," is an advocacy of PAREB and the HLURB:
How can you check if a broker is licensed?
You may follow the process which Jay outlined in his previous post. For example, if you want to check if I am a licensed real estate broker, this is what you will do:
Visit the "Verification of Professional Licenses" page at PRC's website:  http://www.prc.gov.ph/services/default.aspx?id=16
Use the "Search by name" option
From the list in the "Profession" box, select REAL ESTATE BROKER
On the "First Name" box, enter CHERRY VI
On the "Last Name" box, enter CASTILLO
Click on the orange "Verify" button
The verification result will be displayed
Change.org Petition
There is currently a petition in change. org for all developers of subdivision projects and condominiums in the Philippines to stop the hiring of services of unlicensed agents and consultants.
This petition is to create awareness that unlicensed agents and consultants rendering real estate services are violating the law.
Buyers should be aware that they are not operating legally.
I have heard of many stories where the agents promised the sun, the moon, and the stars, capital appreciation and rental income, etc. but when the original buyer wants to sell or rent the property, they are either nowhere to be found or say that they cannot sell or rent it out because of conflict of interest or some other excuse.
Buyers have to be smart and not be swayed by sales talk.
Jay and I already signed the petition. We encourage all licensed real estate service practitioners (RESP's) who also believe in the petition to also sign the same. You may click on this image to sign the petition: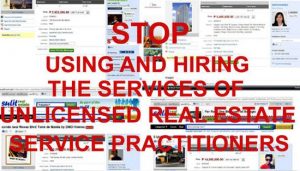 What else can we do?
Obviously, the proliferation of unlicensed brokers is a concern not only of licensed brokers but of buyers and sellers as well. Be smart. Choose wisely.
For those who are unlicensed, there are ways to operate legally – either take and pass the real estate brokers' exam or be a PRC-accredited salesperson of a licensed broker.
With regard to what government agencies and real estate organizations can do, the above videos may be a good start. Creating awareness is only step one. The greater step is to show that the law has teeth and should be followed.
For me, as I have suggested in my previous post about BIR RR 10-2013, I believe that those who continue to pay for services of unlicensed brokers and agents should be given a disincentive so that they will not hire the services of illegal brokers anymore. And without entities paying them, illegal brokers will have an incentive to be licensed or operate legally.
This "disincentive" may be in the form of non-deductibility for income tax purposes of payments to illegal brokers. This "disincentive" for hiring illegal brokers, I believe, is where proponents of the law should concentrate on. A law without teeth, a law which is not enforced, is useless.
For now, since payments to illegal brokers are specifically subject to 10% withholding tax, the PRB-RES has a way of determining who are the unlicensed brokers who received commissions from developers. I don't think PRB-RES has any more excuse to not enforce its mandate.
Another thing that should be emphasized is ethical behavior, which should be the norm for both licensed and unlicensed brokers. A license unfortunately does not automatically make a person ethical.
Again, I would like to make it clear that I am not out to make enemies. I am aware that this issue is a very sensitive topic. Though sensitive, it still needs to be discussed.
To all licensed real estate brokers out there, please share your thoughts, what do you think needs to be done?
~
Cherry Vi M. Saldua-Castillo
Real Estate Broker, Lawyer, and CPA
PRC Real Estate Broker License No. 3187
PRC CPA License No. 0102054
Roll of Attorneys No. 55239
2013 Internal Education Head, REBAP-LMP
Text by Jay Castillo and Cherry Castillo. Copyright © 2008 – 2013 All rights reserved.
Full disclosure: Nothing to disclose.
P.S. – I would like to apologize for the delay in the posting of articles and answering of comments and emails, we have been quite busy over the past few weeks with our offline activities (and Jay also got sick). Thank you for understanding.