I tried to get my NBI* clearance last week and I remembered this line from a song of the Eraserheads "Huwag mo nang itanong sa akin" where it said "…katulad ng buhay natin – isang mahabang pila, mabagal at walang katuturan" (… just like our life – a long line that moves slowly and is utterly pointless).
*NBI – National Bureau of Investigation
Well, I wouldn't say my life is like that, but I did feel the long line one has to endure to get your NBI clearance was painfully slow, wasted too much time, and should be a thing of the past.
I just kept reminding myself that I was doing this because of an opportunity that came my way and it also helped that I had internet on my phone, I downloaded an ebook and read it while I was falling in line with about 2,000 other people at the NBI. Posting updates on Facebook also helped.
I actually did this twice. The first time was at Robinsons Otis (fewer people, I was done in 3 hours) last Thursday, and at UN Avenue (I estimate around 3000 people were there, I stayed from 5:30am to 1pm) last Friday. I went to their UN office because I was told it was possible for me to get my clearance on the same day there, but I did not get it because my name was too common.
This is the reason why I am only writing this weekly wrap-up today because I had to catch up with my sleep debt. Who knows, I just might write about my NBI clearance experience in the coming days, once I get my hands on my clearance.
For now, here is a review of what happened last week.
August 30, 2011 – Tuesday
This Special Public Auction of UnionBank foreclosed properties includes the Visayas and Mindanao areas. The auction announcement still says "No Credit Checking" which means interested bidders need not pass stringent credit checks associated with mortgage loans.  Click here to read the full article
August 31, 2011 – Wednesday
I can foresee that I will be featuring a lot of foreclosed properties from SPV's here so I might as well post the full text of the law that paved the way for the creation of these entities. By the way, there is an amendement to this and I will also post it soon, along with the full text of the IRR. Click here to read the full article
August 31, 2011 – Wednesday
One example of a Special Purpose Vehicle or SPV is Philippine Investments Two or PI Two for short, and FTI Consulting has been tasked with the selling of their big list of bank acquired assets/foreclosed properties. These are for negotiated sale and include properties from all over the Philippines. Click here to read the full article
Other stuff
Here are other stuff I was busy with last week:
I attended the Think Rich Pinoy Seminar last August 27, 2011
I gave a short talk in the morning and I also helped facilitate the Cashflow 101 games in the afternoon. During the seminar, Doctor Larry Gamboa was given a surprise birthday cake in celebration of his Birthday Month. I held on to the cake while Larry blew the candle.  The photo below was taken moments after.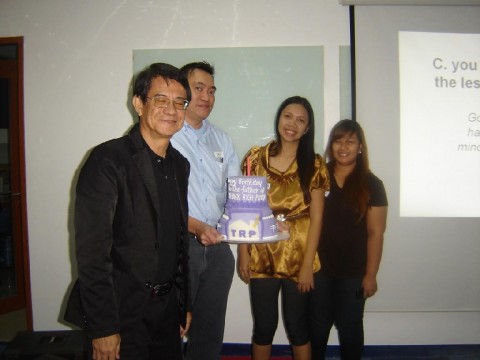 By the way, if you attended the Think Rich Pinoy Seminar last August 27, 2011 using my link, I will send your freebies once I get your e-mail address from the organizers.
PDIC foreclosed properties public auction
I tried to submit requirements (they did not accept my NBI clearance because it was 7 months old) for my broker's accreditation at PDIC's ROPA disposal department and I found out that they will be having a public auction this coming September 20, 2011, if I heard correctly. I already checked their website which you can find in my Ultimate List of Philippine Banks but the auction announcement was not yet posted. If I get the list, I will also post it here.
Up next
I currently have an updated list of repossessed cars and foreclosed properties from Sterling Bank of Asia, an updated list of BDO foreclosed properties for  sale, and a couple of notices for Tax Delinquent properties from Tagaytay and Pasay and I will post all of these in the coming week. (Update: all of these have been posted, just click on the links to view)
I would also like to share my recent experience when I visited the Registry of Deeds located in Binangonan Rizal, which covers properties located in Taytay, Cainta, Angono and Binangonan (obviously).
Argh! I still have not published my next installment for the Money Summit series where I am featuring questions and answers about investing in foreclosed properties. I'll have this ready soon.
Have a great week ahead!
By the way, since the "ber" months are already here, advanced Merry Christmas!
~~~
To our success and financial freedom!
Jay Castillo
Real Estate Investor
PRC Real Estate Broker Registration No. 3194
Blog: https://www.foreclosurephilippines.com
Follow me in Twitter: http://twitter.com/jay_castillo
Find us in Facebook: Foreclosure Investing Philippines Facebook Page
Text by Jay Castillo and Cherry Castillo. Copyright © 2011 All rights reserved.
Full disclosure: Nothing to disclose.