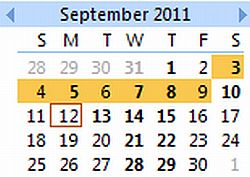 Based on the total number of posts during the past 7 days, I can say it has been a very busy week. But it is better than that because it has also been a productive one.
My wife and I have been busy AND productive with our own respective online and offline activities. You guessed it, these are mostly related to real estate.
In my case, let me just say that I worked on some deals and projects with the help of fellow real estate investors, real estate brokers, and friends. You know who you are, and thanks to all of you (and to God of course!) , I can say it has been a truly productive week!
As the week starts, let us all keep in mind that being busy does not necessarily mean being productive, just like being efficient does not always equate to being effective. After all:
A lot of our 'busy ness' is a way for us to avoid thinking about what is most important. There's a difference between being busy and being productive. ~ Kristen Lippincott
With that said, here's a wrap-up of what happened here during the past week.
September 6, 2011 – Tuesday
Probably one of the most anticipated events related to real estate is the housing fair that is conducted annually by the HUDCC. The Housing Fair 2011 which is already on its sixth year is just around the corner. If you are looking for an affordable home, don't miss this year's Housing Fair. Click here to read the full article
September 7, 2011 – Wednesday
If you are one of those that have been looking for repossessed cars, checkout this list from Sterling Bank of Asia. One of the 50 repossessed cars for sale might be for you. But please don't forget to bring a trusted mechanic with you to inspect the car as part of your due diligence. Click here to read the full article
September 8, 2011 – Thursday
Yes, only two (2) foreclosed properties are listed in the September 2011 batch from Sterling Bank. Check this out if you are looking for a foreclosed house and lot located at BF Homes Paranaque, or at St. Francis Homes I, Biñan, Laguna. Sealed bids will only be accepted up to September 15, 2011. Click here to read the full article
September 9, 2011 – Friday
Here's another batch of updated listings of BDO foreclosed properties. This list also contains repossessed cars. Although the properties are for negotiated sale, and the listings are very fresh, don't be surprised if some of the items on the list are already sold.  Click here to read the full article
September 9, 2011 – Friday
The City of Tagaytay has just issued a First Notice for tax delinquent real properties for 2011. Before you get too excited, this list is more of a reminder for property owners to settle their real property tax arrears. No auction date was announced. Click here to read the full article
September 10, 2011 – Saturday
Unlike the Tagaytay list of tax delinquent properties, this list from Pasay City indicates an actual date for the tax foreclosure auction sale. Click here to read the full article
September 10, 2011 – Saturday
Having a REAL real estate mentor is so important and sometimes you have to rely on your gut feel to figure out if a mentor is for real or not. Sometimes all it takes is to find out what they are doing to give back to society. Another way would be to see if they can issue an Official Receipt… Click here to read the full article
Up next
I believe I will finally get to share my pleasant experience when I visited the Registry of Deeds located in Binangonan Rizal. Even though it was a long drive, traffic was light and I actually enjoyed it!
I also want to share the logic behind my decision to stop investing in mutual funds in favor of foreclosed properties, as part of the money Summit 2011 series.
Of course, I will be posting listings of foreclosed properties and repossessed cars this week.
Have a productive week ahead!
~~~
To our success and financial freedom!
Jay Castillo
Real Estate Investor
PRC Real Estate Broker Registration No. 3194
Blog: https://www.foreclosurephilippines.com
Follow me in Twitter: http://twitter.com/jay_castillo
Find us in Facebook: Foreclosure Investing Philippines Facebook Page
Text by Jay Castillo and Cherry Castillo. Copyright © 2011 All rights reserved.
Full disclosure: Nothing to disclose.