I'll keep this short and sweet. I have just found this new listing of repossessed cars from RCBC Savings Bank and I just had to post it immediately because the deadline for submission of bids is on September 9, 2009, 1:00 PM, at the 18th floor, unit 1806-A Tektite Bldg., West Tower, Ortigas Center, Pasig City, Philippines. This auction of repossessed cars is through sealed bidding.
Inspections can be done at their Pasig warehouse which is located at #8516 A. Sandoval Avenue, Pinagbuhatan, Pasig City, Philippines, on September 7 to 8, 2009, during office hours.
Registration fee is Php5,000.00 per unit and is refundable.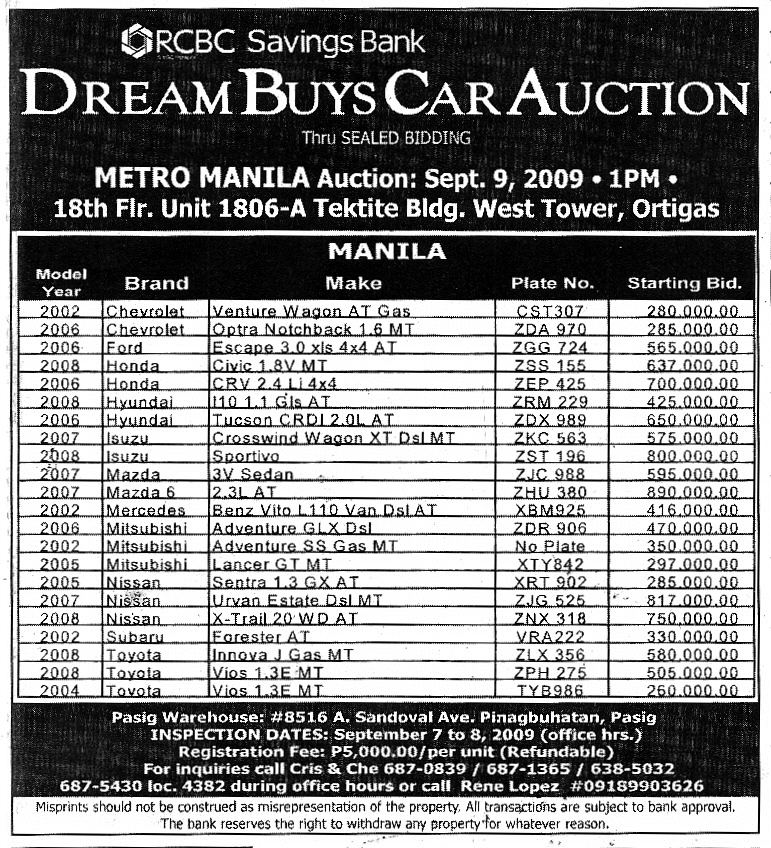 For inquiries, please call Cris and Che through the following Telephone No"s during office hours:
687-0839
687-1365
6385032
687-5430 loc. 4382
Or call Rene Lopez: 0918-9903626
Click here to download the listing of bank repossessed cars in RCBC Savings Bank's Dream Buys Car Auction.
The fine print
Misprints should not be construed as a misrepresentation of the property. All transactions are subject to bank approval. The bank reserves the right to withdraw any property for whatever reason.
What repossessed cars did I find interesting on the list? Well, I have a bias for Hyundai cars as I currently own a Hyundai Getz. On the list I can see that there is a 2008 Hyundai i10 with a minimum bid price of Php425K. FYI, just like my car, the i10 has a 5 year warranty, and if it is still valid, then I suppose that would make it worth looking into right?
For Honda fans out there, a 2008 Honda Civic 1.8V is also available with a minimum bid price of Php637K.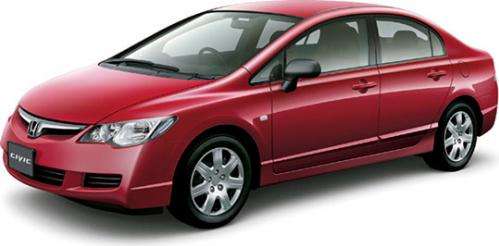 Don't forget to bring along your trusted mechanics when inspecting these bank repossessed cars.
Happy Hunting!
—–
To our financial freedom!
Jay Castillo
Real Estate Investor
Real Estate Broker License #: 20056
Blog: https://www.foreclosurephilippines.com
Social Network: http://foreclosurephilippines.ning.com
Mobile: +639178843882
E-mail: ph.investor@gmail.com
Text by Jay Castillo. Copyright © 2009 All rights reserved.
P.S. – If you are a new visitor, please start here to learn more about foreclosure investing in the Philippines.
P.P.S – If you liked this post, don't forget to subscribe to e-mail alerts and get notified of new listings of bank foreclosed properties, public auction schedules, and real estate investing tips. If your inbox is getting full, you may subscribe instead to my RSS Feed.