UnionBank foreclosed properties will be up for grabs at their 169th Special Public Auction which will be this coming May 28, 2011, Saturday, 9:00am, at Conference Room No. 3, 29th Floor, UnionBank Plaza, Meralco Avenue corner Onyx Road, Ortigas Center, Pasig City, Philippines. Interested bidders are reminded to come on time.
More than eighty foreclosed properties are included in this batch and most are from Metro Manila, with the rest coming from Luzon. These are comprised of residential, agricultural, and commercial foreclosed properties.
Here's the online announcement which can be found at UnionBank's website:
169th SPECIAL PUBLIC AUCTION OF LUZON PROPERTIES

UnionBank of the Philippines will conduct another half-day Public Auction of real estate properties on 28 May 2011 (Saturday) at 29th Floor UnionBank Plaza, Meralco Avenue corner Onyx Road, Ortigas Center, Pasig City at 9:00 AM.

Just bring PhP 20,000 show money (cash or manager's check) to qualify to bid for each property. The sale is on "as is where is" basis.

The properties for bidding consist of residential lots, house and lots, townhouses, condominium units, residential buildings, commercial lots, industrial lots, agricultural lots, commercial space, and industrial / commercial warehouses. These properties are available for sale at reasonable prices. We offer 5% discount on cash sales and affordable credit terms, as follows;

Downpayment:
10%
Interest:
13% p.a. fixed for the first 3 years and
15% p.a. fixed for the next 12 years
Term:
15 yrs. (maximum) thru in-house guaranteed financing

View the list of properties here! Should you wish to know more about these properties, please contact

| | |
| --- | --- |
| LANCE | 637-1445 or 667-6388 local 8362 |
| ERIQ | 638-1445 or 667-6388 local 8373 |
| DORIS | 638-0125 or 667-6388 local 8358 |
| MARK | 667-6388 local 8349 |
| RAP | 667-6388 local 8364 |
| RONALD | 637-1445 or 667-6388 local 8372 |
| OYO | 667-6388 local 8369 |
| GEL | 667-6388 local 8374 |

We look forward to seeing you at the auction.

Thank you.
EDZEL S. BABAS
Senior Manager
Asset Recovery Group
esbabas@unionbankph.com
UnionBank foreclosed properties for sale
Here's the flyer which contains all the foreclosed properties for sale in UnionBank's 169th Special Public Auction.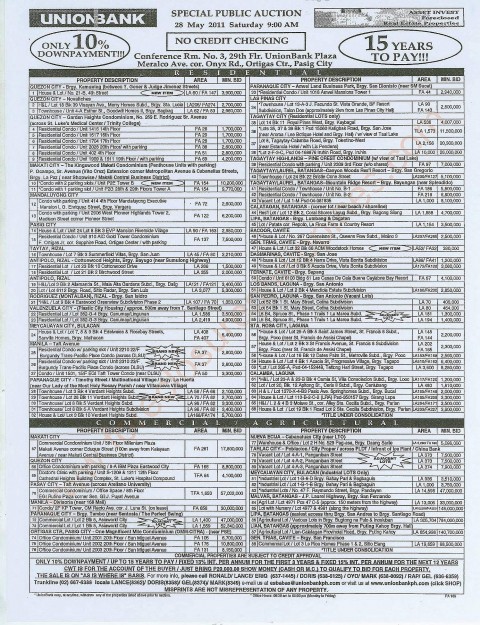 A PDF version of the list is also available through the following link: Union Bank foreclosed properties 169th Special Public Auction on May 28, 2011 (PDF)
Thanks again to Lance Yadao of UnionBank for sending us their foreclosed real estate listings.
Good luck and happy hunting!
To our success and financial freedom!
Jay Castillo
Real Estate Investor
PRC Real Estate Broker Registration No. 3194
Blog: https://www.foreclosurephilippines.com
Follow me in Twitter: http://twitter.com/jay_castillo
Find us in Facebook: Foreclosure Investing Philippines Facebook Page
Text by Jay Castillo and Cherry Castillo. Copyright © 2011 All rights reserved.
Full disclosure: Nothing to disclose.

PS. If you are not attending this UnionBank foreclosed properties auction, Why don't you join us at the next Think Rich Pinoy Seminar by Larry Gamboa which will be on May 28, 2011? I will be attending and I hope to see you there. Click here for more details.