The PNB Foreclosed Property Auction Road Show will be going to Dagupan this May 31, 2011, and then to Baguio on June 2, 2011. Both auctions shall start at 2:00pm at their respective venues.
The Dagupan auction shall be held at the Star Plaza Hotel, AB Fernandez Avenue, Dagupan City, and shall feature Pangasinan foreclosed properties.
The auction in Baguio shall be held at the Hotel Veniz, One Abanao St., Baguio City, and will  include foreclosed properties from La Union, Benguet, Nueva Vizcaya, and also Pangasinan.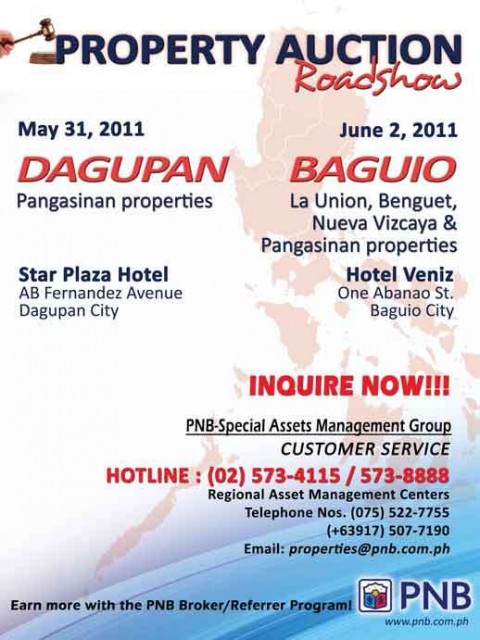 UP TO 50% DISCOUNT*

AS LOW AS 8% INTEREST RATE*

PAYMENT TERMS UP TO 10 YEARS

*Rates may vary according to market value of property

refer to the auction flyer for more details

Download the PNB Dagupan-Baguio auctions flyer
Just click on the image below to download the PNB Dagupan-Baguio auction flyer, which is in PDF format.
Auction Inquiries
HOTLINES:
(02) 573-4115
(02) 573-8888
PNB SPECIAL ASSETS MANAGEMENT GROUP
CUSTOMER SERVICE
Cellphone No. (0917) 507-8385
Trunklines : (02) 526-3131 / 891-6040
Locals: 4115 / 4713 / 4539 (Jenny Vi, Paulo & Notch)
Email Address: properties@pnb.com.ph
REGIONAL ASSET MANAGEMENT CENTER
NORTHERN LUZON
Tel. No. (075) 522-7755
Cellphone No. (0917)507-7190 (Juvy / Mel / Ricky)
Email Address: ams_ramcnoldagupan@pnb.com.ph
Reminders
Auctioneer reserves the right at any time to pull out or update status of the properties in the event discrepancies are found. PROPERTIES FOR SALE ARE ON AN "AS IS WHERE IS BASIS". Inadvertent misprints shall not alter the property's factual condition or shall they be deemed as a misrepresentation of the property.
Happy hunting!
To our success and financial freedom!
Jay Castillo
Real Estate Investor
PRC Real Estate Broker Registration No. 3194
Blog: https://www.foreclosurephilippines.com
Follow me in Twitter: http://twitter.com/jay_castillo
Find us in Facebook: Foreclosure Investing Philippines Facebook Page
Text by Jay Castillo and Cherry Castillo. Copyright © 2011 All rights reserved.
Full disclosure: Nothing to disclose.

PS. Join me at the next Think Rich Pinoy Seminar by Larry Gamboa which will be on May 28, 2011! Yes, I will be attending and I hope to see you there. Click here for more details.