RCBC Savings Bank foreclosed properties are again up for grabs in this month's Dream Buys Auction which will be on May 21, 2011, Saturday, 9:00am. This time around, the auction will be at the Jade Palace, 106 Shaw Blvd., Kapitolyo, Pasig City, Philippines.
The Jade Palace is a very memorable auction venue for me as I won on my bid for a foreclosed property at this venue, and that property has been a very good investment.
Anyway, the complete listing of foreclosed properties follows.

RCBC Savings Bank foreclosed properties listing
This month's Dream Buys Auction mostly include Metro Manila foreclosed properties, although I also noticed some from Central Luzon, Cebu, and Ormoc City. Just refer to the complete listing of RCBC Savings Bank foreclosed properties for sale through public auction on May 21, 2011, which can be downloaded below: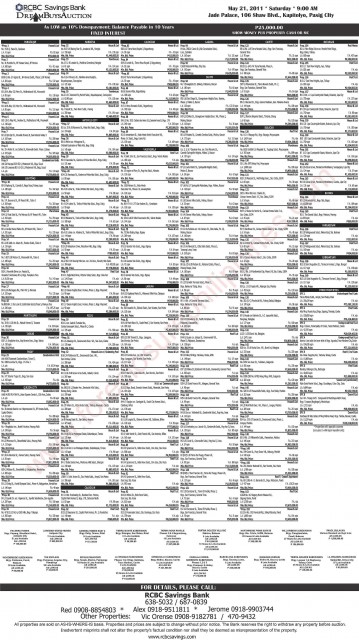 Other formats available:
Source: RCBC Savings Bank website
Don't forget to do your due diligence
If you will notice, the list includes properties with "special concerns". These are either occupied or may have legal impediments. Just make sure you know what you are doing and don't forget to do your due diligence on all the properties you might be interested in that are really worth looking into.
Where to inquire
Please direct all inquiries to RCBC Savings Bank's Retail Asset Management Division through the following:
638-5032 / 687-0839
Red: 0908-8854803
Alex: 0918-9511811
Jerome: 0918-9903744
Other properties – Vic Orense: 0908-9182781/470-9432
Reminders
All transactions are subject to bank approval. Properties, rates and prices are subject to change without prior notice. The bank reserves the right to withdraw any property for whatever reason. Show money PhP 25,000.00 cash or MC per property. All properties are on *as is, where is* basis. Misprints should not be construed as misrepresentation of the property.
Good luck and happy hunting!
To our success and financial freedom!
Jay Castillo
Real Estate Investor
PRC Real Estate Broker Registration No. 3194
Blog: https://www.foreclosurephilippines.com
Follow me in Twitter: http://twitter.com/jay_castillo
Find us in Facebook: Foreclosure Investing Philippines Facebook Page
Text by Jay Castillo and Cherry Castillo. Copyright © 2011 All rights reserved.
Full disclosure: Nothing to disclose.

PS. Attend the next Think Rich Pinoy Seminar by Larry Gamboa on May 28, 2011. Click here for more details.
PPS. Don't be the last to know, subscribe to e-mail alerts and get notified of new listings of bank foreclosed properties, public auction schedules, and real estate investing tips. Mailbox getting full? Subscribe through my RSS Feed instead.