Just wanted to share this list of repossessed cars for sale from Unionbank. The bidding period for the repossessed cars on the list is from January 11-19, 2010. Yes, bidding is ongoing and the deadline for submission of bids is on January 19, 2009. I thought the BMW on the list was the same one in a previous listing of repossessed cars but it turns out this was a different one.
Where to inspect the repossessed cars
If you are interested, you may inspect the repossessed cars at the Unionbank warehouse located at 185 Roosevelt Avenue, San Francisco Del Monte, Quezon City(In front of watch tower).
Ready to bid for a repossessed car?
Bid forms are available at Unionbank ARG, 20th floor, Unionbank Plaza, Meralco Avenue corner Onyx Street, Ortigas Center, Pasig City. Just make sure your bids are submitted with Php5,000.00 Manager's Check at the above address no later than January 19, 2009. For more details, please call Babes through telephone number 6380113 or 6676388 local 8370.
Is bank financing available for these repossessed cars?
I already called them up and was told that bank financing is available for the repossessed vehicles through Unionbank's Auto Finance group. The maximum loan term and add-on interest rates depend on the age of the repossessed car you are interested in. For more details, just call up Unionbank's trunkline 6676388 and  ask to be transferred to Auto Financing.
Click on the image below to download a PDF version of the list of repossessed cars from Unionbank.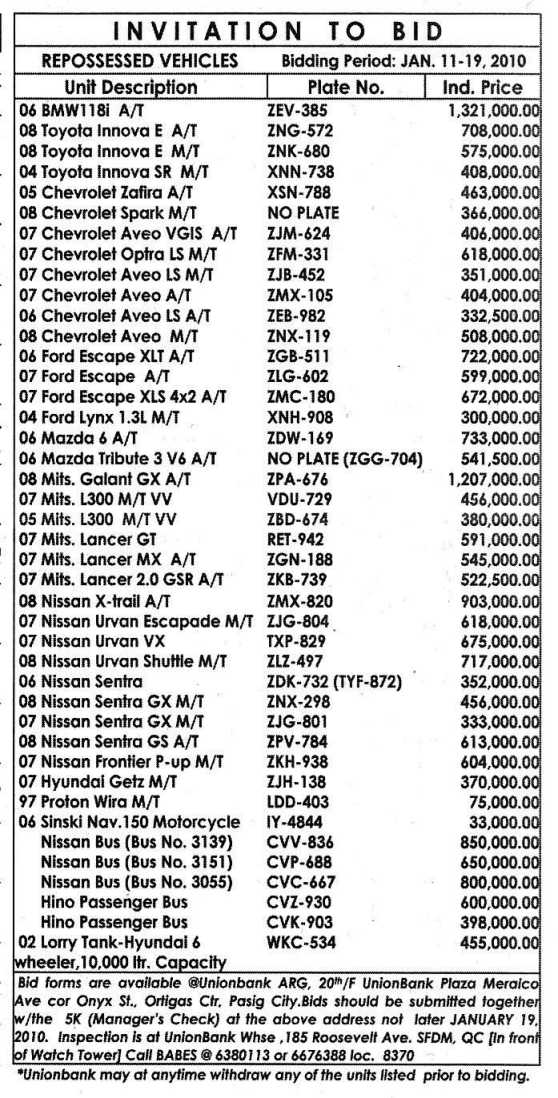 Source: Manila Bulletin, Classified ads section, January 10, 2009 issue.
Happy hunting!
—
To our financial freedom!
Jay Castillo
Real Estate Investor
Real Estate Broker License #: 20056
Blog: https://www.foreclosurephilippines.com
Click here to contact me via E-mail
Mobile phone (Call/SMS): +639178843882
Follow me in twitter:http://twitter.com/jay_castillo
Become a Fan in Facebook:Foreclosure Philippines fan page
Text by Jay Castillo. Copyright © 2009 All rights reserved.
PS. If you are a new visitor, please start here to learn more about foreclosure investing in the Philippines.
PPS. If you feel that anyone else you know might benefit from this post, please do share this to them and don't forget to subscribe to e-mail alerts and get notified of new listings of bank foreclosed properties, public auction schedules, and real estate investing tips.