Do you want to learn how to invest in foreclosed properties but don't know where to start?
Here's your chance to get answers. You are invited to the second batch of the "Usapang Foreclosed Property Investing" seminar which will be held on March 21, 2015 at the Lakambini Hall, Villamor Air Base, Pasay City, Philippines. This time we will have a bigger venue, and we will have more time for questions and answers. More details below.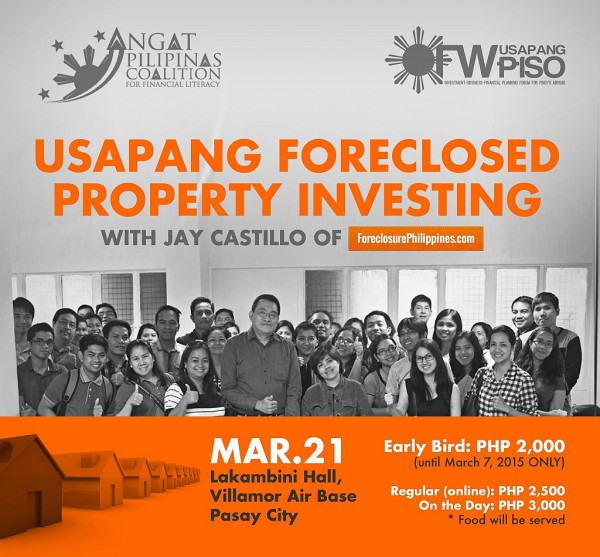 The poster for the second batch on March 21, 2015, which shows the group picture of the first batch with 50 attendees.
Thanks again to Burn Gutierrez  and his team for organizing the second run of this seminar and for inviting me back to speak. Thank you also to the OFW Usapang Piso Forum, and the Angat Pilipinas Coalition.
Here's an outline of what I plan to cover during the seminar:
Different kinds of properties that come from foreclosures and the pros/cons of buying each kind
Reasons why I believe it's best for beginning investors to focus on bank foreclosed properties
Different ways of making money with foreclosed properties
How to get started without quitting your job (please don't quit your job to do this… not yet!)
Case studies
Question and answers*
*Note: Dinner will be served, and I believe we can continue with the Q and A while having dinner

Disclaimer: If done right, one can make millions with investing in foreclosed properties, but it can take a number of deals to achieve this, and there are a lot of factors to consider. This is not a "get rich quick" scheme, just wanted to make that clear. Anyway, I'll cover this during the seminar.
Registration details
Early Bird (extended until March 15, 2015 only): PHP 2,000.00
Online: PHP 2,500.00
On the Day: PHP 3,000.00
Seminar date: March 21, 2015, 5:00pm to 9:00pm
Seminar venue:
Lakambini Hall, Villamor Air Base, Pasay City, Philippines (the venue is bigger to accommodate more people) – Near Resorts World Manila/NAIA Terminal 3. Google Map to the Venue: https://goo.gl/maps/EOOuI
For more info/registration confirmation:
Please call/text Angatph at 09178340426
To secure your slot(s), please visit the registration page through the button/link below:
Click here to register for the Usapang Foreclosed Property Investing seminar on March 21, 2015
Grab your tickets now at an online rate of PHP 2,500.00.
But wait… I need your help
Although I already have my outline for the seminar, I need your help. I need to make sure I will cover the most important topics with the allotted time.
Can you please take a few minutes to answer: What are your top two questions about getting started with foreclosed property investing that I absolutely need to answer in this seminar? (please keep in mind that this is a 4-hour seminar, so I'll try my best to squeeze everything in there).
Thanks and I look forward to seeing you there!
Google Map to the venue
Added March 6, 2015
View in larger map: https://goo.gl/maps/EOOuI