This is a follow up to my post about the possibility that Paranaque City will be adopting a revised schedule of values for real properties. It turns out that Paranaque City Ordinance No. 31-2011* was approved by the City Council and Paranaque Mayor Jun Bernabe last October 13, 2011, and was later published in the Philippine Star last October 25, 2011. The ordinance should take effect immediately after it's publication.
However, the implementation of the newly approved ordinance, which would have resulted in higher real property taxes starting 2012 for Paranaque City residents, was stopped by the Supreme Court (SC) through a temporary restraining order or TRO. Yes, the TRO issued by the SC stopped the real property tax increase in Paranaque, at least for now.
*Click here to view the full text of the Paranaque City Ordinance No. 31 (Series of 2011) in PDF format
No real property tax increase in Paranaque
The TRO that stopped the real property tax increase in Paranaque City would best explain the notice below that would greet visitors of Paranaque City's official website, as of December 2011: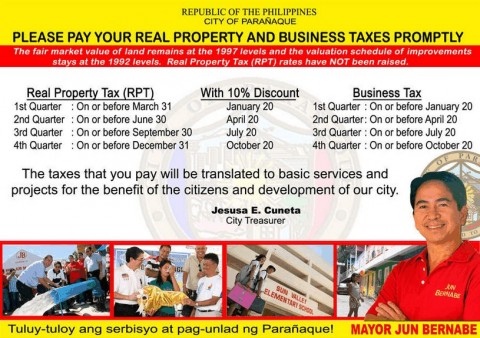 As stated on the notice above, the prevailing fair market values of land remains at 1997 levels, while the valuation of buildings and other improvements stays at 1992 levels. In other words, there is no real property tax increase in Paranaque City, that is according to the notice above.
10% discount for prompt payment of real property taxes
Furthermore, the notice above also states that real property tax and business tax payers who pay their taxes promptly according to the schedule above will enjoy a 10% discount.
Actually, most Cities and Municipalities offer the same incentive for prompt payments of real property taxes ( I remember the discount in Marikina City was 20%, this was before Ondoy and we still lived in Marikina) so if you want to save on real property taxes, I suggest you check with your local government units before it's too late.
Paranaque RPT Online Payment System is under maintenace
In related news, Paranaque's Real Property Tax (RPT) Online Payment System, which allows taxpayers to pay through the internet without the need to go to the Paranaque City Hall, is currently under maintenance. This was posted on Paranaque City's website, as of December 29, 2011.
~~~
To our success and financial freedom!
Jay Castillo
Real Estate Investor
PRC Real Estate Broker License No. 3194
Blog: https://www.foreclosurephilippines.com
Follow me in Twitter: http://twitter.com/jay_castillo
Find us in Facebook: Foreclosure Investing Philippines Facebook Page
Text by Jay Castillo and Cherry Castillo. Copyright © 2011 All rights reserved.
Full disclosure: Nothing to disclose.