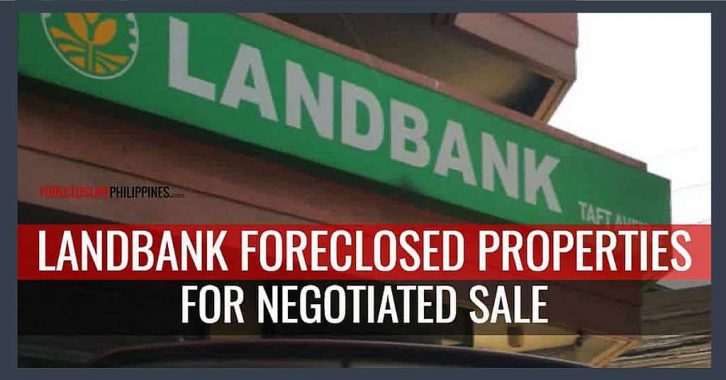 Here's a long overdue update with the latest nationwide listings of Landbank foreclosed properties, updated as of May 7, 2019. In total, this list has 488 foreclosed assets (actually, there's more, but I counted bundled properties as just 1 property). More details below.
A few chattels are also included in the list (equipment and repossessed vehicles).
By the way, this list includes foreclosed properties that are bundled (they must be purchased together), which would explain the high selling price for some of the properties.
Note: To avoid confusion and duplicate data, properties that are meant to be purchased as part of a bundle and have zero/blank selling prices, have been excluded from the classifieds database (I only uploaded one property per bundle, the one that includes all bundle details and the correct total price).
These foreclosed properties from Landbank are all for negotiated sale, which means you don't have to attend any auction, you just have to submit your offers after you have done your due diligence. For the exact steps, please contact LANDBANK directly for complete details.
View list of LANDBANK foreclosed properties for negotiated sale
You may access LANDBANK's list of foreclosed properties inside our classifieds database through the link/button below.
Click to view/search LANDBANK foreclosed properties for negotiated sale
Search all foreclosed properties
Step-by-step instructions:
Search by typing keyword(s) and/or location(s) and click "Search" (Hint: Include keyword "landbank" to only include Landbank foreclosed properties in search results, leave blank for all)
Use "Advanced Search" to choose preferred price range, lot/floor areas (if data is available), and also to exclude those classified as occupied.
Download the complete list of LANDBANK foreclosed properties
If you prefer the "old school" listing in PDF format, you may download it below. by the way, this list is huge (152 pages) because it includes properties with zero/blank prices that are meant to be part of a bundle.
Click here to download the list of LANDBANK foreclosed properties
Note: You will need Adobe Acrobat Reader to view PDF files, which is free to download at Adobe.com
Contact details
Please contact Landbank DIRECTLY, refer to the person-in-charge and contact info as indicated in the individual property details (for properties in our classifieds database), and also inside the PDF list (refer to the rightmost column).
Important Reminders
Sales shall be on "AS IS WHERE IS" basis.
Offers shall be on a first come,first serve basis.
Prices are subject to change without prior notice.
LANDBANK reserves the right to correct errors in prices,terms and status of the properties in the event discrepancies are discovered.