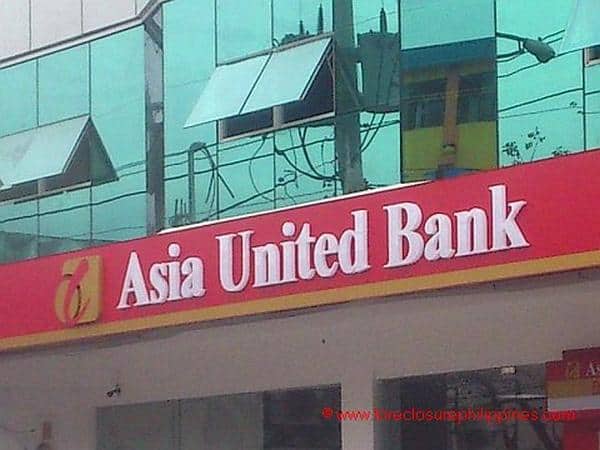 A total of 368 foreclosed properties are available for negotiated sale from Asia United Bank (AUB) and its subsidiaries Cavite United Rural Bank (CURB), and Rural Bank of Angeles (RBA). Details below.
Listing details
The foreclosed properties from AUB and their subsidiaries are for negotiated sale, no need to go through a public auction. This means that interested parties only need to submit their offers.
All offers are are subject to the evaluation/approval of the management.
Note: I did not receive any list of repossessed cars for October 2017
Payment terms
Here are "AUB's Acceptable Payment Terms":
Cash – one time payment upon approval of offer;
In-house financing – minimum of 20% down payment upon approval of offer; 80% balance in 5 years at 12% interest per annum
Does AUB allow real estate brokers to sell their foreclosed properties?
Brokers are welcome to sell any of these properties from AUB. For their subsidiary companies, please contact the numbers provided in the listings.
Access AUB/CURB/RBA foreclosed properties
I already uploaded to our database all the listings from AUB, CURB, and RBA, and you may access them all through the button/link below:
Click to view/search AUB/CURB/RBA foreclosed properties inside our database
Search directly here
Search by keyword and/or choose your preferred location, price range, and hit "Search Listing". Search results may include foreclosed properties from other banks/entities that are already inside our database.
Tip: Let's say you only want condominiums in Metro Manila with a maximum price of PHP1Million, then just type the keywords "asia-united-bank" and "condominum", specify 1,000,000 as the maximum price, choose "Metro Manila" from the dropdown list of locations, then click the search button.
Bonus tip: If you want to compare the listings from all property sources, then don't enter any keywords related to the property source. Example, if you want to find and compare ALL condominiums in Metro Manila, then omit the "aub" keyword when searching, and then you will find ALL condos in our database, not just those from AUB.
View/download AUB/CURB/RBA foreclosed properties listings
You may view or download each individual listings below. Contact details are within each list.
Updated as of October 5, 2017

Seller Bank
Acquired Asset Type
Locations
# of properties / cars
Note: This list supersedes all listings from AUB and its subsidiaries that are posted in ForeclosurePhilippines.com
Total
368
Asia United Bank (AUB)
Foreclosed properties

Note: Includes foreclosed properties within redemption period.





or




GMA
•Makati
•Mandaluyong
•Pasay
•Valenzuela
•Rizal

North Luzon
•Bulacan
•Nueva Ecija
•Pampanga
•Tarlac

South Luzon
•Batangas
•Cavite
•Laguna

Visayas
•Leyte

Mindanao
•Davao
•General Santos City
189
Cavite United Rural Bank (CURB)
Foreclosed properties





or





•Alfonso
•Amadeo
•Bacoor
•Dasmarinas
•General Mariano Alvarez
•General Trias
•Imus
•Indang
•Kawit
•Mendez
•Naic
•Rosario
•Silang
•Antipolo
•Tagaytay
•Tanza
•Ternate
•Trece Martirez
•Calamba
•Santa Maria
•Makati
110
Rural Bank of Angeles (RBA)
Foreclosed properties





or





Pampanga
•Apalit
•Mabalacat
•Mexico
•San fernando
•Angeles
•Guagua
•Lubao
•Santo Tomas

Tarlac
•Tarlac City
Capas
69
How to inquire
For inquiries regarding payment terms, offer forms and or other queries, regarding any of the properties from AUB, please contact the person-in-charge DIRECTLY through the numbers below.
For queries on AUB foreclosed properties, please contact:
(02)631-3333 loc 847
0998-845-1405 (Smart)
0917-841-3585 (Globe)
Repossessed cars of AUB c/o Von Amora
02-631-3333 loc 161
0917-879-3089
Cavite United Rural Bank c/o Jonathan Ostan/Gee Rance
046-571-2331
0933-890-1442
0917-805-7475
Rural Bank of Angeles c/o Bok Sicat
045-625-9097
0922-893-0418
DISCLAIMER : All properties are offered on "As is Where is" basis. Titles of properties are either under Seller's name or under various stages of consolidation going to Seller's name. Some properties have pending legal issues. Interested parties are therefore advised to check the title, the physical and legal condition of the property. Vicinity maps, lot and floor areas are approximates only. Property details (including the lot plans and picture), prices, terms are subject to change without prior notice. The Seller reserves the right to pull-out the property any time. Changes in prices are subject to sole discretion of the Seller. Any misprint shall not alter the property's factual condition nor shall they be deemed misrepresentation of the property.
Source: Ms. Hazel Balaquiot, AUB ROPA-Remedial Department
~~~
Don't forget to subscribe to e-mail alerts to get notified when the next updated listings of foreclosed properties are published.
Happy hunting!
Do you want more content like this? Tell us so we can publish more, just leave a comment or like/share. Thanks!