Star Properties shall be having an auction foreclosed properties at Max's Lipa, Batangas, Philippines, on July 31, 2010. Registration starts at 1:00pm and the auction starts at 2:00pm. This auction of foreclosed properties features foreclosed properties from Batangas and Laguna.
According to the auction announcement, one can buy foreclosed properties for as little as 10% downpayment, with the balance payable up to 5 years, at 15% interest per anum, or through bank financing. "Knock out deals" are accepted and interested parties are encouraged to reserve the properties that they may want to acquire prior to the auction.
Listing of foreclosed properties
Click here to download a copy of the listing in PDF format or click on the image below to download a copy in JPG format.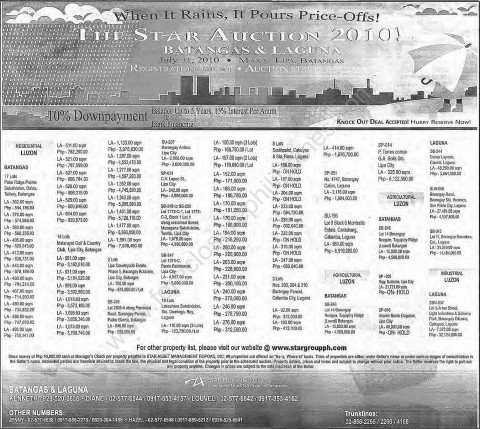 How to join this auction of foreclosed properties
1. Download the listing of foreclosed properties above and then analyze the properties and create a short-list.
2. Call Star Properties, Inc.. directly to get more details about the foreclosed property that has made it to your shortlist and also to schedule a property inspection if warranted. Their telephone numbers can be found on the listing above.
3. Do your due diligence by checking the legal condition of the property through its Transfer of Certificate of Title(TCT) or Condominium Certificate of Title (CCT), Tax declaration, etc. It is also advisable to check for any arrears for Homeowner Association dues/Condo dues, Utilities like water and electricity, real property taxes, etc. Please refer to these set of questions which can also help with your due diligence.
4. Attend the auction to bid if and only if the property passed your due diligence. Show money is Php10,000.00 cash or Manager's Check per property payable to STAR ASSET MANAGEMENT ROPOAS, INC.
The fine print
All Properties are offered on an "As-is, Where-is" basis. Titles of properties are either under seller's name or under various stages of  consolidation in the seller's name. Interested parties are therefore advised to check the title, the physical and legal condition of the property prior to the scheduled auction. Property details, prices, and terms are subject to change without prior notice. The seller reserves the right to pull-out any property any time. Changes in prices are subject to the sole discretion of the seller.
About Star Properties Inc.
STAR Properties is one of the companies belonging to the Star Group of Companies. The STAR GROUP specializes in the acquisition, management and disposition of personal and real properties and is basically structured into these three main components – acquisition, management and disposition of properties. It has so far acquired over three thousand properties located across the Philippines, ranging from residential, commercial and industrial properties.
Source: http://www.stargroupph.com/stargroupph_modx/index.php?id=3
Reminders – Please read!
For inquiries specific to any of the repossessed properties on the list, please contact Star Properties Inc. directly through the contact numbers which can be seen on the list and also above. I am not accredited with Star Properties Inc. so I really can't answer questions about any of the properties on the list. I am just posting this as a public service to readers and subscribers of ForeclosurePhilippines.com
For other questions, please post them through a comment below so that others with the same questions may also benefit from the answers. Thank you.
Happy Hunting!
To our success and financial freedom!
Jay Castillo
Real Estate Investor
Real Estate Broker License #: 20056
Blog: https://www.foreclosurephilippines.com
Follow me in Twitter:http://twitter.com/jay_castillo
Find us in Facebook:Foreclosure Philippines facebook page
Text by Jay Castillo and Cherry Castillo. Copyright © 2010 All rights reserved.
PS. Are you a new visitor? Click here NOW to start learning more about foreclosure investing in the Philippines
PPS. Don't be the last to know, subscribe to e-mail alerts and get notified of new listings of bank foreclosed properties, public auction schedules, and real estate investing tips. Inbox getting full? Subscribe through my RSS Feed instead!