Just wanted to announce and congratulate the 5 winners for the Money Summit and Wealth Expo 2014 give-away. Each of the winners will be receiving 1 ticket each for Day 1 of the conference worth Php1,000. Check out the complete list of winners below.
Here's the list of winners
The 5 lucky winners are:
Rodrigo Martin
Christian Santos
John Faith Gasta
Edgardo Roxas
Arith Lim
The winners were picked through rafflecopter.com (see widget/link below) which is powered by random.org
(if  you can't see the widget, a screen-shot can be seen below)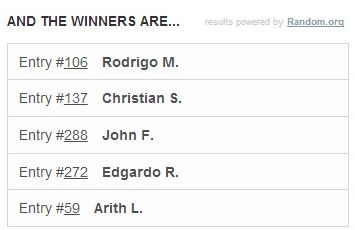 Again, congratulations to all the winners and I'll see you all on July 4, 2014 at the 7th Money Summit and Wealth Expo. More details will be sent to you directly.
Thank you also to to everyone who joined!
Reminders!
For those who won Day 1 free passes, you have the option of buying Day 2 passes for only P2,000 plus VAT. This is a special discount given by Learning Curve in addition to the free passes for Day 1 (Thanks again to Heinz Bulos, President of Learning Curve Inc.)
For those who did not win and want to buy tickets for the 2-day conference, don't forget to use coupon code "foreclosure" to get P3,000 off. Regular rate is P7,000 plus VAT, but you will get P3,000 discount if you use our coupon code"foreclosure", as seen below.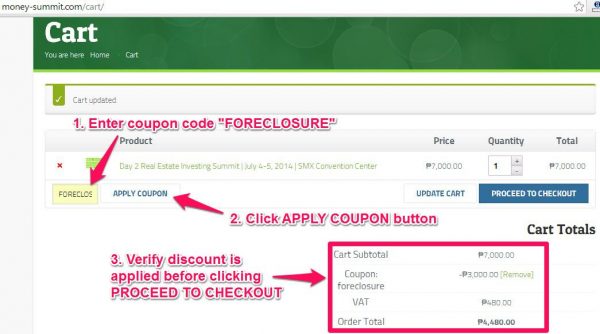 Click here to learn more/register for the Money Summit and Wealth Expo 2014
Disclosure: ForeclosurePhilippines.com is a media partner and affiliate of the Money Summit and Wealth Expo 2014. This means we are entitled to a small commission for each ticket purchased through our link above.