Since the middle of last week until this afternoon, I was in fire-fighting mode. I basically had to stop everything I was doing to fix the intermittent problems www.foreclosurephilippines.com was facing on a daily basis, which seemed to get worse in each passing day.
Anyway, I managed to identify the problem last week, but  I was able to implement a permanent solution only this afternoon.
Basically, the more visitors it had, the more memory this blog consumed. With website hosting, memory is not only limited, it is quite expensive, and when the memory limit is exceeded, the website just goes offline.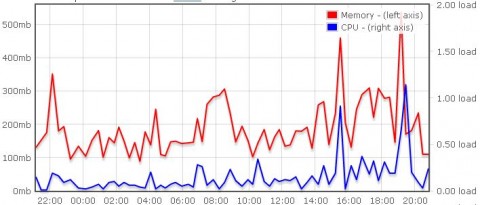 I'm just glad we are hosted with Dreamhost. Instead of disabling my account when the blog eats up their servers' resources (this happened to me with Hostgator last year), their system  will just shutdown and restart my webserver, which means the site will be back online in about 5 minutes. Because of this, I believe only some of you may have noticed the blog was having problems. 🙂
This was very annoying however, because it got more frequent last week when incoming traffic steadily increased. It pretty much prevented me from posting any new listings and articles because with each new post, another traffic spike occurs, and the blog will become offline again. Obviously, this problem will not go away by itself and will cause even more problems. This was both urgent and important.
Thank God I was finally able to apply a solution that fixed everything (I think). Anyway, I hope and pray everything will remain stable and stay that way for another year or so, so I can stay on-track with real estate investing tips and updated foreclosed property listings, and more.
What happened last week
Before our hosting problem got worse last week, I was able to post the following.
Tuesday, September 13, 2011
A friend of ours who visited the venue of the public hearings on "Adopting the revised schedule of values of real property in the City of Paranaque" told us the zonal values increased by about 300%. I'll confirm this by sharing the meeting minutes once I get a copy.  Read the full article
Wednesday, September 14, 2011
This auction will be happening this coming Saturday so If you are planning to bid on any of the UnionBank foreclosed properties on the list, you should already be winding up on your due diligence activities. The 175th Special Public Auction of UnionBank includes Metro Manila and Luzon foreclosed properties, check out the complete list on the following link. Read the full article
Other stuff
Here are some other stuff that either happened or I learned about last week.
PDIC Acquired assets – I was finally able to secure my new NBI clearance and I was able to submit it along with the other requirements for my accreditation as a real estate broker with the PDIC ROPA department. This means that soon I shall be able to help those who might be looking for acquired assets of closed banks that are now under the receivership of the PDIC.

That's it for now, I gotta get some much needed sleep!
~~~
To our success and financial freedom!
Jay Castillo
Real Estate Investor
PRC Real Estate Broker Registration No. 3194
Blog: https://www.foreclosurephilippines.com
Follow me in Twitter: http://twitter.com/jay_castillo
Find us in Facebook: Foreclosure Investing Philippines Facebook Page
Text by Jay Castillo and Cherry Castillo. Copyright © 2011 All rights reserved.