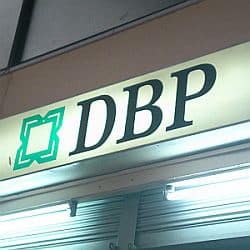 The Development Bank of the Philippines (DBP) will be having a sealed bidding of foreclosed properties from provincial areas on December 20, 2012*, Thursday, 1:30pm, at the Tanghalan ng Julian Felipe, Penthouse, DBP Head Office Building, Senator Gil Puyat Avenue corner Makati Avenue, Makati City, Philippines.
*This will be held on the same day of the Auction of PDIC foreclosed properties which I posted earlier this week.
Included in the sealed bidding are DBP foreclosed properties located in Albay, Cagayan, Camarines Norte, Cebu, Cotabato, Eastern Samar, Lanao Del Norte, La Union, Leyte, Maguindanao, Negros Oriental, Pangasinan, and Zamboanga Del Sur.
According to the invitation to bid, all properties are for sale on "CASH and AS-IS, WHERE-IS BASIS".
Invitation to Bid
The complete list of properties and other details can be found in the Invitation to Bid which can be downloaded below, just click on the image preview below: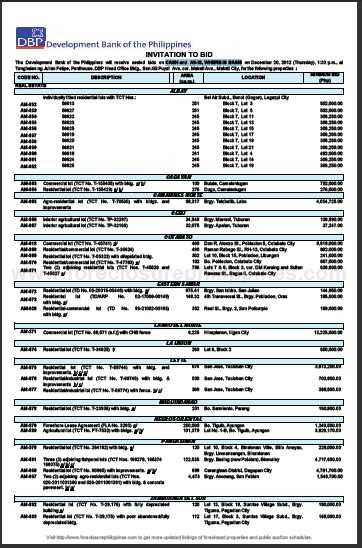 or through the following link:
Source: DBP Website which is included in our Ultimate list of Philippine Bank websites with foreclosed properties
Reminders
BIDDERS ARE REMINDED:

To inspect the properties before the bidding date and determine their actual condition with titles/TDs thereof. 
To submit bids in duly accomplished DBP official bid form available during office hours at Acquired Assets, Ground Floor, DBP Head Office; and
To be on time. No bid shall be accepted once unsealing of bids commences. The sale shall be subject to other terms and conditions which may be imposed by the Bank.

DBP RESERVES THE RIGHT TO REJECT ANY OR ALL BIDS, TO WAIVE ANY FORMALITY THEREIN, OR TO ACCEPT SUCH BIDS AS MAY BE CONSIDERED MOST ADVANTAGEOUS TO THE BANK. THE DECISION OF THE BANK IS FINAL AND BINDING.
Who to contact
For inquiries, please call DBP ACQUIRED ASSETS DEPARTMENT directly through the following telephone numbers:
840-2783
893-7172
892-1566
818-9511 to 20 locals 2117/2158/2159/2163/2166/2102/2167/2145
Happy hunting!
~~~
To our success and financial freedom!
Jay Castillo
Real Estate Investor
PRC Real Estate Broker License No. 3194 
Connect with us – Facebook | Twitter | Blog RSS | Google +
Text by Jay Castillo and Cherry Castillo. Copyright © 2008 – 2012 All rights reserved.
Full disclosure: Nothing to disclose.