Our daughter Mira Love Marie S. Castillo has been laid to rest last Saturday, July 14, 2012. After celebrating a month of holding on after my wife had a Preterm Premature Rupture of the Membranes (PPROM), Mira had to be delivered through an emergency C-section because her mom began to show signs of sepsis.
I still remember that day. In a matter of 45 minutes, my wife's temperature rose from 37 degrees all the way to 39.3 degrees Celsius. This happened while we were on our way to the hospital, and I'm just glad that we noticed the signs (we also noticed baby's heart rate fluctuated from 100 to 180 beats per minute as measured through a fetal doppler, her normal was 150bpm), and decided to bring her there fast. A blood test done at the hospital also revealed a very high WBC count, among other symptoms (baby's heart rate became worse at 90 to 200bpm) detected by our OB, which led to the emergency c-section.
We were just in time and full-blown sepsis was averted, although during the C-section, my wife's blood pressure began to drop at times, according to her doctors. Just thinking about it still makes me shiver with fear of what could have happened.
However, my daughter was delivered at a gestational age of just 23 weeks. Her lungs were simply not yet ready… she survived for a little over 7 hours… and then we had to say goodbye…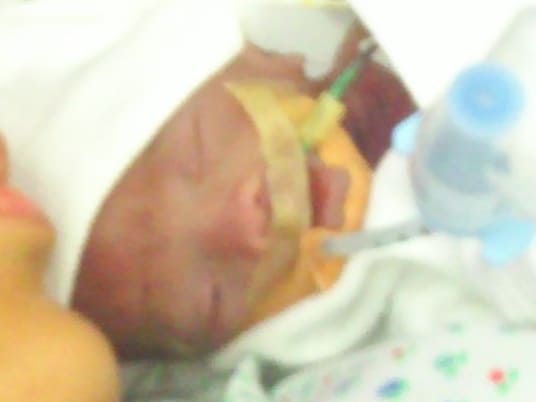 For now…
I simply don't know what to say except thank you to everyone for the prayers and support…
I also want to thank our doctors for doing everything humanly possible to save Mira, and for saving the life of my wife…
We also seek patience and understanding in this time of sorrow for our family…
I wish I can say it's business as usual, but obviously I can't. Please give us time…
I will be updating recently posted listings that contain my wife Cherry's phone number and remove it so she can rest and recover (her blood pressure is still at elevated levels and based on lab results, she has mild postpartum preeclampsia) …
(Update added on July 24, 2012) – It is simply very difficult to describe, what my wife, my son CJ, and I, feel right now. However, I do feel a lot better by simply reading all of the comforting words a lot of you wrote here, on facebook, and also those sent through text. Thank you so much!
Of course, it still hurts, and we have so many questions that run around in our minds. I can still remember my son CJ asking me this question after seeing me cry…
"Daddy, why did Mira have to die?"
I just said "I really don't know CJ, I'll try to answer your question later…".
Some say this is God's will. In my opinion however, this is not God's will. Don't get me wrong, I just feel uncomfortable with the notion that all this happened because it was God's will, because it would be like He is to blame, which in my opinion is not true. I would rather think this just happened for a reason, but it was really not God's intention.
I'm pretty sure though that Mira is with God right now, and with that thought, I do find comfort.
Of course, the question as to why all of this had to happen still lingers and the following song best describes how we feel…
Not a day goes by that we think of you Mira. We love you and you will always be in our hearts… til we meet again someday…
Let me end this with a happy note…
Soon after I wrote the first part of this post above, my wife's blood pressure normalized very quickly.
I guess it had something to do with water retention and stress. I suppose when all the excess fluids in her body got flushed out and all the swelling or "manas" disappeared, her BP also became normal. Much needed peace and quiet also helped a lot, and we're now getting a whole lot more of these as we have just moved-in to a place we can call our home, even if we are just renting it.
Now my wife's BP is always at normal levels, even if the dosage for her medicine has been halved, and we look forward to the go ahead from her OB to stop the medication completely. 🙂
Thanks again for all the prayers! May God bless you all!