Star Properties, Inc., a member of the Star Group of companies, shall be holding a public auction of bank acquired assets entitled "The Star Auction 2009!" on November 21, 2009. Registration starts at 8:00AM and auction proper begins at 9:00AM. The public auction of Real and Other Properties Owned or Acquired or ROPOA's will be held at Max's Jupiter in Makati City, Philippines.  According to the ad, the full list of bank acquired assets will be released on Wednesday,October 21, 2009. You guessed it, I am featuring the complete list which I got on the said date.
Instant knockout option is available
Similar to the Instant Knockout Option which we commonly see in public auctions conducted by Property Forum Philippines, the Knock Out Deal option allows interested parties to reserve a property before the auction by simply adding Php1.00 on top of the list price of a property. Nice!
Payment options for the properties for public auction
Aside from outright cash purchases, the bank acquired assets can also be purchased for only 10% down payment with the balance payable up to a maximum of 5 years, at 15% fixed interest rate. From a real estate investor's point of view, I really don't find the maximum payment term attractive because it is almost next to impossible to purchase a property and produce a positive cashflow, or at the very least become a self liquidating asset where the monthly rent can cover the monthly amortization with the available payment term.
To illustrate, let's say a property with a minimum bid price of Php1M can fetch a rent of Php10,000/mo., what would be the net cashflow using the available payment terms for this auction? The down payment would 10% of Php1M which is Php100,000 with a balance of Php900,000. If the balance is to be paid in 5 years at an annual interest rate of 15%, the resulting monthly amortization would be Php21, 410.93. This results in a monthly cashflow of -11,410.93 (10,000 less 21,410.93 = -11,410.93). No real estate investor in the right frame of mind would invest in such a property.
I guess the only way for an investor to come out with a positive cashflow would be to seek other means of financing at more favorable terms. But then again, that's just my opinion as an investor. Home buyers and those looking at buying their first homes and are not really interested in the cashflow a property may generate just might find bargains on this list. Just don't bother reading my post on treating your first home as a real estate investment as it may change your minds.
Location, Location Location…
The complete list of foreclosed properties up for public auction includes a combination of residential, mixed-use, commercial, agricultural, and industrial lots and lots with improvements from the following locations:
Greater Metro Manila Area (GMMA)
Caloocan
Las Pinas
Makati
Mandaluyong
Manila
Marikina
Muntinlupa
Paranaque
Pasay
Pasig
Pateros
Quezon City
Rizal
San Juan
Taguig
Valenzuela
Luzon
Albay
Baguio
Bataan
Bulacan
Cavite
Isabela
Laguna
La Union
Nueva Ecija
Nueva Vizcaya
Pampanga
Pangasinan
Quezon Province
Quirino
Tarlac
How to join the auction
To participate, show money of 10,000 cash or manager's check per property payable to Star Asset Management ROPOAS, Inc. is required. By far this is the smallest show money requirement I have seen in recent public auctions of bank ROPOA's.
Interested? Don't forget to read the fine print…
All properties for sale are on an "as-is, where-is" basis. Titles of properties are either under the seller's name or under various stages of consolidation in the Seller's name. Interested parties are therefore advised to check the title, and the physical and legal condition of the property prior to the scheduled date of auction. Property details, prices, and terms are subject to change without prior notice. The Seller reserves the right to pull-out any property anytime. Changes in prices are subject to the sole discretion of the seller.
…. and do your due diligence!
Click here to download the complete list of acquired assets for public auction in The Star Auction 2009 which happens on November 21, 2009 or just click on the image below.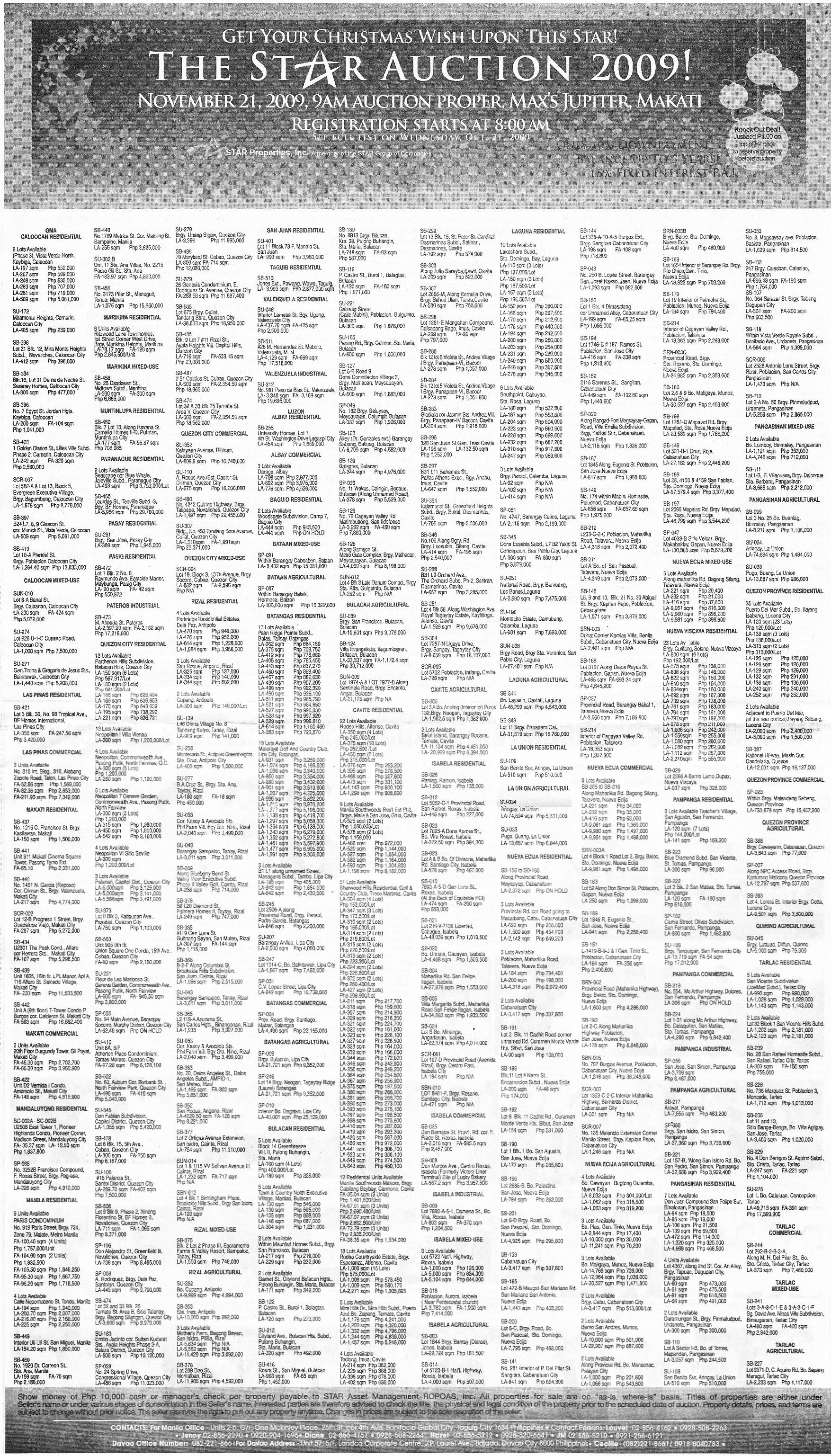 Source: Philippine Star, October 21, 2009 issue, page B3
Happy Hunting!
—–
To our financial freedom!
Jay Castillo
Real Estate Investor
Real Estate Broker License #: 20056
Blog: https://www.foreclosurephilippines.com
Social Network: http://foreclosurephilippines.ning.com
Mobile: +639178843882
E-mail: ph.investor [at] gmail [dot] com
Text by Jay Castillo. Copyright © 2009 All rights reserved.
P.S. – If you are a new visitor, please start here to learn more about foreclosure investing in the Philippines.
P.P.S – If you feel that anyone else you know might benefit from this post, please do share this to them and don't forget to subscribe to e-mail alerts and get notified of new listings of bank foreclosed properties, public auction schedules, and real estate investing tips. If your inbox is getting full, you may subscribe instead to my RSS Feed.
P.P.P.S – Want to have your list of bank acquired assets featured here? Contact me now and let me help you get your list to real estate investors, and that includes me!