The floods are here again, it seems this is becoming a yearly thing here in the Philippines. Well, I hope not! But are things being done at all to solve the perennial flood problem? If yes, what are they? Read on to find out…
I started writing this piece two nights ago, while the rain poured outside. As of now, to date, the rains have stopped and the sun is shining brightly (uhm, rains are still intermittent). I thank the Lord that He as heard our collective prayers.
We know how scary floods can be. Our family was really traumatized by Ondoy. Rains really bring up our alert level and I think it will have the same effect on us forever. It's a good thing we don't have a TV (by choice!) – I'm sure if I watch the news my memories of Ondoy will come flooding back.
The rainfall due to Maring has already broken records. I don't know where this much water came from. I think people from the South who were not previously affected by floods in this manner (Las Pinas, Cavite, Laguna) now have flood concerns.
Floods and real estate
It may seem insensitive to discuss the effects of floods on real estate values when people's lives are at stake and should be first priority at this point. But actually, this discussion only reinforces the fact that the safety of people and their belongings (their house, including their personal effects and vehicles) should be taken into consideration when purchasing real estate. People should feel safe inside their homes. Without this sense of safety, a house ceases to be a man's castle and its value is diminished.
What is the government doing to solve the flood problem?
To be fair, I did notice that the situation now has improved compared to before. While there's still much room for improvement, I think the government has already gained headway. I want to sincerely thank all those who have been working tirelessly to solve the Philippine flood problem and its related consequences. Thank you to all selfless workers and volunteers who sacrifice their time with their families to help others. Mabuhay kayo!
PAG-ASA (Philippine Atmospheric, Geophysical, and Astronomical Services Administration) and DOST (Department of Science and Technology)
The PAG-ASA has been able to predict the weather more accurately, thanks to a wind profiler which they got in 2011. They also have doppler radars all over the country which can help them measure rainfall.
Last July 2, 2013, it was reported that IBM will donate a "supercomputer" to PAG-ASA come September 2013, and this will make weather forecasting more accurate. It can help weathermen extend their forecast from 3 to 7 days, thus increasing the people's time to prepare for weather disturbances. More importantly, climate modeling software can help people forecast the proper time for farmers to plant and harvest crops. It can also process data on the country's weather outlook for the next 5 to 10 years. This is amazing!
The information from PAG-ASA has enabled those in power to quickly suspend classes and office work (both government and private offices).

The PAG-ASA now has a Rainfall Warning System (RWS), which was launched last June 20, 2012. Previously, they were only measuring the wind speed which has nothing to do with rainfall. Now, the codes are easier to disseminate and understand. Yellow for moderate to heavy rainfall (flooding in low-lying areas), Orange for heavy to intense rainfall (flooding is threatening), and Red for heavy to intense rainfall (severe flooding is expected).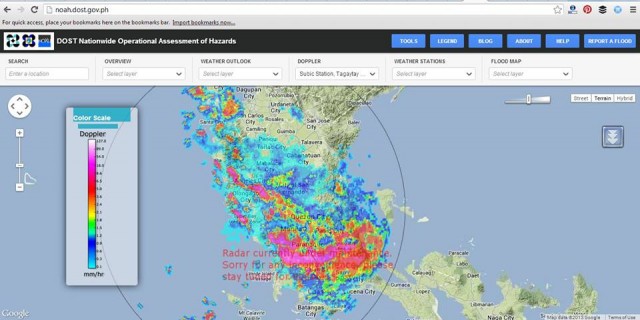 MMDA (Metro Manila Development Authority)
The MMDA has been harnessing technology to better serve the public. You can get information from the MMDA website, the MMDA Facebook page, and MMDA Twitter account. I use the MMDA app the most on my android phone because it's so useful in checking out which routes have the lightest traffic. My brother has suggested the Waze app but I haven't gotten around to using it yet.
I just learned that there is an MMDA Traffic Mirror which was launched last May 2013. I checked it out and it works, you can see the real time video of the different areas where there are MMDA cameras. I looked at the video of Taft and I saw that there were only a few buses passing, you can see the flood height by looking at the wheels of the bus. So it's very helpful if you're thinking of passing that way.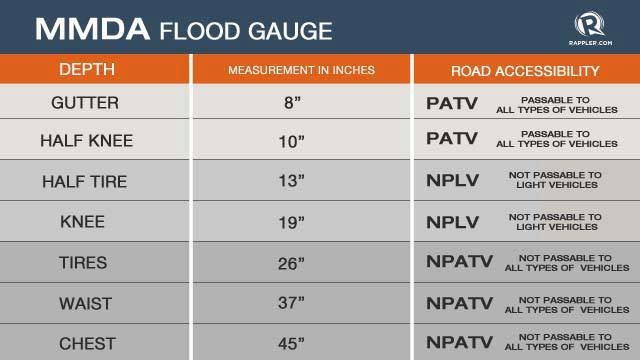 REMINDER: For any concerns especially flood alerts and traffic updates regarding other areas you may directly tweet the following:
(BACOOR TRAFFIC)
you may directly tweet @CityOfBacoor to get traffic and other updates in Bacoor

(CAVITEX TRAFFIC)
you may directly tweet @CaviteXpressway to get latest traffic info in Cavitex

(CALOOCAN TRAFFIC)
you may directly tweet @CaloocanCityLGU to get latest traffic info in Caloocan

(Mandaluyong TRAFFIC)
you may directly tweet @MandaluyongPIO to get traffic and other updates in Mandaluyong

(MALABON TRAFFIC)
you may directly tweet @Malabon_City to get latest traffic info in Malabon

(MARIKINA PIO)
you may directly tweet @MarikinaPIO to get traffic and other updates in Marikina

(MAKATI TRAFFIC)
you may directly tweet @MakatiTraffic to get latest traffic info in Makati

(MANILA TRAFFIC)
you may directly tweet @MTPB_Manila to get latest traffic info in Manila

(MRT3 Operations)
you may tweet @dotcmrt3 for your inquiries regarding MRT3 operations
you may directly tweet @LrtaDotc to get updates in LRT

(NAVOTAS TRAFFIC)
you may directly tweet @Navotas_City to get latest traffic info in Navotas

(NLEX TRAFFIC)
you may directly tweet @NLEXtraffic for traffic updates in NLEX

(PASIG TRAFFIC)
you may directly tweet @PasigInfo to get traffic and other updates in Pasig

(PARAÑAQUE TRAFFIC)
you may directly tweet @ILoveParanaque to get latest traffic info in Parañaque sir/ma'am..#mmda

(PASAY TRAFFIC)
you may directly tweet @PasayPIO to get latest traffic info in Pasay

(PAGASA)
you may directly tweet @dost_pagasa to get latest weather forecast

(SANJUAN TRAFFIC)
you may directly tweet @sanjuancityncr to get latest traffic info in SanJuan

(SLEX TRAFFIC)
you may check timeline @SkywaySOMCO to get latest traffic info in Skyway/SLEX

(Taguig TRAFFIC)
you may directly tweet @ILoveTaguig1 to get traffic and other updates in Taguig

(Valenzuela TRAFFIC)
you may directly tweet @valenzuelacity to get traffic and other updates in Valenzuela

For Alabang to Calamba SLEX you may directly tweet @MATESTRAFFICDEP.

FOR TRAFFIC INQUIRIES from Alabang to Calamba please contact Manila Tollway Express Systems (MATES): (049)5087539; (0908)8807539

For Las Piñas you may call Las Piñas Traffic for more info 874-5756 874-3957 874-3927.

or you may call MMDA Flood Control Information Center at 882-4177/882-0925 regarding flood updates.

NDRRMC hotline 911-5061, 912-2665, 912-5668
#mmda
Additionally, for cancelled flights you can check: https://twitter.com/DOTCPhilippines
Those who need rescuing may use #ReliefPH while those who want to help may use #ReliefPH.
I don't have a twitter account but with such useful information coming from twitter, I may have to join the bandwagon.
Various Government Agencies and their Hotlines
Check out also http://www.gov.ph/emergency-hotlines/
Disaster Risk Reduction and Management (DRRM)
The National Disaster Risk Reduction and Management Council is the government agency tasked to coordinate the different groups in charge of DRRM. In my personal opinion, the operations now are much improved, considering the advanced information available to the public which gave the people time to prepare and react, and the lower number of casualties.
The Philippines, being a disaster-prone country, already has a team and laws for DRRM. The Philippine Disaster Risk Reduction and Management Law (R.A. 10121) was signed on May 27, 2010 and its Implementing Rules and Regulations (IRR) was signed on September 27, 2010. The country likewise has a National Disaster Risk Reduction and Management Framework (NDRRMF) and a National Disaster Risk Reduction and Management Plan.
A presentation by Mr. Bernardo Rafaelito R. Alejandro IV, Regional Director of the Office of Civil Defense (OCD) summarized the National Disaster Risk Reduction Management Plan (NDRRMP) for 2011-2018. This is a good read because it shows who are responsible for which aspects of the DRRM plan. Who do you think rose to the occasion and who did not do their jobs?
According to the news, the NDRMMC launched last July 5, 2013 Oplan Tag-Ulan 2013 so that the government's disaster response and management capabilities would be strengthened. I think the contents of the said Oplan should be disclosed to the public so we can check if the plans were executed. The text blast idea is a good one but I don't think this was implemented.
Local Government Units (LGU's) are supposed to submit their own disaster response plans sometime end-September 2013 (IMHO, this should have been ready before the rainy season).
Part of the plan I believe are the geohazard maps  and earthquake faultline maps which I have written about previously.
DSWD (Department of Social Welfare and Development)
The DSWD is the government agency responsible for disaster response. You may check out the DSWD Facebook account and DSWD Twitter account. Those who wish to help victims may check out this post from Rappler.com for the list of donation centers (Sad to say, corruption is still an issue even with regard to donations – you really have to look for an entity you can trust).
Climate Change
The Climate Change Commission is the lead agency for climate change-related matters in the Philippines. I believe that climate change is a very broad subject which affects, and will continue to affect the Philippines further into the future, thus it deserves much attention and action.
The Philippines already has a Climate Change Law (R.A. 9729) and its Implementing Rules and Regulations, a National Framework Strategy on Climate Change, and a National Climate Change Action Plan (NCCAP). We must do our part to save our country.
The presentation Ms. Rosalina G. De Guzman, Assistant Weather Services Chief of PAG-ASA DOST at the 2011 Climate Change Consciousness Week is really very alarming. Check it out for yourself.
Infrastructure
The DPWH (Department of Public Works and Highways), headed by Secretary Rogelio Singson, has presentated the Metro Manila Integrated Flood Risk Management Master Plan in Seoul, Korea last May 2013. They have already analyzed the situation and are in the process of implementing their plans.
The DPWH likewise released its Flood Management Master Plan for Metro Manila and Surrounding Areas last June 2013. In the 2013 State of the Nation Address, the President also mentioned the government's plans, including the Blumentritt Interceptor Catchment Project, which is expected to reduce flooding in Manila and Quezon City.
LLDA (Laguna Lake Development Authority)
The Laguna Lake is a critical component of flood reduction efforts. Urban planners have been raising the issue that the Paranaque Spillway Project in the 1970's should have been implemented. The LLDA is reviving the Paranaque Spillway Project, but now they propose an underground tunnel so that excess water from Laguna Bay may be discharged into Manila Bay.
Some parties have been blaming President Aquino for cancelling key flood control projects in 2010, which should have been finished last year had it been approved. President Aquino launched another project for Laguna Lake last April 2013 though – I wonder what happened?
On October 3 to 4, 2013, the Laguna Lake Water and Flood Management Imperative is scheduled and it is hoped that the discussions will finally be able to solve the flood problem in the area.
Analyses and Suggestions of Urban Planners
Architect Paulo Alcazaren wrote an insightful article on 10 reasons why it floods in Manila. In Facebook, he also suggested rainwater harvesting for homes.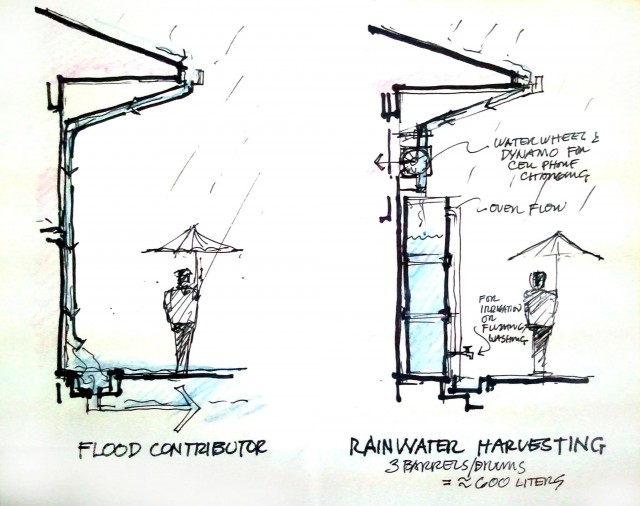 Arch. Felino Palafox, for his part, suggested adaptive architecture as a means to cope with flooding. Some of his suggestions may be done faily easily, like having a separate electrical system for the ground floor and the second floor of your house, and putting the electrical sockets at higher areas of the house. His other suggestions like having houses on stilts and floating houses may take longer to implement.
In Bonifacio Global City, they have an underground cistern to catch excess water, and this prevents flooding in the area. This may be made as a model for other cities. Japan has a much bigger, absolutely amazing facility which they call a "Water Discharge Tunnel" that can deal with heavy rains and prevent flooding. I wonder if we can have something similar in the Philippines?
On a practical note
What to do if you waded through floodwaters
In case you  waded through floodwaters, please take prophylaxis vs. Leptospirosis. I got this from my friend, Dr. Sidney Manahan.
 
What to do if your car was flooded
Here are some good tips from Ziebart/CarSavers Philippines
Immediately disconnect the negative cable of your car battery to avoid any possible short circuit. This is also to protect the ECU or computer box from damage.
Do not start the engine. Try to push the car out to higher ground or try jacking it with the car jack.
Disengage and release the parking brake. Keep the transmission in 1st gear (for manual transmission) or "P" (for automatic transmission) to prevent the brake canvas from sticking. This is even more important for cars that use drum brakes.
Take plenty of photos both inside and outside the car to document any damage or how deep the car was underwater. This will be useful for both the Insurance and/or Professional Mechanic to determine the extent of the damage.
Wait at least 24 hours before you do anything to the vehicle, giving it time to drain, if not completely dry out.
If the water got so deep that the dashboard was covered, do not try to start it at all. If any liquid is in the cylinders it will cause damage to the engine. Most of the electronics in the car would have been submerged at this depth, as well.
If you don't think the water got that high, it's still best to take a look at the oil dipstick to see if there are any traces of water in the lubrication system. If so, assume the engine is flooded and don't try to start it.
You're in better shape if the water stayed below the center line of your wheels. Nevertheless, let the interior air out as much as possible before trying to start it, taking out the floor mats, trunk mat and even the seats. Much of the wiring and some of the computers in today's cars are located under the carpet and console box, so even if the engine compartment was not inundated, you could still experience faults to secondary systems.
When in doubt, either have your vehicle towed to your trusted service center or call your professional mechanic/electrician for a more thorough inspection and assessment.
Do you think the flood control projects will be implemented?
Public outrage over corruption is once again very high these days. The controversy surrounding Janet Napoles and JLN Corporation is surely only the tip of the iceberg. I just read news about 11 people in a web of dubious NGO's. How a Senator belittled his responsibility to check where the funds are going to is disappointing, to say the least. The Commission on Audit report is really an eye-opener.
It may be true that a portion of the funds earmarked for flood control purposes have been diverted to the hands of corrupt people. Rep. Ome Candazo spoke against the pork barrel way back 1996, and Sen. Lacson way back 2003, but sadly, corruption still remains. I pray that the corrupt people's hearts would be touched and they realize that they are stealing from the people. I hope that the flood control and disaster management projects will be finished and implemented.
~
Cherry Vi M. Saldua-Castillo
Real Estate Broker, Lawyer, and CPA
PRC Real Estate Broker License No. 3187
PRC CPA License No. 0102054
Roll of Attorneys No. 55239
2013 Internal Education Head, REBAP-LMP
Text by Jay Castillo and Cherry Castillo. Copyright © 2008 – 2013 All rights reserved.
Full disclosure: Nothing to disclose.