Interested in buying repossessed houses for sale through sealed bidding? Why not participate in the BPI Buena Mano Property Sales and Leases' sealed bidding of repossessed houses. Deadline for submission of bids is on September 21, 2009, 5:30pm.
Opening of sealed bids will be on September 24, 2009 at 2:30PM at the Cebu Business Center Office, 3rd floor, Ayala FGU Center Cebu, Mindanao Avenue, cor Biliran Street, Cebu Business Park, Cebu City. All Bidders will be notified of the results.
This sealed bidding of repossessed houses includes provincial foreclosed properties from the following business centers:
Bacolod Business Center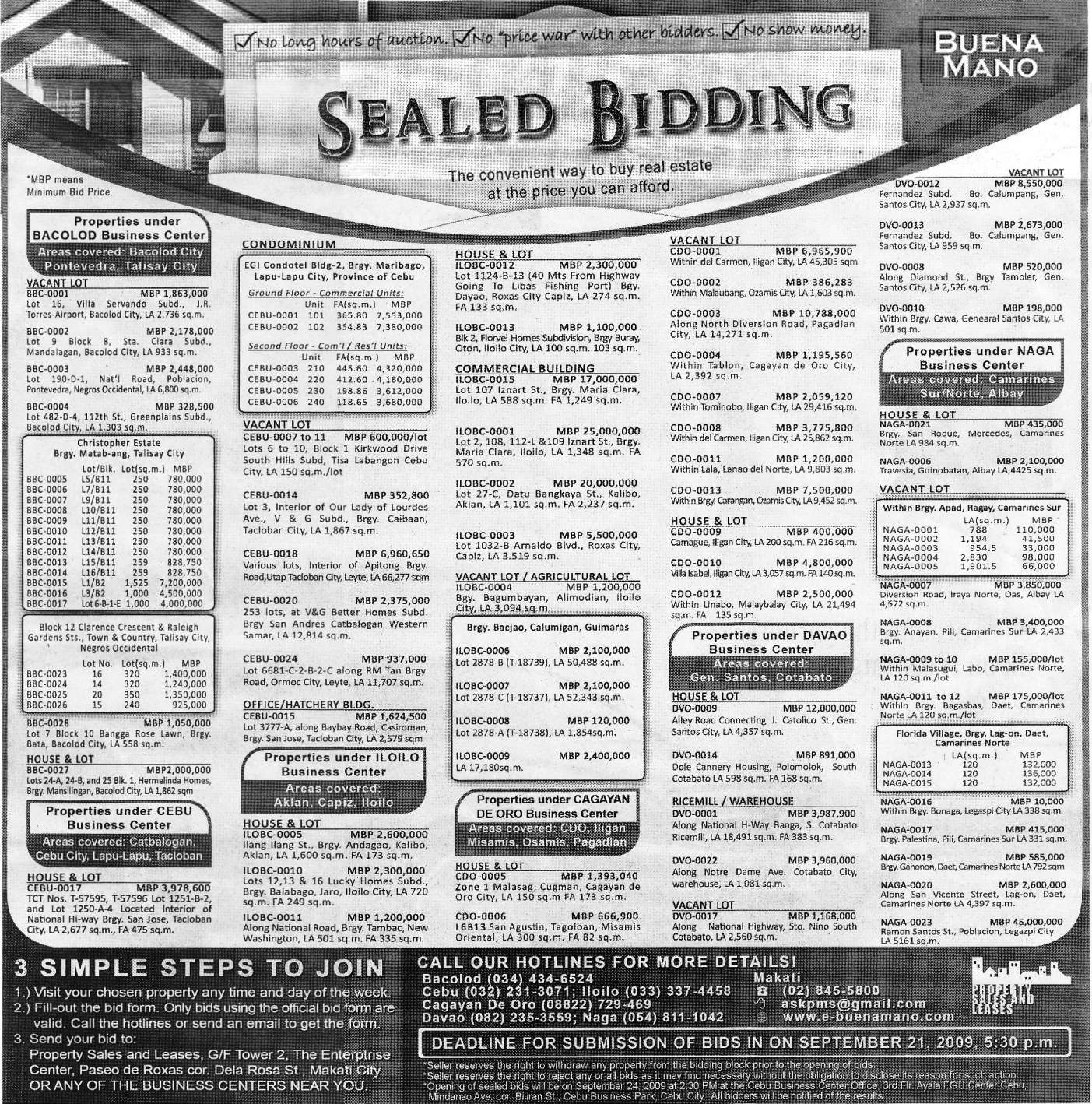 Bacolod City
Pontevedra
Talisay City
Cebu Business Center
Catbalogan
Cebu City
Lapu-Lapu
Tacloban
Iloilo Business Center
Cagayan De Oro Business Center
Cagayan De Oro
Iligan
Misamis
Pagadian
Davao Business Center
Naga Business Center

Camarines Sur
Camarines Norte
Albay
Click here to get Buena Mano's complete listing of repossessed houses for sale through sealed bidding.
(Source: Philippine Daily Inquirer, August 19, 2009 issue, page A6)
After shortlisting the repossessed houses you might be interested in, you just have to ask the right questions and then visit the foreclosed property if warranted. If the deal and the numbers make sense, then just fill-out the bid form and send your bid to Property Sales and Leases, G/F Tower 2, The Enterprise Center, Paseo de Roxas corner Dela Rosa Street, Makati City, Philippines or any of the business centers near you. Do remember that only bids using the official bid form are valid. Call the hotlines below to get the form:
Bacolod (034) 434-6524
Cebu (032) 231-3071
Iloilo (033) 337-4458
Cagayan De Oro (08822) 729-469
Davao (082) 235-3559
Naga (054) 811-1042
Makati (02) 845-5800
Or send an e-mail to askpms@gmail.com
You may also visit their website: http://www.e-buenamano.com
Before bidding on any of the repossessed houses, read the "fine print" below:
Seller reserves the right to withdraw any property from the bidding block prior to opening of bids
Seller reserves the right to reject any or all bids as it may find necessary without the obligation to disclose its reason for such action.
Happy hunting!
—–
To our financial freedom!
Jay Castillo
Real Estate Investor
Real Estate Broker License #: 20056
Blog: https://www.foreclosurephilippines.com
Social Network: http://foreclosurephilippines.ning.com
Mobile: +639178843882
E-mail: ph.investor@gmail.com
Text by Jay Castillo. Copyright © 2009 All rights reserved.
P.S. – If you are a new visitor, please start here to learn more about foreclosure investing in the Philippines.