 This auction announcement of RCBC Savings Bank repossessed houses fell through the cracks, so to speak. I thought my recent post about the public sealed bidding for PNB and Allied ...
Read More ›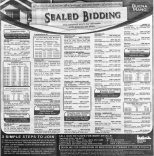 Interested in buying repossessed houses for sale through sealed bidding? Why not participate in the BPI Buena Mano Property Sales and Leases' sealed bidding of repossessed houses. Deadline for submission ...
Read More › Bahay Financial Services or BFS currently has a vast inventory of pre-owned or foreclosed properties for sale that includes investment/budget homes and lots. Their current listing includes properties in attractive ...
Read More ›