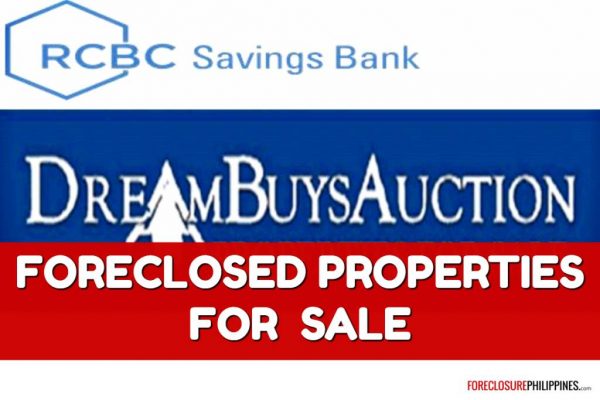 I recently got this list of RCBC  Savings Bank foreclosed properties and this is updated as of September 26, 2017. Since there's no auction announcement, then I believe these are for negotiated sale. This is a nationwide list which contains 332 foreclosed properties all over the Philippines.
Access RCBC Savings Bank foreclosed properties database
To help make it easier to find foreclosed properties within your target location/price-range, I already uploaded the whole list of  RCBC Savings Bank foreclosed properties into my database, and you may access them through the button/link below:
Click to view RCBC Savings bank foreclosed properties in searchable database
Search directly here
Search by keyword and/or choose your preferred location, price range, and hit "Search Listing". Search results may include foreclosed properties from other banks/entities that are already inside our database of foreclosed properties.
Tip: Let's say you only want condominiums in Metro Manila with a maximum price of PHP1Million, then just type the keywords "dreambuys" and "condominum", specify 1,000,000 as the maximum price, choose "Metro Manila" from the dropdown list of locations, then click the search button.
Bonus tip: If you want to compare the listings from all property sources, then don't enter any keywords related to the property source. Example, if you want to find and compare ALL condominiums in Metro Manila, then omit the "dreambuys" keyword when searching, and then you will find ALL condos in our database, not just those from RCBC Savings Bank.
Download the list of RCBC Savings Bank foreclosed properties
For those who prefer to download the list of RCBC Savings Bank foreclosed properties, you may do so below:
RCBC Savings Bank foreclosed properties for sale as of September  26, 2017 (PDF format)
Source: Channels Management, RCBC Savings Bank
How to inquire
Please contact RCBC Savings bank directly if you are interested in any of the foreclosed properties on the list, using the contact details inside the listings, which I have pasted below.  Please be guided accordingly, thank you!
FOR MORE DETAILS, PLEASE CONTACT:

Red at (02) 230-7707 / 0919-9938394
Joseph at (02) 230-7753 / 0918-9903744
Alex at (02) 230-7754 / 0919-9938391
Jessica at (02) 230-7750 / 0918-9928637

or email rsbpropertysales@rcbcsavings.com
Disclaimer
All properties are sold on AS-IS-WHERE-IS basis. Properties and prices are subject to change without prior notice. The Bank reserves the right to withdraw any property before auction.

Inadvertent misprints shall not alter the property's factual condition nor shall they be deemed as misrepresentation of the property.
Full disclosure: Nothing to disclose. Even if we are accredited real estate brokers of RCBC Savings Bank, we cannot assist any of you with this listing because we have stopped brokering foreclosed properties. If you are interested in any of the properties on this list, please contact the bank directly. Thank you!