A big number of RCBC Savings Bank foreclosed properties will be up for grabs in their latest Dream Buys Auction which will be this April 9, 2011, Saturday, 9:00am, at the 2nd floor Star Mall Edsa corner Shaw Boulevard, Mandaluyong City, Philippines. The foreclosed properties for sale are from the Metro Manila and Luzon areas.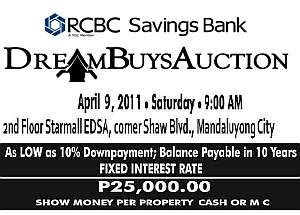 The auction announcement says payment terms are "As low as 10% downpayment; Balance payable in 10 years, FIXED INTEREST RATE".
Better call up RCBC Savings Banks directly for more details as to what foreclosed properties can be purchased for just 10%  downpayment and at what fixed interest rate for how many years.
Make sure you won't get stuck with "low home loan rates" that are fixed for only a year.
During their last auction
I was able to attend the RCBC Mega Property auction held last February 19, 2011 (RCBC Savings Bank foreclosed properties were part of the properties for sale)  where a friend of mine participated in the bidding for one of the foreclosed properties.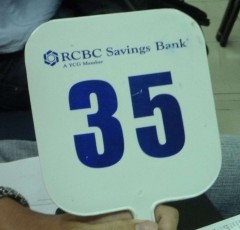 Unfortunately, he did not win on his bid, which was also his first attempt to buy a foreclosed property through an auction. There was another bidder and they tried to outbid each other. When the bid price already exceeded his predetermined Maximum Allowable Offer or MAO, my friend had to put down his paddle. The other bidder won.
So my friend lost his bid, no problem! I said to him and other friends present that day that it was perfectly okay. In real estate investing, you win some, you lose some. What's important is my friend tried, and had the balls to bid. Not many people can do what he did.
This was of course after he made sure he properly analyzed the property, did his due diligence, and he was ready to finance the deal. I also believe he was investing for the right reasons. More importantly, he had the guts to "pull the trigger" by actually bidding.
I'm pretty sure he'll be winning in one of his future bids and have a successful deal. Good luck!
Download the list of RCBC foreclosed properties for sale
Just click on the image preview below to download a copy of the auction announcement in JPG format. This contains a list of all the RCBC foreclosed properties for sale through public auction on April 9, 2011.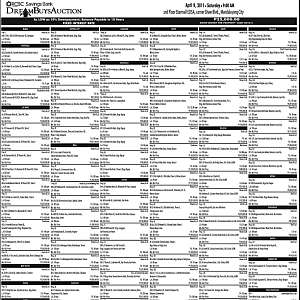 A copy in PDF format can be downloaded through the following link: RCBC Savings Bank Dream Buys Auction – April 9, 2011(1.75MB)
For inquiries, please call
RCBC Savings Bank
Charmie – 638-5032
MC – 687-0839
Red – 0908-8854803
Alex – 0918-9511811
Jerome – 0918-9903744
Other Properties: Vic Orense – 0908-9182781 /687-5430 loe. 4742
Disclaimer
All properties are sold on AS-IS-WHERE-IS basis. Properties and prices are subject to change without prior notice. The Bank reserves the right to withdraw any property before auction. Inadvertent misprints shall not alter the property's factual condition nor shall they be deemed as misrepresentation of the property.
Happy real estate investing!
Jay Castillo
Real Estate Investor
Real Estate Broker License #: 20056
Blog: https://www.foreclosurephilippines.com
Follow me in Twitter: http://twitter.com/jay_castillo
Find us in Facebook: Foreclosure Investing Philippines facebook page
Text by Jay Castillo and Cherry Castillo. Copyright © 2011 All rights reserved.
PS. Are you sick and tired of being broke and being in debt all the time? How can you even think of investing in real estate if you are drowning in debt? Help is on the way from Sha Nacino, click here for more info NOW!
PPS. Don't be the last to know, subscribe to e-mail alerts and get notified of new listings of bank foreclosed properties, public auction schedules, and real estate investing tips. Mailbox getting full? Subscribe through my RSS Feed instead!