The 155th special public auction of Union Bank foreclosed properties is scheduled to take place on June 19, 2010, Saturday, 9:00AM, at the  Delas Alas Room, 2nd floor, Philippine Columbian Sports Club, Plaza Dilao, Paco, Manila, Philippines. Please see e-mail invitation below for more details.
Subject: UnionBank Special Public Auction June 19, 2010

Greetings!

We would like to invite you again, together with your friends and your family members to …

UNIONBANK SPECIAL PUBLIC AUCTION !!!

UnionBank of the Philippines will conduct another half-day Public Auction of real estate properties on June 19, 2010 (Saturday) 9:00 am at Delas Alas Room, 2nd Floor Philippine Columbian Sports Club, Plaza Dilao, Paco, Manila.

Just bring PhP 20,000 show money (cash or manager's check) to qualify to bid for each property. The sale is on "as is where is" basis.

The properties for bidding consist of residential lots, house and lots, townhouses, condominium units, residential buildings, commercial lots, industrial lots, agricultural lots, commercial space, and industrial / commercial warehouses.  These properties are available for sale at reasonable prices. We offer 5% discount on cash sales and affordable credit terms, as follows;

Downpayment:
10%
Interest:
13% p.a. fixed for the first 3 years and
15% p.a. fixed for the next 12 years
Term:
15 yrs. (maximum) thru in-house guaranteed financing

We have attached a list of the properties for your reference and dissemination. Should you wish to know more about these properties, please contact

Kim Unidad : D.L.: 637-1445, T.L.: 667-6388 LOCAL 8372
Doris Padlan : D.L.: 638-0125, T.L.:667-6388 LOCAL 8358/8359
Dong Quinsay :  D.L.: 638-0092, T.L.:667-6388 LOCAL 8349
Romel De Borja : T.L.: 667-6388 LOCAL 8348
Eriq Villaverde : T.L.: 667-6388 LOCAL 8373
Lance Yadao : T.L.: 667-6388 LOCAL 8362
E-mail Address : krvunidad@unionbankph.com

We look forward to seeing you at the auction!

Thank you.
Mr. Kim Richard V. Unidad
Asset Recovery Officer – Asset Recovery Group
Click here to download a copy of the list of Union Bank foreclosed properties for sale thru public auction in PDF format or on the image below to download a copy in JPG format.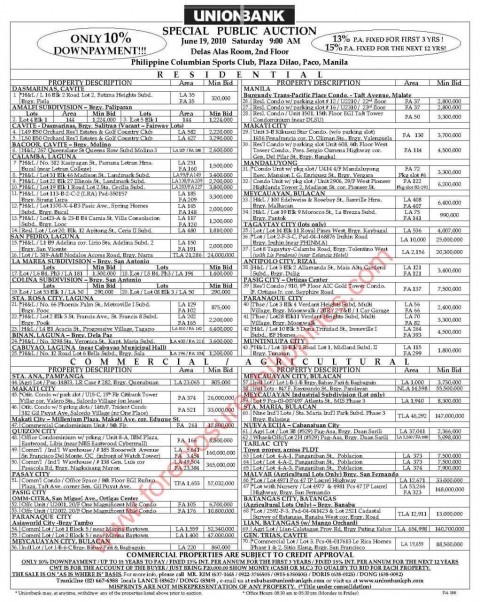 If you are interested in buying foreclosed homes, whether as investment or as residence, you just might find what you are looking for in this listing. Personally, the interesting properties are not in my niche. When I say interesting, it means they appear to be very cheap, considering the lot area/floor area. Of course, one still needs to check if the property needs repairs, etc.
By the way, please take note that the titles of some of the foreclosed properties on the list (those with *) are still under consolidation.
Happy hunting
To our success and financial freedom!
Jay Castillo
Real Estate Investor
Real Estate Broker License #: 20056
Blog: https://www.foreclosurephilippines.com
Follow me in twitter:http://twitter.com/jay_castillo
Find us in Facebook:Foreclosure Philippines facebook page
Text by Jay Castillo and Cherry Castillo. Copyright © 2010 All rights reserved.
PS. Are you a new visitor? Click here NOW to start learning more about foreclosure investing in the Philippines
PPS. Don't be the last to know, subscribe to e-mail alerts and get notified of new listings of bank foreclosed properties, public auction schedules, and real estate investing tips. Inbox getting full? Subscribe through my RSS Feed instead!