After several days of not posting any listings, here is a compilation of upcoming auctions of PNB foreclosed properties this April 2013.
Sorry, I've been very busy with the development of our foreclosed properties database, protecting our websites from a global brute force attack affecting ALL WordPress sites (yes, that includes you if you have a wordpress site!), and also with a lot of offline activities that are both urgent and important.
Anyway, I won't bore you with the details, I'll just share the auction schedules of PNB foreclosed properties this April 2013 in this post.
Please refer to the compilation of auction flyers and respective listings of PNB foreclosed properties for download below.
1. PNB basta subasta ng bahay at lupa sa Tagaytay – April 18, 2013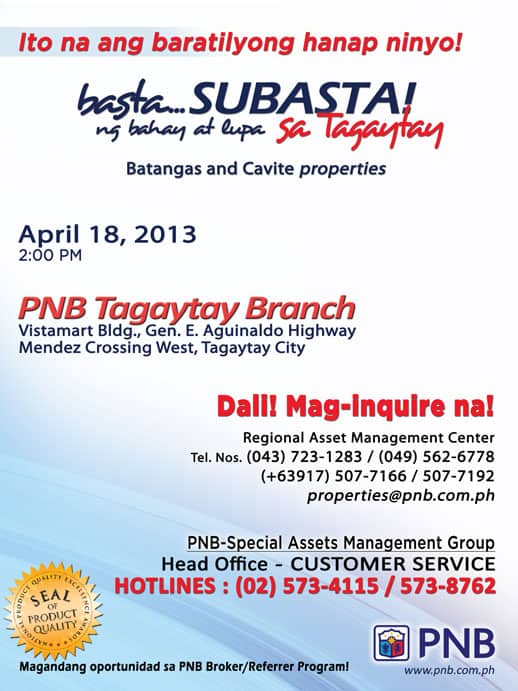 2. PNB basta subasta ng bahay at lupa sa Binalbagan – April 19, 2013
3. PNB Property Auction in Calapan City – April 25, 2013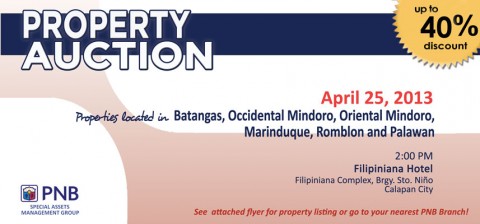 4. PNB Prime Properties Sealed Bidding – April 26, 2013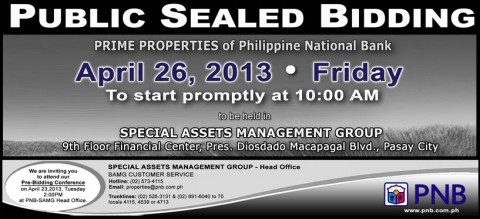 Happy hunting!
~~~
Text by Jay Castillo and Cherry Castillo. Copyright © 2008 – 2013 All rights reserved.
Full disclosure: My wife and I are accredited real estate brokers of PNB. For the properties above that are outside of Metro Manila, please contact PNB directly.
P.S. I am still working on our foreclosed properties database project, which explains why I have not been posting articles as often as before. My wife will continue to handle all inquiries until the project is finished. Thank you for understanding.