I recently found a list of foreclosed cars for sale via auction from Plantersbank and as usual, I am posting it here for the benefit of those looking for cheap used cars. These foreclosed cars from Plantersbank shall be sold via public auction through sealed bidding and the deadline of submission of bids is on November 13, 2009, 12:00pm.
Interested parties may inspect the foreclosed cars on November 4 and 11, 2009, from 10:00am to 3pm. Yes, they have allotted only 2 days for the inspection of the cars and day 1 has already passed. I apologize for not posting this sooner.
Bidders may submit their offers to the PDB Auditing department at the 9th floor, Plantersbank Building 314 Sen. Gil Puyat Ave., Makati City and at their Warehouse located at 292 Susano Road, Camarin Caloocan.
For inquiries, you may also call (02)884-7600 / (02)884-7800 loc 6171-6176 / (02) 892-0559 or (02) 812-4958 and look for Mr. Allan Portento or send an e-mail to ajportento@plantersbank.com.ph
By the way, after cross checking with their website, I found out that the foreclosed cars were also listed online but I noticed something different with one of the cars listed, its price was lower! It appears that the print ad that appeared in the November 1, 2009 issue of the Manila Bulletin already reflected reduced prices.
The following is what I found on the website of Plantersbank and I am posting it here for everyone's reference. Take note of the minimum bid price of Php650,000.00 which appears to be outdated.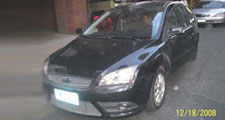 2007 Ford Focus Hatchback
Automatic Transmission
Gasoline Engine
Body Color: Black
Mileage: 27,747
Plate No. Ending in "2″
"As-Is-Where-Is Basis"
Minimum Bid Price: P650,000.00
In contrast, the price for the Ford Focus on the list of foreclosed cars that I found below, which I believe is the same one above,  was only Php580,000. Take note that the mileage also increased a bit. Just click on the image below to enlarge and/or download the complete list of foreclosed cars from Planterbank.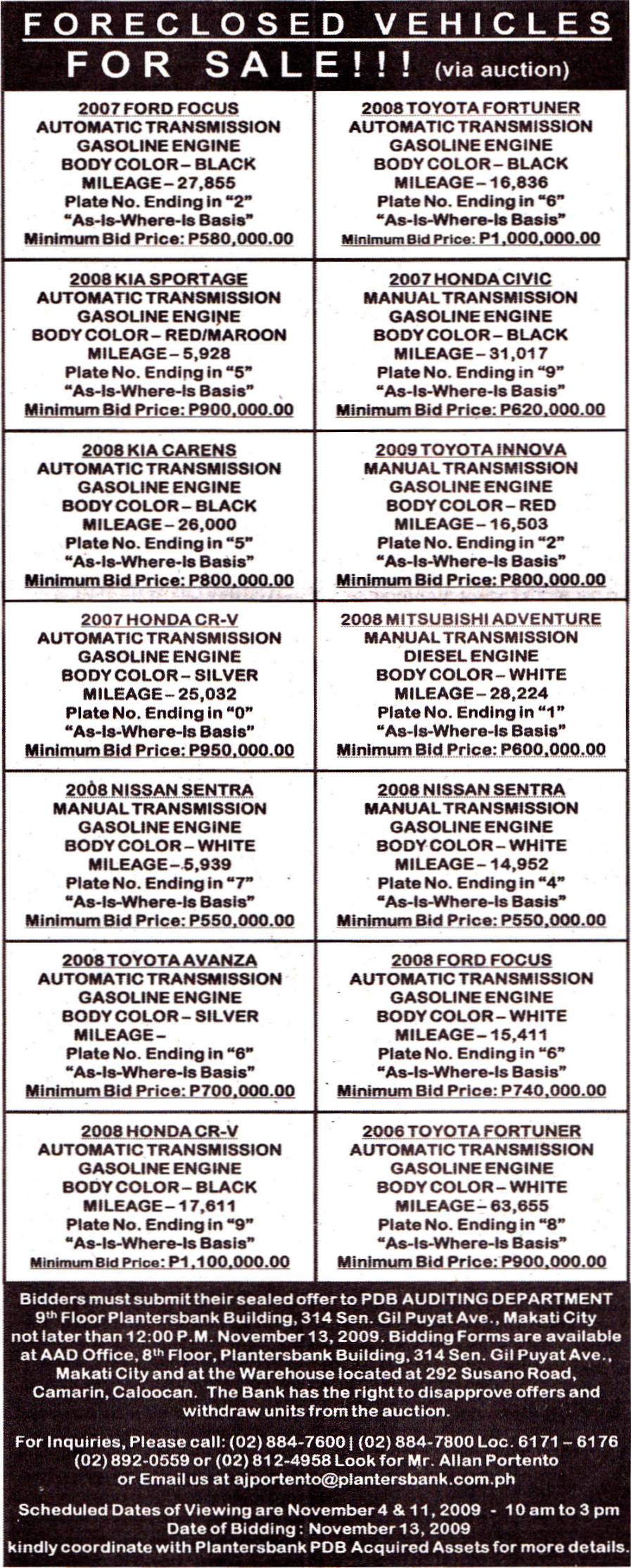 Happy hunting!
—
To our financial freedom!
Jay Castillo
Real Estate Investor
Real Estate Broker License #: 20056
Blog: https://www.foreclosurephilippines.com
Social Network: http://foreclosurephilippines.ning.com
Mobile: +639178843882
E-mail: ph.investor [at] gmail [dot] com
Text by Jay Castillo. Copyright © 2009 All rights reserved.
P.S. – If you are a new visitor, please start here to learn more about foreclosure investing in the Philippines.
P.P.S – If you feel that anyone else you know might benefit from this post, please do share this to them and don't forget to subscribe to e-mail alerts and get notified of new listings of bank foreclosed properties, public auction schedules, and real estate investing tips. If your inbox is getting full, you may subscribe through my RSS Feed instead.