Pag-IBIG shall conduct another public auction in Zamboanga City on November 28, 2016.
Sealed bids shall be received from 9:00am to 11:00am only.
Auction venue shall be at the Crystal Ballroom, Grand Astoria Hotel, Zamboanga City.
This public auction includes properties Zamboanga, Sulu, and Bongao areas.
Please refer to the invitation to bid and general guidelines for more details.
Auction announcement and general guidelines
[gview file="https://www.foreclosurephilippines.com/wp-content/uploads/2016/11/pag-ibig-foreclosed-properties-pubbid-2016-11-28-zamboanga-no-discount.pdf"]
–
You may download a copy of the original invitation to bid for offline viewing using the link below:
–
More pag-IBIG updates (Erratum)
Here are a number of updates from Pag-IBIG in relation to corrections for some auctions scheduled for November 2016.
Pag-IBIG Cebu Auction for November 24, 2016

Pag-IBIG Pampanga Auction for November 25, 2016
Pag-IBIG NCR
November 23, 2016 auction:
November 24, 2016 auction:

November 25, 2016 auction: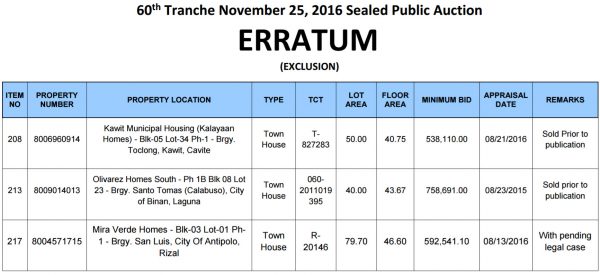 These updates have also been added in our compilation of Pag-IBIG foreclosed property auction schedules
Source: Pag-IBIG official website
For more details, please contact Pag-IBIG directly through the contact details specified above. You may also download the official forms directly from Pag-IBIG's website.
Full disclosure: Nothing to disclose. We are not accredited real estate brokers of Pag-IBIG. We are posting this as a form of public service because a lot of you have been asking for updated listings of foreclosed properties from Pag-IBIG.

Reminder: If you have any questions/inquiries, please contact Pag-IBIG directly through the contact details within the listings above, or visit their official website. Always transact with Pag-IBIG directly. Thank you for understanding!

P.S. If you like to receive more listings like this, you may also subscribe to e-mail alerts to get notified when we publish new listings.
P.P.S Click here to view other Pag-IBIG foreclosed properties auction schedules.
Do you want more content like this? Tell us so we can publish more, just leave a comment or like/share. Thanks!